So looking back, how was 2012 for online casino slots players?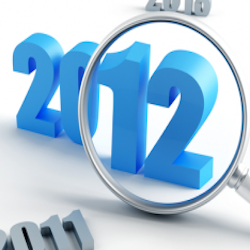 It wasn't the best year we've had but it certainly could have been worse.
A lot of players were dismayed when Microgaming removed the Lord of the Rings slot from casinos (giving us some story about its lack of popularity when it actually transpired that they never really had the rights from the Tolkien estate to use the name in that capacity).
Personally I hated that slot so good riddance.
They replaced it, sort of, initially with the massively hyped and heralded Dark Knight slot which turned out be, well OK, a lot like the Lord of the Rings slot actually but with The Joker taking the part of Gollum.
It was then trumped by the massively hyped and heralded Battlestar Galactica slot which took the LOTR slot framework and added a few nice touches (review here).
Microgaming released a heck of a lot of slots but most of them were just ordinary and/or rehashes of older slots.
Microgaming score for 2012: 6/10
Messages for 2013:
Get some imagination and start releasing more innovative games.
No more Untamed series crap please.
Fix the speed of your Quickfire games (online flash casinos), it's ridiculous how bad they are.
Fix the Error 2 thing too while you're at it.
It looked to be a good year for NetEnt as they upped their release schedule somewhat as well as taking their first steps into mobile slots.
Robin Hood pointed the way graphically and showed a lot of innovation toward the end of last year, as did Jack and the Beanstalk although the maths behind them was somewhat questionable (win bugger all on the free spins again eh?)
We all expected a hell of a lot from the Scarface slot, especially seeing how well they had done with their other Universal licence Frankenstein.
Sadly Scarface turned out to be, well, absolutely bloody rubbish.
Graphically they've continued to improve although they still haven't got the maths and variance right. Beach got mixed reactions as did Disco Spins but these were just fodder for the big release…
Elements: The Awakening burst onto the scene at about the same time as Battlestar Galactica and smashed it graphically, the jury is still out on the gameplay though…
Netent score for 2012: 7/10
Messages for 2013:
Concentrate more on the gameplay than the graphics. If we want crap games that look lovely we can play Betsoft slots.
Give us some more med-high variance slots and fewer housewife slots.
Look behind you because Sherrif, Quickspin and Ash are in danger of taking your place if you don't improve.
Other slots:
I generally confine my own play to Microgaming and NetEnt and so I don't 100% follow what other providers are doing.
IGT etc continue to underwhelm.
WMS are porting their classics but as long as their sole online casino Jackpotparty restricts itself to one man and his dog it's difficult to see them growing much.
Cryptologic and Playtech continue to dazzle us with their mediocrity despite being as rich as Crassus.
Quickspin look good with Goldilocks, Rapunzel's Tower and especially the forthcoming Beowulf.
Ash were going great guns but Playtech bought them and if anyone can mess it up it's Playtech.
All in all it looks like it might be a fun year.
It will be for someone, at the time of writing the Mega Fortune jackpot still hasn't dropped out and it's well over 14 million. I predict it will hit 15 million but less than 15.6million then it will be won by a slot player from Norway with blonde hair and bad acne.
Happy New Year!
Mystic Slotman