Today we're going to try to answer the age-old question: Are Scatters better than Wilds? Slot players are split on the issue. Some think Scatters are the clear choice, whilst other are strong proponents that Wilds should be crowned the best symbol in Slots.
For the sake of definition, a Scatter symbol is a symbol where three or more (most of the time) will earn you a Free Spins or Bonus round. Wilds are the classic symbols which substitute all other symbols, except Scatters.
As our field of battle, we have chosen seven new and/or popular video slots and will compare both the base game and the feature, if there is one. We will decide whether you want to get Scatters or Wilds in each stage. The chosen slots are:
Bonanza by Big Time Gaming – The start of the Megaways franchise. An iconic slot that is loved by many.
Book of Dead by PlaynGo – A given candidate on the list of popular slots.
Starburst by Netent – A classic by today's standards that has been very popular for many years.
Dead or Alive II by Netent – The sequel to the classic Dead or Alive (DoA) slot, also by Netent. Youtube has lots of clips of huge winnings on this slot already.
Razor Shark by Push Gaming – An online slot that bites back.
Immortal Romance by Microgaming – One of the most iconic online slots where the skin is maybe even more popular than the original (Thunderstruck II).
Knight's Life by Merkur – A classic slot where we had one of our largest wins ever. Yes, we know, this is a quite biased choice.
Bonanza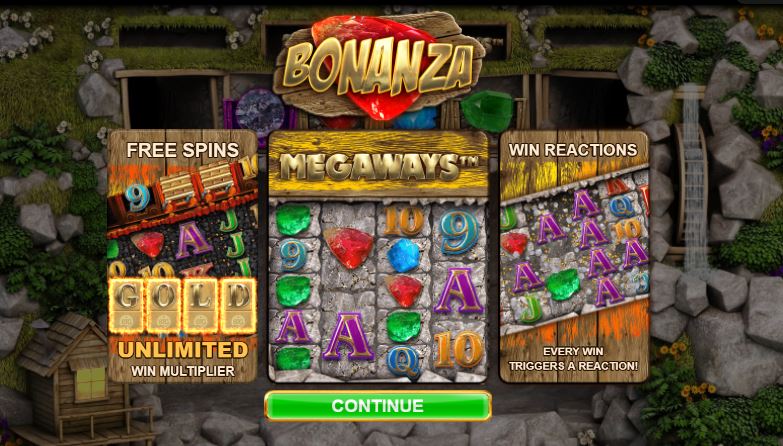 This great game by Big Time Gaming is quickly becoming an all-time classic with it's extreme volatility and massive win potential. In this game, the Scatters are represented by G O L D symbols, and if you are lucky enough to get more than four, you get +5 free spins for each extra. During the free spins, the Scatters are limited to the horizontal reel, kind of almost removing the "Scatter" part of the symbol. Wilds on the other hand are helpful to increase the multiplier during free spins. However, they are themselves also limited to the horizontal reel, both in the base game and the free spins feature.
Clear winner in this game is the Scatter symbol.
Check out our review of Bonanza by Big Time Gaming here.
Book of Dead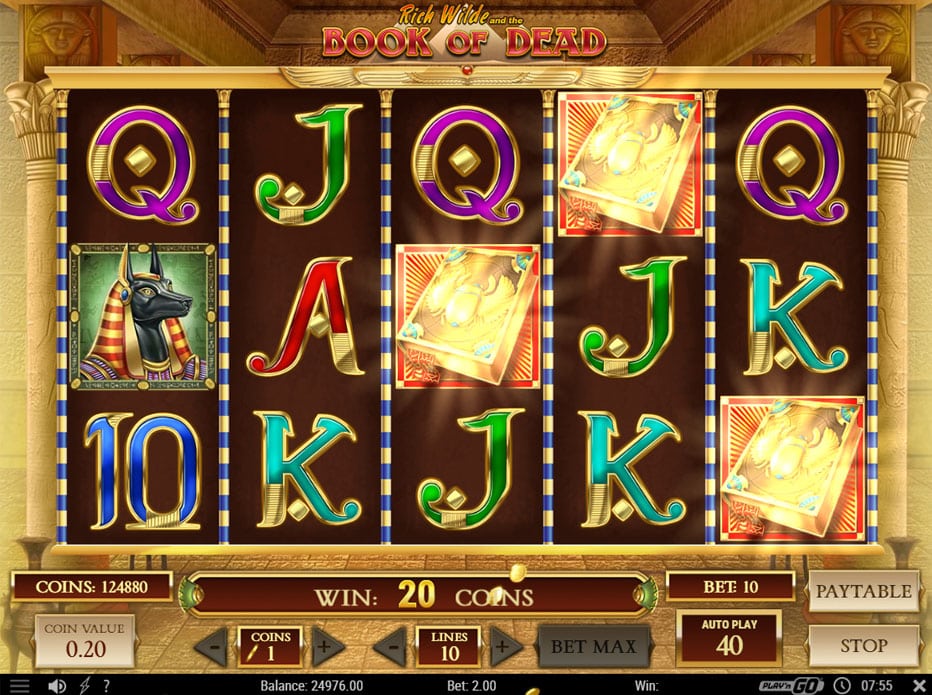 PlaynGo probably didn't even grasp the massive success that Book of Dead would become when they sat down and decided to pay homage to Book of Ra by Novomatic. Crisp graphics, familiar sounds and the crazy notion that Scatters and Wilds are the same thing all combine to make this one of the most popular slots in today's world of online casinos. This is one slot where getting retriggers is of course a great thing, but getting five of a kind of the special expanding symbol is by far the thing you hope for the most.
This one goes down as a dead heat between our contestants. All Scatters are Wilds, and all Wilds are Scatters.
Review of Book of Dead by PlaynGo can be read here.
Starburst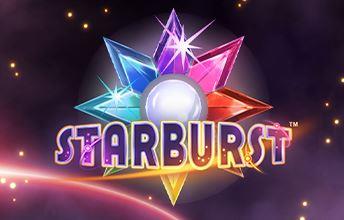 This extremely popular slot by Netent is built all around Wilds. The player can't win free spins at all. In this online slot, Wilds even slightly act like Scatters and give a Re-Spin when hit. Sneaky bastards those Wilds.
Wilds win hands down due to Scatters not even showing up for the race.
Read our review of Starburst by Netent here.
Dead of Alive II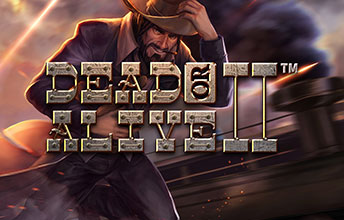 Dead or Alive was one of the most volatile slots Netent had in their portfolio. Many years went by without a sequel, but then in 2019 they finally released the sequel. The volatility of Dead or Alive II makes the first one seem like child's play. When browsing Youtube big win videos, the slot is already present with massive wins of 45 000 times the stake or even more.
In the base game of this slot, it is all about getting Scatters. They are few and far between, but once you get three of them, the stage is set for the Wilds to make their entrance. In the three different Free Spins Features, everything is about the Wilds. Scatters are even removed from the reels completely when the Free Spins start.
This is one of those slots where Wilds and Scatters work together. One alone cannot bring home the bacon. It's like Yin and Yang.
Check our review of Dead or Alive II by Netent.
Razor Shark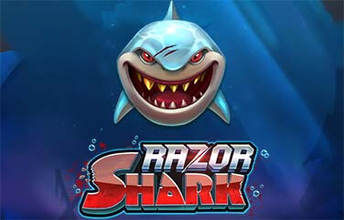 Push Gaming's new slot Razor Shark keeps you on the edge of your seat when spinning away. It is a 20 line, five reel, four row slot machine. Never a dull moment with this feature-packed slot. Scatters and Wilds are both present, but Scatters take this down as being the best symbols in this game. Three Scatters get you into the Free Spins feature and additional Scatters during the free spins will lead to higher Multipliers. Wilds do not play an extended role in this slot. Five of a kind pays twice that of the highest paying symbol, but that is about it.
Scatters win!
Read our review of Razor Shark by Push Gaming here.
Immortal Romance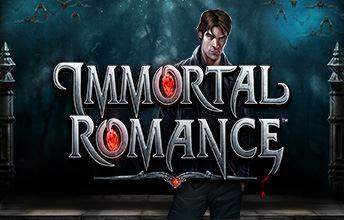 This classic online slot from Microgaming is a reskin of Thunderstruck II, but has since reached levels of popularity dwarfing the original. Wilds do offer a doubling of any wins, but the Scatter Symbol is the name of the game in the Base game, because it offers the only way to get into the Free Spins features. Once in, there are four features to unlock, each offering a different free spins setup. Depending of which feature is picked, the Wilds and Scatters play different roles. Sarah, Michael, Amber and Troy each have their own free spins, similar or even identical to the ones presented by the Norse gods of Thunderstruck 2.
Scatters get you into the free spins, so that is half of the work right there. Then it depends on your preferences. If you love the Amber feature, where every win pays 5x and thus 10x when together with a wild, the wilds get quite interesting. It is also one of the features where the free spins can be retriggered.
This one is a tough one, but our conclusion is that Scatters win by a small margin on this one.
Check out our review of Immortal Romance by Microgaming.
Knight's Life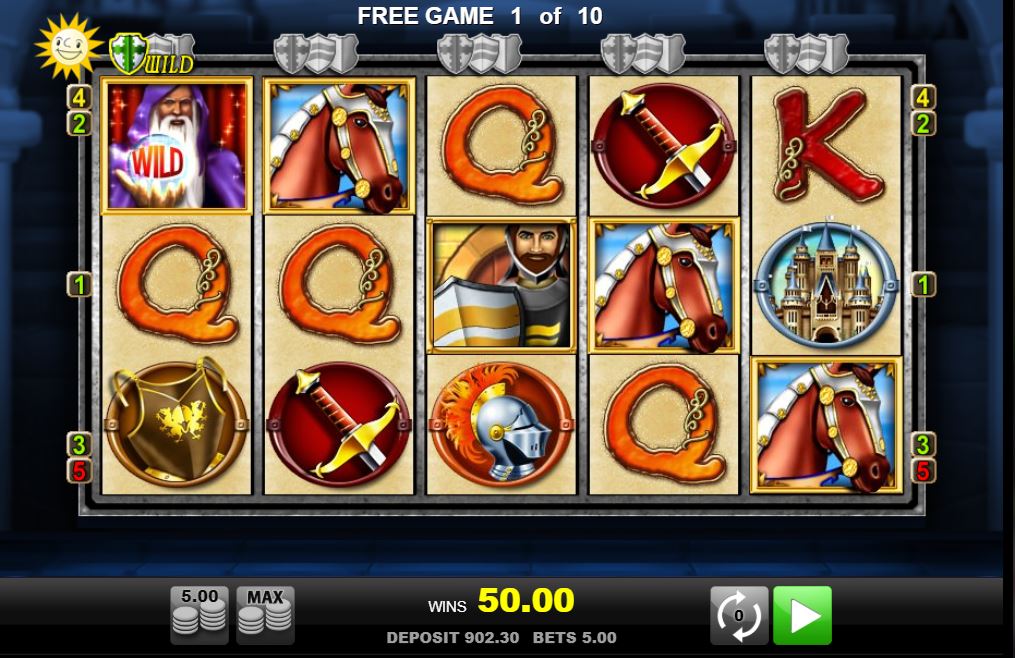 Another classic slot is Knight's Life by Merkur. This slot is extremely volatile and it is almost all in the Free Spins feature. The Scatter symbol is the armoured horse, which brings you 10, 15 or 30 free games. In free game six to ten, the wins are doubled and after that winnings are tripled. Two or more scatters during the free spins retriggers more free spins. The more free spins you play, the more symbols turn Wild. Starting with only Merlin, the Wild symbol, being wild and adding wilds to each reel as free games are played. After you have played fifteen free game, all three Knights are wild on all five reels until the end.
We think Scatters win this one by a hair. Even though Wilds will be the ones getting you the big wins, it is the Scatters which keep adding more wilds to the reels.
Check out our review of Knight's Life by Merkur
Conclusion of whether Scatters or Wilds are best?
It is very hard to say conclusively whether Scatters are better than Wilds. In some slots, it is easy to determine if one is better than the other, but in most slots we found that Scatters and Wilds are intertwined. They are either both the same, or they work together to bring you that big win. In our brief, not scientific what so ever, comparison of slots, we noticed the best result when Scatters and Wilds work together. Scatters might get you in to the free spins, but Wilds gets you paid. Maybe something for game providers to think about?
Check out our review of two new shining stars on the online Casino heaven: