Betsafe player totals the Betsafe Ferrari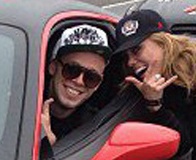 A lucky Betsafe player won the drive of a lifetime in the company Ferrari on the Gumball Rally.
What a fantastic experience!
The player really got into the swing of things by the look of it, giving it some serious accelerator action in the Ferrari along the beautiful straight German roads.
The feel of the engine humming and the exhilaration of speeding along like a bullet with not a car in sight… knowing that the race tested ultimate braking system is always there when you need it.
he must have got really excited because rather than testing out the braking system he apparently decided to stop by using the central reservation barrier of the autobahn.
Ooops!
Maybe his fashionable (in Malmo perhaps) baseball cap slipped over his fashionably huge sunglasses.
If driving the Gumball was an unforgettable once-in-a-lifetime experience surely crashing a Ferrari is something he will never forget.
You can see the pictures of the crash here
I think I'll enter next year's competition, I'd love to crash a Bugatti Veyron.
Alas, it may be that next year Betsafe decide to use a Fiat Panda.
Join Betsafe now, they could probably use a few quid to fix the car up…