Can I win at slots?
Yes you can, it takes a little bit of know-how and a little bit of research but it's certainly not difficult and anyone can do it.
This will only work online. I only play slots online because frankly offline casinos have much lower paybacks on their slots generally.
If you want a system that works offline then I recommend the book by Catlin Barboianu called The Mathematics of slots. Not an easy read but it will help you immensely.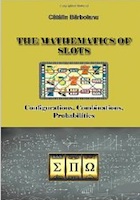 If you want to make a profit online then read on…
RTP
Slots online are usually set to return around 95% to 98% of your cash, this return to player percentage is referred to as the slot's RTP.
Now in most places, by law, if you ask the RTP of a particular slot the casino has to tell you what it is.
If you are looking for RTPs for online slots there are a lot of places to find them and in most cases the RTP is fixed by the slot maker, not the individual casino.
There are some slot makers who allow the casinos to alter the RTP but I would never play that software and in fact I would never play at any casino that had that software.
The slot providers you can trust are
Microgaming
Net Entertainment (Netent)
WMS (Williams interactive)
Bally
IGT
Betsoft
With RTPs you can probably trust Playtech as well but there are so many claims of poor treatment of players by Playtech casinos, not paying jackpots, Playtech not helping players when casinos don't pay etc that I would avoid Playtech anyway.
Variance:
Along with RTP the variance of a slot is also important.
Let's say you pick a slot with a 98% RTP. You'd be forgiven for thinking (many people do) that for each €1 spin you'll get back 98c. That would make for a pretty boring slot and wouldn't leave much room for wins.
So what happens is the RTP is a calculation of just how much a slot will pay out in the course of millions of spins. As each spin on a slot machine is totally random it is quite possible for you to lose every spin in €100 worth of €1 spins. It's also theoretically possible to win every spin. Both are highly unlikely of course.
Variance comes into play here.
Low variance slot – this slot will pay out very often but they'll be low wins.
Mid variance slot – There'll be more of a gap between wins generally but they will often be of higher value.
High variance slot – You'll often see very few wins on a high variance slot, usually just enough to keep you from getting bored until BANG you land a big one.
All the slots will pay back their 98% but in different ways.
You need to ask what you want for a slot machine.
Lots of play time? Go for a low variance slot.
The thrill of a big win? Go for a high variance slot.
How to tell a slots variance setting.
Slot makers won't tell you the variance settings so you need to work them out for yourself. The simplest way to do this is to look at the slots paytable (usually you'll find this under info or payout).
Look at the range of wins.
If the wins range from 5 coins to 500 coins then you're looking at a low variance slot (ignore any 5xwilds numbers or special feature wins). The biggest win you can land is 500 coins and nobody is going to spend a lot of time and money chasing that. This is the slot for those who just want to play.
If the wins range from say 10 coins up to 5000 or more coins then this is a high variance slot. One for the big win thrill seekers!
Anything in-between of course is likely to be mid variance.
That's going to help you to tailor your slot experience to your personality type but it's not going to guarantee you win of course.
Here's how to win at slots!
The first method will ensure you win more often than lose, but it still takes a little bit of luck of course. It relies on a combination of the RTP of a slot and getting a bonus at a casino.
Most online casinos will give you a bonus for joining up, then frequent bonuses after that.
What you want is a bonus of 100% or more. A 100% bonus is often referred to as a match bonus.
You want to find one of these with the wagering requirements as low as possible. A wagering requirement tells you how many times you have to turn over (bet) the bonus you've been given.
Let's say you have a 100% bonus up to €100 with a 30 time wagering requirement.
What that means is you deposit your €100 the casino matches that with €100 bonus money and you have to place total bets of 30x your bonus = €3000.
A low variance sot will give you a lot of playtime but not much chance of hitting it big (or making the wagering requirement before you cash runs out).
A mid variance slot balances the two of course, you may be lucky and hit one of the top wins but it's not going to last as long as a low variance, nor give you as much of a chance at winning as a high variance slot will.
So, find out which slots are high variance by looking at the paytable and choose one of those.
Check the casino rules on maximum bet amounts with bonuses (they often limit the max bet to avoid players abusing bonuses, we're not abusing we're just levelling the odds a bit). On our €200 bank roll we should be playing €5 bets or more (up to €10).
The high variance slot involves luck of course but it does level the playing field.
€200 will give you at least 100 €5 spins (remember the RTP) and with a little bit of luck that will be enough to get you a decent sized win.
Once you hit a nice win, let's say 200x bet = €1000 you will still have to meet the bonus wagering requirements. It is important that you now switch slots.
What you're looking for now is a low variance slot in order to meet the bet requirement for a withdrawal.
With a €1000 in the bank and a (remaining) wagering requirement of about €2500 you can't go wrong with a low variance slot. If possible find one without a bonus game, this will make it less fun but will maximise your withdrawal. Once you've made your withdrawal you can always put a bit back in and play the fun games.
Play the spins on the low variance slot at about €1 per spin. 2500 spins will then guarantee your wagering requirement is met.
So we have €1000 to make 2500 €1 spins. The variance helps us here because for each €1000 wagered we should get back on average €980. If we make 2500 spins with our €1000 we should be left with more than €940 after we have satisfied the WR – not bad for €100!
This isn't absolutely infallible of course but it's good enough that casinos don't like it and it's good enough to pay you a good profit if you use a couple of welcome bonuses.
The reason they allow is is that most players are unaware of this and the only way to stop it would be to remove bonuses, which would mean they get fewer players who want to play without using these advantage techniques.
One more very important thing, be sure to only play at reputable casinos, usually big names, that way you know you'll be paid which is of course the most important thing when playing slots online.
The following casinos are absolutely 100% honest and will pay you.
LeoVegas
Betsson
Dunder
CasinoEuro
Give it a try, you may not win every time but there are lots of casinos offering 100% deposit bonuses and you will definitely win often enough and big enough to make this pay for you if you follow the rules.
Pick a casino from the list above and go for it!
What to check out next at Slotmad!
If you like to play (or watch) slots and enjoy discussing all sorts including the state of the latest slot releases etc then join in with us on twitch. We'd definitely love to have you along.
Find out more here:
Take a look at the info on our Casino Stream page
Check out some more of our News and Review of other Red Tiger Gaming slots: