There's a new casino in town, goes by the name of Casumo
It's a net Entertainment casino that promises to really focus on the player.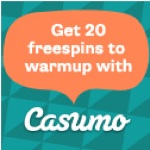 As their mission statement has it their aim is to
Create the best player experience there is…
The difference that Casumo offers over other Net Ent casinos is the achievement system where players receive awards for completing certain missions – each award caries a reward which can be in the form of free spins, bonuses or cash.
Games are currently net Entertainment only but I'm sure they'll be adding to that soon.
They accept all of the usual deposit and withdrawal methods.
Definitely worth giving them a go to check out the rewards system and I think they'll be one for the future eve if at the moment they're not that different from other casinos out there.
Would be really great t get your feedback on this casino – I'll update this review as I play there more too…
They are currently offering all new players 20 free spins too.