Crap Casino Offers
I've had some really bloody awful deals come into my mailbox recently so I decided to create a new theme.
Welcome to Crap casino offers (part 1)
Top of the crap heap this week – by a considerable way is Europalace.
In an effort to entice me to play for the €5,400,000 Mega Moolah jackpot this week they are offering a bonus if I can win it in the next 2 days (before midnight on Friday).
Their incentive to get me depositing in an attempt to win this jackpot in 48 hours ( a jackpot which has been building up for months and months by the way) is…
An extra €10,000!
WHAT A DEAL!
If I win the five and a half million (which is paid for by Microgaming incidentally not Europalace) they'll add a whopping €10,000!
I'd be kicking myself if I didn't take advantage of this. What if i don't win it until Saturday?
Who wants a paltry €5,400,000 when you know you've missed out on a whopping €5,410,000?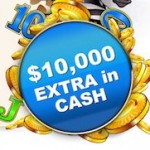 We'll give you an EXTRA $10,000 in cash if you hit the gigantic $5 million Mega Moolah jackpot by Friday, 30 November, at midnight GMT!

$5,400,000

PLAY NOW!

This jackpot could be yours.

Samantha Townsend
Casino Manager 
I'm sorry "Samantha Townsend: Casino manager" but that's an absolute load of arse!
Not nearly as crap, but also shameful was the email I received from ComeOn this week apologising to me for their casino being unavailable for a while.
Their amazing apology gift? 10 free spins on Gonzo if I deposit and place a 10 euro bet or deposit 10 euros to their casino and play it… Whoohoo! That's something like a 20% bonus.
Apology  not accepted! On the very same day a 20 euro deposit into Whitebet casino would get you 75 free spins on mega Fortune and a match bonus.
And Whitebet had nothing to apologise for…
Let us make up for any love lost!

Yesterday the site had some hiccups caused by our database, which resulted in us having downtime for an hour.
This is bad news, because we had to kick out many of you from our site, for no reason at all! Seriously, who throws people out from a party early in the evening?!
Clearly we did, so now to the good news: We identified the issue and it was related to so many of you wanting to play our games at the same time.
So let's kiss and make up?
– Make a deposit (of any size) AND place bets of at least 10 Euros this weekend within the casino and/or the sportsbook.
– Once you deposited and placed the bet, REPLY to this email and write your Username in the message. We will then put 10 Free Spins on Gonzo's Quest to your account on Monday 26th November at 19:00 CET.
Well ComeOn, come on, you can do better than that!
Seen any crap offers recently?
Please let me know in the comments!
What to check out next at Slotmad!
If you like to play (or watch) slots and enjoy discussing all sorts including the state of the latest slot releases etc then join in with us on twitch. We'd definitely love to have you along.
Find out more here:
Take a look at the info on our Casino Stream page
Youtube casino and slots streaming home
Twitch casino streaming home page
Check out some more of our News and Review of other Red Tiger Gaming slots:
Monaco Glamour online slot review
Megaspin Break da Bank Again slot review