Online casino bonuses can be a real boost to your play time and sometimes, only sometimes, are worth taking… here are some tips to help you get the most from casino bonuses….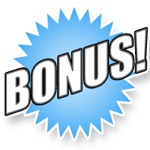 Knowledge is Power: Make sure that you know as much as you can about the online casino before you start playing. Most importantly, you need to be aware of the casinos terms and conditions. At certain online casinos, you will find that the Terms and Conditions are also divided into two sections ñ General and Promotional.
Needless to say, you have to read both very well if you are using a bonus. It is very important to note things such as the minimum wagering requirements, as well as the games that are included (and those that are not) in the bonus T&Cs. Roulette, card games, table games and Video poker are usually excluded from bonuses.
Video slots are almost always included but it's worth checking as some are excluded in certain casinos.
Alwaysbeware of bonuses that are stated as 35XD+B as they are 35x your deposit amount PLUS your bonus amount which is a massive 70x playthrough – on a deposit of €100 this bonus would have to be wagered €7000 before any cash can be withdrawn.
Take a Screenshot of the page:
A good idea is to take a screenshot of the Terms and Conditions of the casinos bonus before you start to play. This can be done by pressing the Alt and PrntScn keys from your PC keyboard (as long as the Terms and Conditions are the primary window open on the screen) or using cmd shift 4 on a Mac.
Be sure that the date is visible on the screen (by moving the cursor over the date field on your screen until it pops up). Once you have your screenshot, simply save it into a document of your choice and you have solid proof regarding the Terms and Conditions that pertained to a particular bonus on that specific date.
Some less reputable casinos will change their T&Cs in the case of a big win, sounds terrible doesn't it? I've seen it done many many times.
Scan your ID Documents:


Most online casinos will request some kind of identification at one time or another, usually in the form of a utility bill a driver's licence or a passport. You can easily scan the documents and file them away in a document, ready to send to whichever casino requires them.
The casino is only interested in your physical address, so black out any account numbers if you so wish. If you don't have a scanner then use a digital camera (you can usually set them on a document setting to avoid blur) This is a simple way to send online casinos the information they need quickly and efficiently.
Keep Records:
It is important to have a record of all the deposit and withdrawals that you make at each online casino if you play at more than one. It used to take a long time for payments to be made by casinos but I advise you to find a couple of casinos who pay out within 24-48 hours and stick with them.
Betsafe, CasinoEuro and Ladbrokes excel here…
Play Smart:
Keeping within your set gambling budget, make your deposit match the offer in order to maximize the bonus.

Withdraw Wisely:
If you find yourself with credits in your online casino account after you have completed the wagering requirements of a specific bonus, don't hesitate to withdraw some of your bankroll even if it's only a partial withdrawal.
You don't want to be one of those people who thought that their winning streak would run and run and that they were invincible at online casinos, trust me nothing lasts forever.
I've been there!
Best bonuses:
If you are going to use a bonus there are very few that I can recommend due to poor terms or wagering requirements.
One that I can highly recommend is Redbet
A choice of bonus with a 35x wagering requirement on the bonus amount and with free spins almoist to the value of your deposit (virtually risk free).