Slots are the heart of any casino-online or otherwise.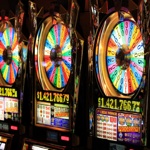 The one armed bandits and simple fruit machines of old have not only been updated, but they pay a heck of a lot better now too…
Not so long ago it wasn't unusual to find slots set at 70% payout, these days, in online casinos as least the normal payout percentage is up at around 94 – 98%.
The experience of putting a coin in, pulling the handle and pulling repeatedly are long gone but now it's a much more immersive experience.
Today, slot machines are bloody good fun. They have side games, themes, bonus games, achievements and much more.
Treat them as entertainment with a chance of a return and you'll enjoy online slots immensely.
Older classic slot machines are still offered in many online casinos but they are way less popular than the latest video slots.
Video slots are becoming more advanced by the day – not always in a good way and not always in the same direction.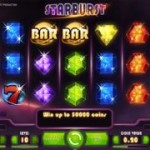 Recently there has been a slight shift back towards slots that spin and pay out quickly, one of the most popular Net Ent slots is Starburst, which does away with free spins and bonus games entirely and just relies on an adrenaline-kicking Wild Reel image.
Many regular casinos devote a lot of floor space to these machines, which are now essentially advanced video games with a payout.
Most casinos will have around 100 different slots, all with different themes and features. I think I've played at least 500 of them, which is what led to me starting the site slotmad.com.
Multiplayer slots such as the Wheel of Fortune are now making it from the casino floors and online, adding a new social aspect to the games which players love.
It's important to remember that all online slots run on a random number generator. That means the whole process is random, you should never fall into the trap of thinking that an online slot machine is "due to pay out" or that you've "filled" the machine up.
You are just as likely to get 2 big wins in a row as you are to get nothing.
The machine doesn't know how much you've played, how much it's paid out etc, it's all random. It's all just based on maths.
Enjoy yourself on the slots, but know your limits….
If you find a great slot on your travels around the web please let us know at slotmad.com
Looking for a great way to start with online slots? Check out CasinoEuro!