Are we about to witness the death of Bonus Buy-in games?
The UKGC are flexing their regulatory muscles again and this time they have bonus buy-in games in their sights.
Is there any merit to what they are doing?
Are bonus-buy in games so bad?
Will it mean a blanket ban everywhere?
To answer the question as to whether this proposed ban has merit we need to look at what a bonus-buy is and how the UKGC may feel they are a problem.
What  is a Bonus Buy-in slot?
A bonus buy-in game is simply a slot which allows the player to bypass the base game and purchase an instant bonus round.
Not to be confused with Blitz mode in which the spins are so quick that only a graphical representation of the win is shown too the player. They are already blocked in the UK due to the 3-second spin rule (the 3—second rule states that a single spin from start to finish can not take less than 3 seconds).
There are simple bonus buy-in games like for example Sweet Bonanza.
You pay the 'entry fee' (in this case 100x your stake) and you go straight into the bonus round with a minimum of 10 spins (more if you trigger additional scatters).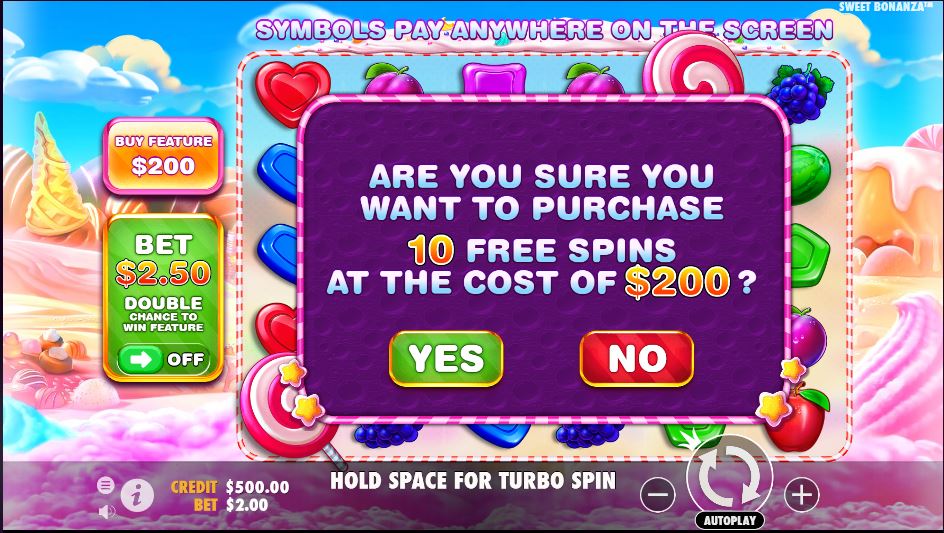 These are potentially problematical in two ways.
1: They are more compelling than base games and are therefore deemed to be more likely to promote higher and more frequent betting.
2: It's a lot easier to lose a loot more in a shorter space of time.
3: They don't take into account the base wins a player may see on the way to the bonus so the cost of the bonus needs to properly reflect that.
I'm sure there"s a set formula for establishing the 3rd point but the first two are certainly on the regulators mind.
The second type of Bonus-Buy game is more complicated.
On games like Vikings Unleashed, Extra Chilli etc where not only can you buy a bonus but in order to make much of that bonus you need to gamble the bonus multiple times – and at any point you can be left with nothing.
In the case of Vikings Unleashed the wheel below shows your position after two gambles. The top is 27 spins with a 10x multiplier.  That takes 24 gambles…. And if you lose you lose everything.
There are games in-between the two where you won't be left with nothing but you'll be given entry into a lesser bonus (or given fewer free spins).
We've written about this previously
Free Spin Gambles  –  Fair play or foul?
I'd guess that it's the latter type of bonus buy-in that has really forced the issue.
Is this the end for Bonus Buy-in slots?
If you play at a UK casino you'll have noticed that many Bonus-Buy games have gone already.
In some cases the providers were fortunate enough or farsighted enough to have built in a bonus-buy On/Off functionality within their games which means they don't need to remove their slots or rebuild them.
In other cases this is going to hurt.
I can see the logic behind it, I'm sure everybody can. This is not just posturing from the regulator of the type we've seen too often in the past.
This is of genuine benefit to a particular group of players.
That's not to say it isn't a blow to those of us who love these games but in the scheme of things I can see the reasoning and it's solid.
If you'd like to know more about Bonus Buy-In games we've got a collection of them along with an introduction to the genre over at:
It'll be interesting to see the response to this from the slot providers and from other jurisdictions.
There is a risk that in doing this the UKGC will drive more players to Curacao but I guess that's a risk with each piece of new regulation.
Let us know what you think in the forum.