UPDATE: March  2012.

Well we were right, something was going on at Stan James casino.
It's not quite as bad we feared – they haven't switched off their Net Ent games.
They have added some IGT games, which will please UK players, they have added some Ash games which will please quite a lot of poeple.
They have also (completely inexplicably) added some Chartwell games – Chartwell? I didn't see that one coming, who would?
Bad decision, but hey people can always ignore those games – you'll soon find out which ones they are – they are the really really bad ones that suck all of your cash and give little in return….
BUT
They now have more than 300 other slots to choose from and they appear to be getting back on track with their bonuses – including a whopping 400% welcome bonus!
I'm really pleased and it looks like they are back on track.
Get over there and try their new games.
ORIGINAL POST….
Something is definitely going on at Stan James Casino.
Their bonuses, which were recently among the best and most innovative in the industry have gone, frankly, rubbish.
Their loyalty scheme came to an end this week.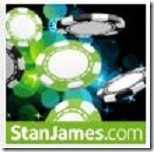 If they're just adding a new supplier then they wouldn't need to go to all this fuss. They already have Microgaming's Quickfire (although it's hard to find in the lobby) and Net Entertainment.
Let's just hope they're not going (to Hell in a handcart) with Playtech, or worse, Cryptologic, it can't be as bad as Betsoft surely?
Scary, I trust that they know what they're doing and they're not going to switch to one of those games providers but I fear the worst…
If you know anything add a comment – the suspense is killing me