PlayOJO Online Casino Review
The PlayOJO Online Casino is an Online Casino launched a few years ago. Since then, they have taken an approach to Online Gaming of full transparency to the players. This means No hidden fees, no maximum wins and no wagering requirements on Free Spins. There are a lot of other features in the casino as well, and tons and tons of games. Read on below to see why you should sign up and play at PlayOJO today.
Why play at PlayOJO
No Wagering Requirements – That is hands down the best reason to join PlayOJO. All wins are paid in Cash, and there are no minimum withdrawals. Also, if you receive Free Spins, there are no maximum limits on what you can win from those free spins. If you were to take their word for it, PlayOJO is UK's Fairest Online Casino.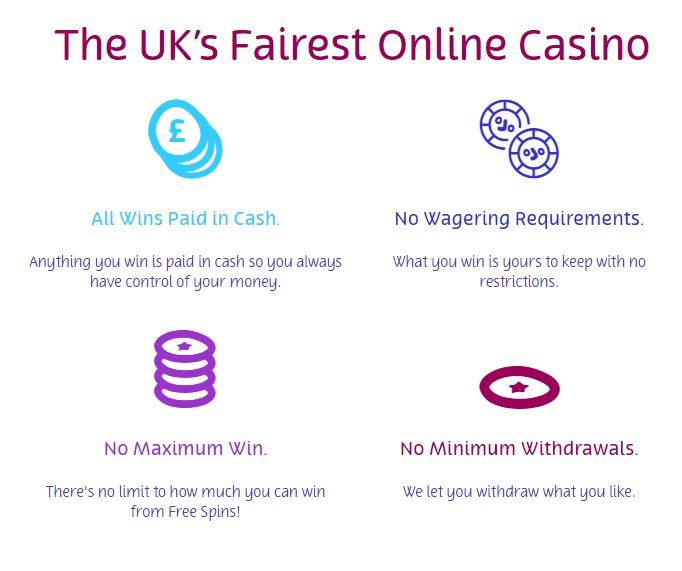 If those aren't great enough reason, here are seven more reasons! Meeting the team at PlayOJO!

Welcome Bonus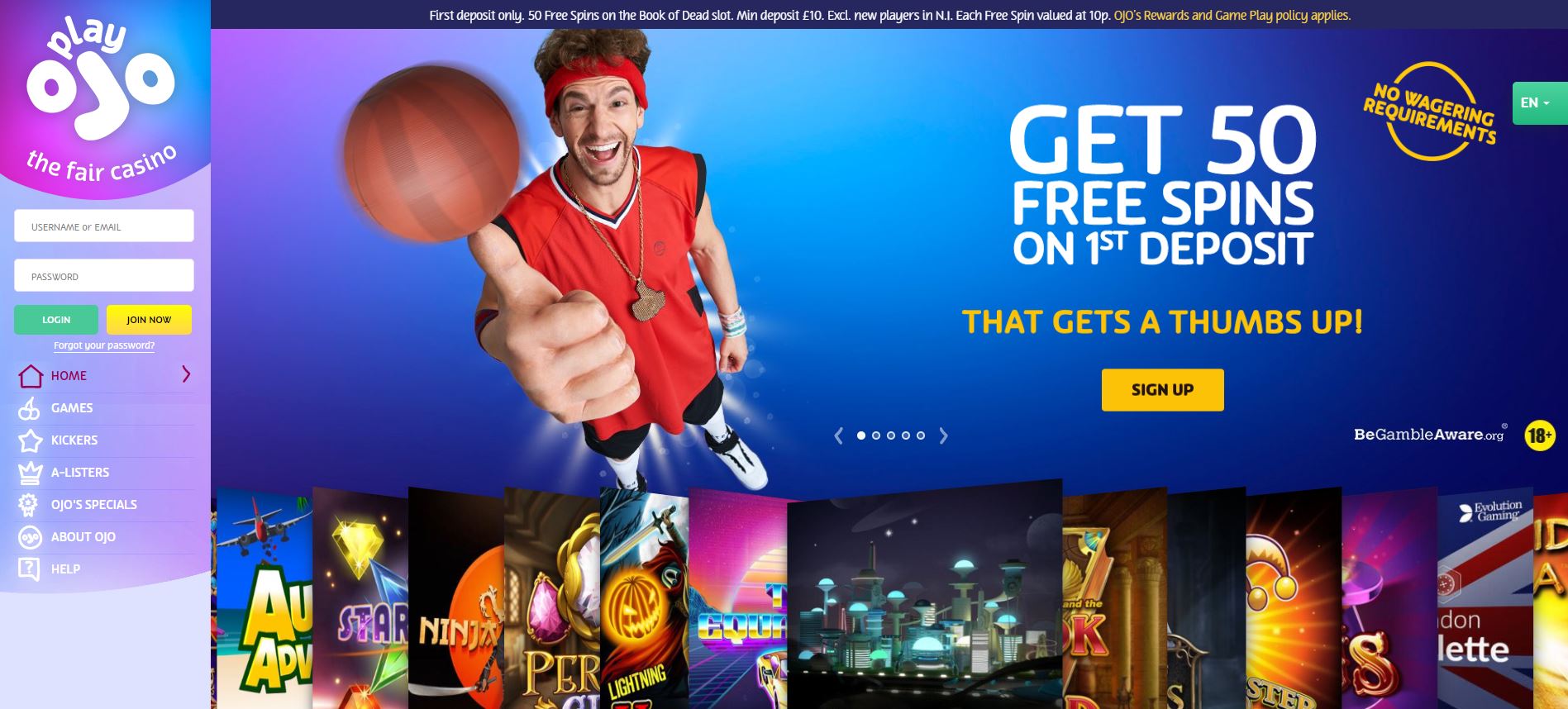 The Welcome offer at PlayOJO is not a welcome bonus with a wagering per say. Instead of a 100%, 50% or 200% bonus, with a large wagering requirement, all players receive 50 free spins on their first deposit. The free spins come with no wagering what so ever, and there are no caps on your wins. Pretty sweet right?
Slots

PlayOJO is truly Lots of Slots. Boasting over 3000 games on their front page. However, this 3000 figure is only available from certain countries. In most countries, the number of games available are between 1500 and 2500. Still, this is one of the most package casinos we have seen. PlayOJO has built a nifty "Random Play"-thumbnail where if you click that you get to play a random game. If you don't know what you want to play and want Lady Luck to decide for you, this is great.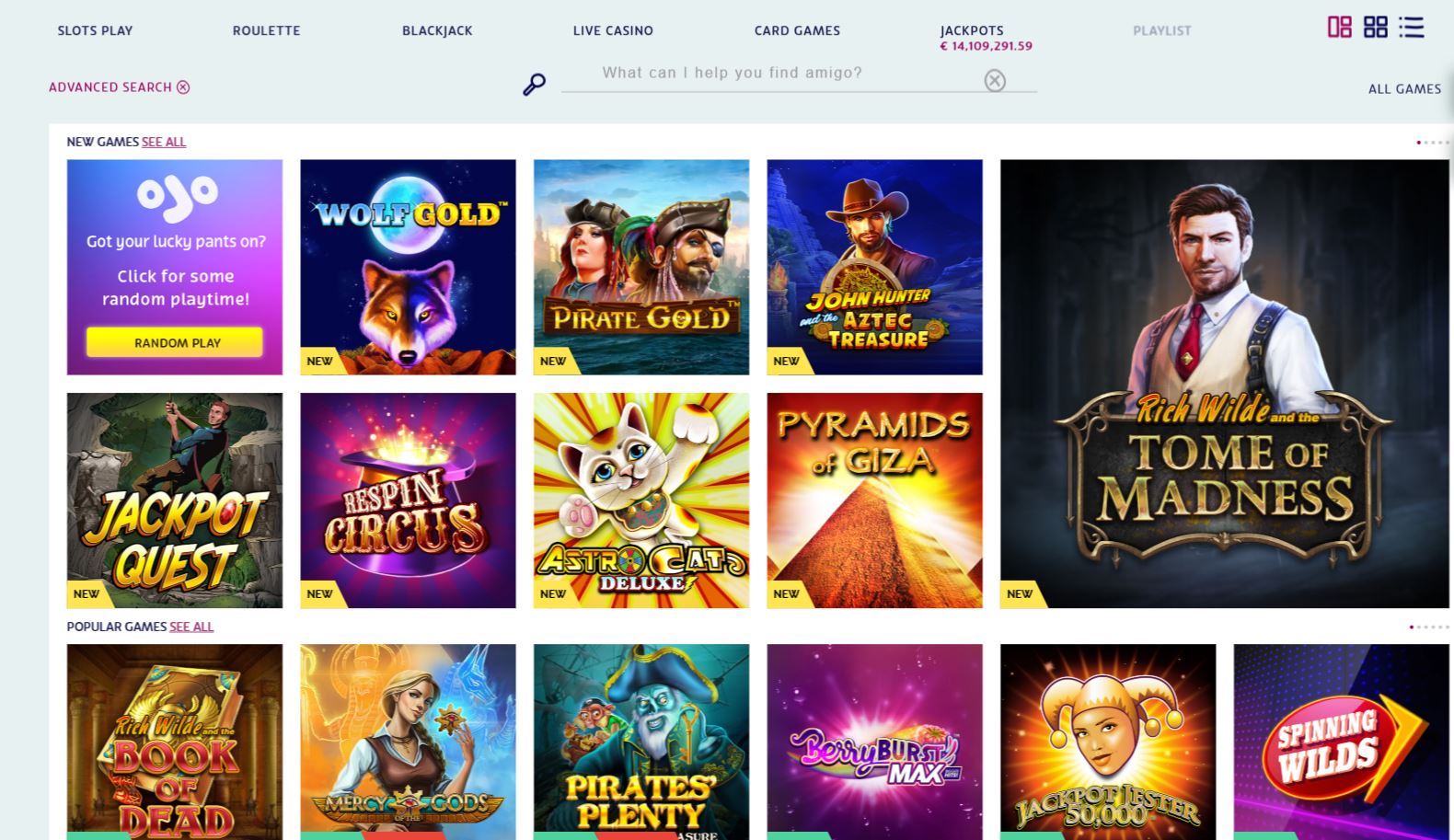 Searching, Filtering and Sorting
When it comes to finding a new game you want to play, PlayOJO has gone above and beyond to help you drill down in the list of games. The Filter function in the left hand menu is very extensive. You can filter on almost anything. If you for example want to find any slot with High Volatility, more than 50 bet lines, Splitting Wilds with Respins feature and an Animal theme, then there is only one result, Pretty Kitty Online Slot from Microgaming! The Filter function is great, from a functional perspective, but it is not very easy to use. The font is in a faded grey, making it very hard to read. It is also in very small size, pushed in the bottom corner of the left-hand menu.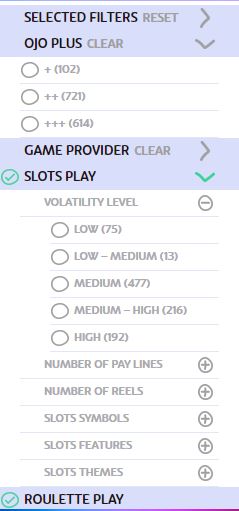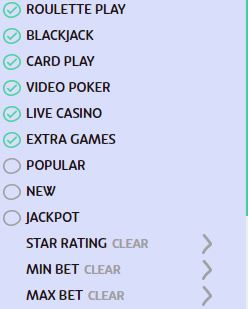 PlayOjo offers you different ways to view the lobby, and we thought that this one stood out enough to warrant a big question mark. Below is the List view. We cannot think of anyone who would want to browse the games in this way. Perhaps you can help us and come up with an idea? For now, we are going to write this feature off as a "They were too busy think if they could, that they never asked themselves if they should"-category.

Live Casino
Roulette, Roulette, Roulette. That is the feeling you get when you go to the Live Casino lobby at PlayOJO. In their Casino, they have a large range of Blackjack and Roulette games, but in the "Other Games" area they are lacking. In this area, there are only DreamCatcher and Baccarat (as well as a missplaced Roulette game as you can see below).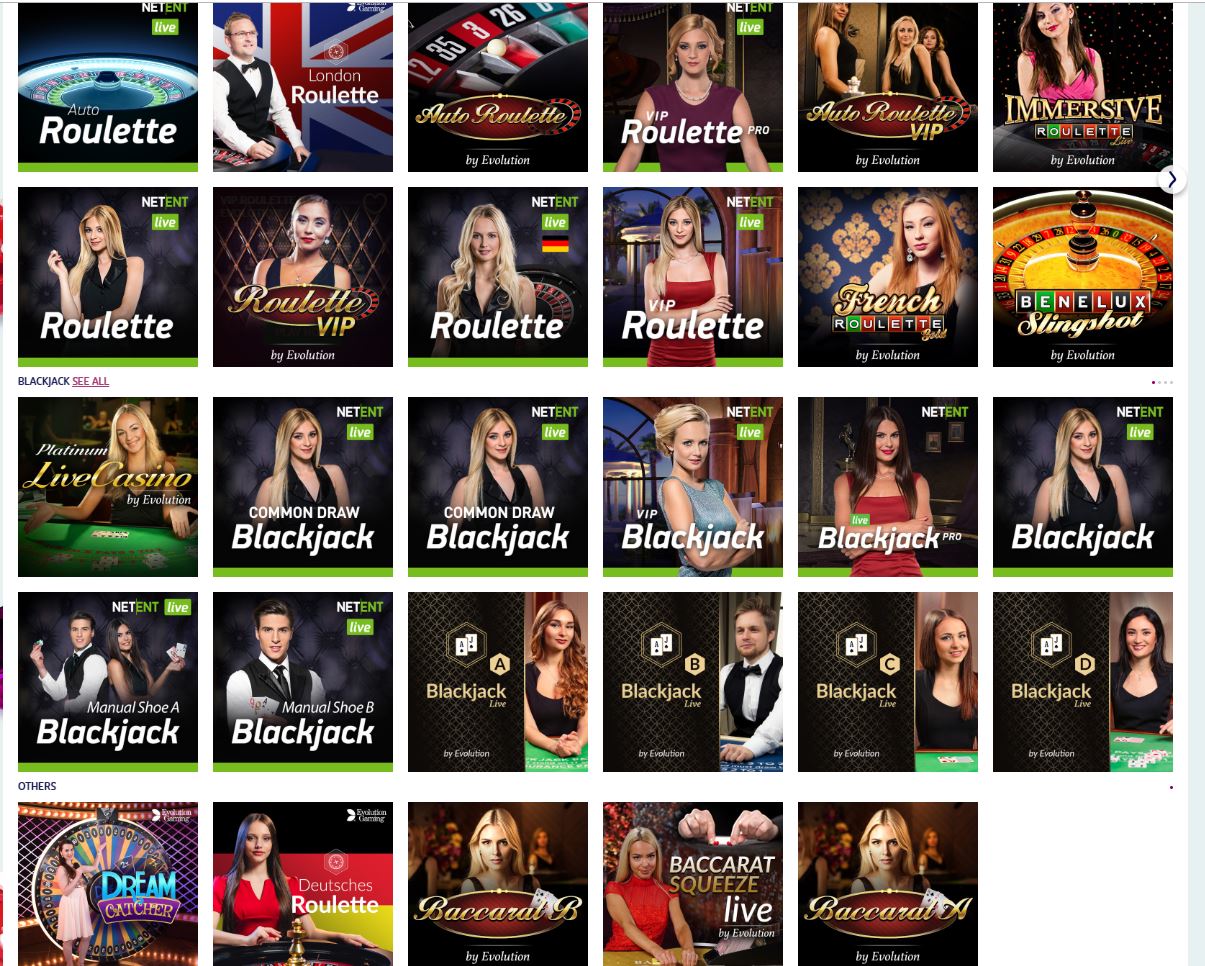 Jackpots
There are plenty of different Jackpots to play at PlayOJO, in fact the total amount available on all jackpots is, at the time of writing, a massive €35.9 million. PlayOJO also have the Daily Jackpots or Must Drop Jackpots from Red Tiger Gaming. These jackpots are getting more and more popular. These Jackpots feature a guarantee that the jackpot must pay out before midnight, every day. If you haven't heard about Red Tiger's daily jackpots before, we highly recommend checking out this review on the Daily jackpots.

Promotions at PlayOJO

There are quite a few different promotions and other Loyalty features. All players start on level one in the levelling system and as you increase in levels, you will receive Free Spins, Bonuses or spin on the OJO Wheel. There are three different wheels, and they spare no Puns! The wheels are called, "Wheely Easy", "The Wheel Deal" and "Are you for Wheel?". On the first wheel, you are guaranteed to win something, but the prizes are smaller. If you choose a higher wheel, there is a risk you will walk away with nothing but there is also the chance of a bigger reward. Do you have the nerves to gamble?


Other than the Levelling system, PlayOJO also have live tournaments which are run on a daily bais. All you have to do is enter the Reel Spinoffs and then it's off spinning! The more you win on the spins, the higher your points. If you end in the top 3 on the leaderboard, then you're a winner of a Free Spins package. And remember, anything you win on the Free Spins is Cash money and free of wagering requirement!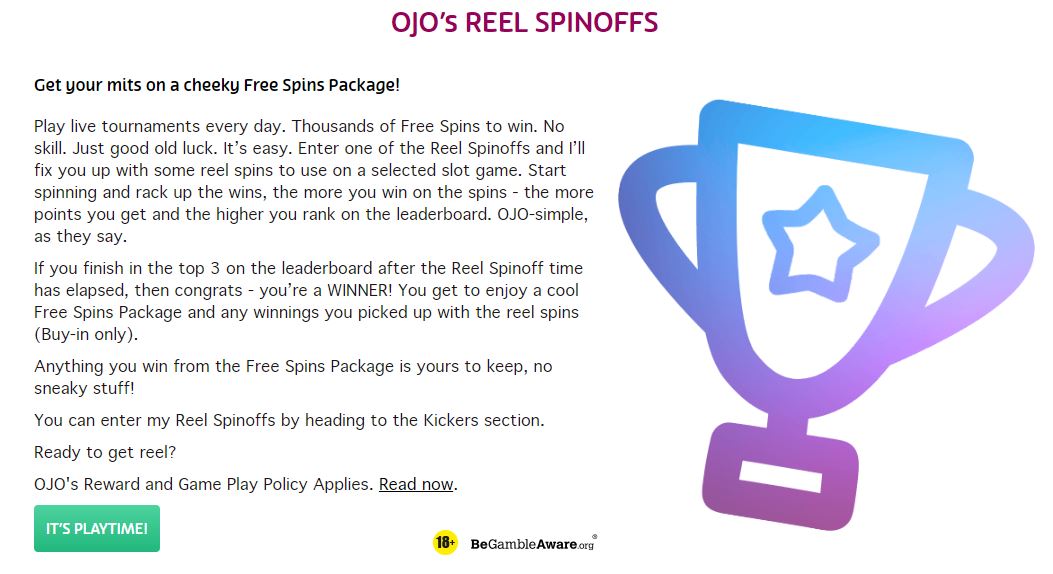 Should you find yourself on the blog at PlayOJO, there are always more small and fun promotions to have. We found for example a promotion in July where you can take a photo of yourself wearing the new "Zara Dotty Dress", and if you win you will get it altered by a seamstress. We can't really wrap out head around what this has to do with Online Casino. Maybe they just do it because someone read "SEO for Dummies 1.0".
VIP Club at PlayOJO

The VIP Club at PlayOJO is called the "A Listers". It makes us think of the A-Team from the 80s, but unfortunately there is no Mr T here and he definitely does not pity the fool who plays at PlayOJO. Some of the benefits you will get if you become an A-Lister at this Casino.
A dedicated VIP Manager to help you with any problems which might arise.
Higher Withdrawal Limits
Faster Withdrawals
Increased Betting Limits
Exclusive Kickers (Kickers are rewards which the team at PlayOJO dish out daily).
Luxury gifts
Exclusive Competitions
Possibility to win Super and Mega Spins
And on top of this, they will also sort out a Birthday gift for you on your birthday.
Conclusion
This is one of the better sites we have reviewed recently to be honest. We were quite impressed with the various features, the No Wagering Requirement and the VIP Club. All of the Puns on this site would literally brings up the result another 0.5 points in our book. However, as some of you may not like puns, we will keep it at 4.0 points! We really recommend you to try out PlayOJO!