Vera & John Online Casino Review
Vera & John is a very colorful online Casino which has been around since the early 2010's. The story goes that when choosing what to call the casino, the founders didn't want to create a generic Casino. They didn't want a generic name like Casino "Bland", but rather wanted a name people would remember. One of their founders had been part of Maria Bingo and Carlos Poker, which Unibet (now Kindred Group) purchased in 2012 for a staggering $109 570 000! With the success of Carlos and Maria as brand names, the heat was on to find another set of human names to make history repeat itself! The combination of a southern European name (Vera) and a Northern name (John) was concocted and the rest is history!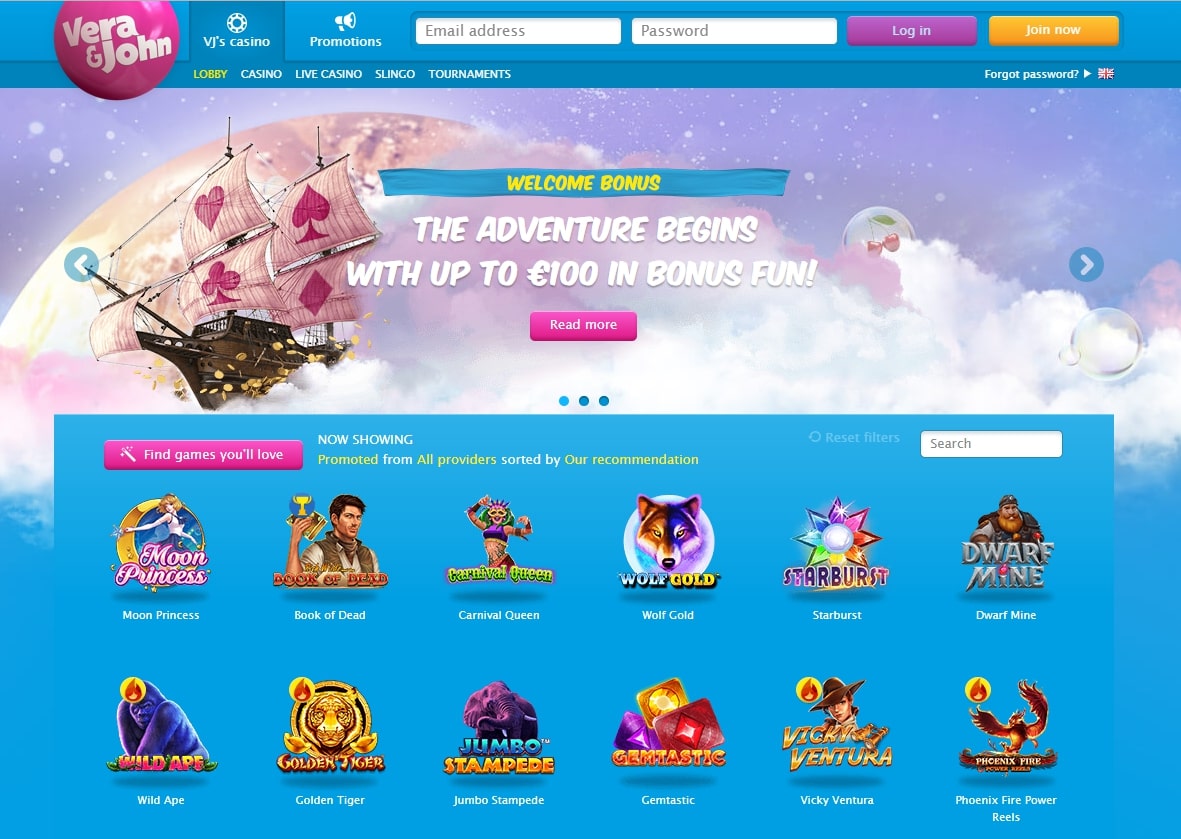 Why play at Vera & John?
Why should Vera and John be the next Casino you try out? Well, close to 25% of all people in the world has Blue as their favourite color, so if you are part of that Quarter, then read no further and sign up today. If the color of the Casino is not the main thing for you when choosing a Casino, then we are sure you'll like the tournaments at Vera & John. The Tournaments are available every day of the week and offers a variety of different prizes such as Cash prize, Bonus Money, Free Spins and even merchandise and home electronics at special occasions.
Vera & John are also one of the few Casinos around which carries the Slingo games. Slingo is a mix between Slots and Bingo, where you have a set amount of spins to collect numbers and get five in a rows.
"Slingo, Slingo, everyone loves a Slingo!"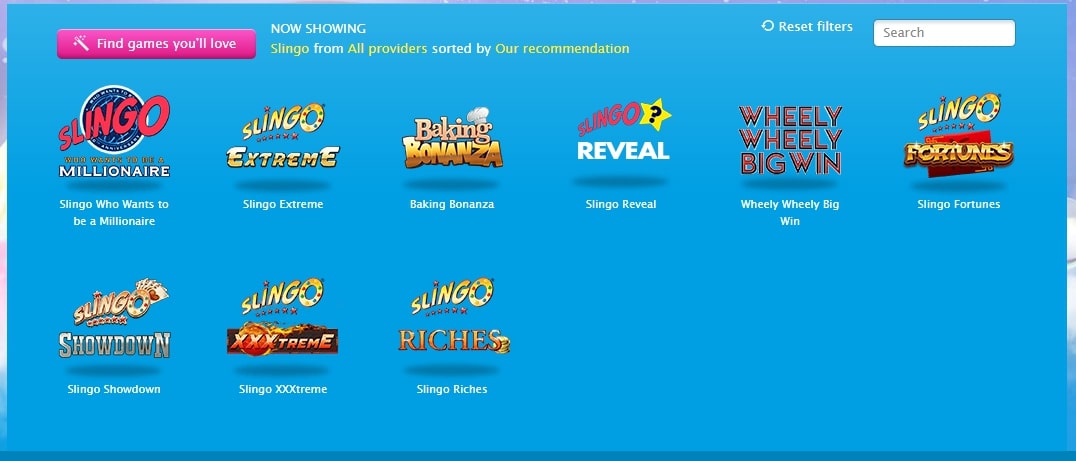 During our review, we tried out Slingo – Rainbow Riches, and we couldn't stop ourselves. The game is tremendously simple. You have your bingo coupon of 25 numbers and you get 10 spins to try to collect as many five in a row as possible; Horizontal, Vertical or Diagonal. Besides the numbers, you can also hit Jokers, Super Jokers and Free Spins. The Joker lets you pick any number on that column, whilst the Super Joker lets you pick any number on the whole board. The Free Spins symbol adds one more spin at the end of your ten starting spins. These Extra spins show up as yellow balls in your spin collection on the right hand side.
Collect five or more, and that's when you start winning. Each step from 5 to 11 Lines (Full House) awards a different bonus game with higher and higher paying potential.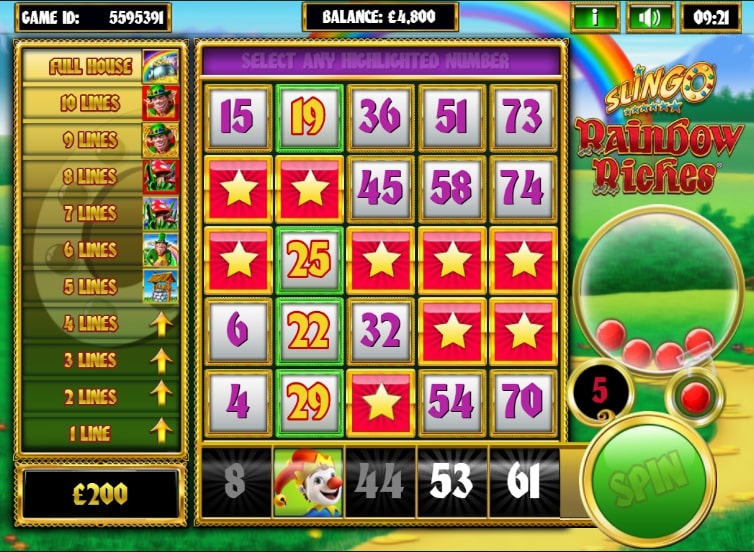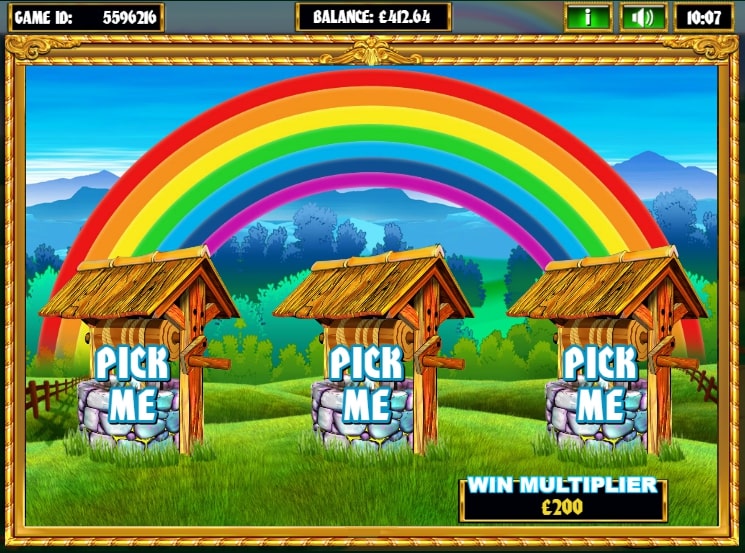 Another thing which stands out at Vera & John is their aim to use as much of the screen as possible when playing a game. They have removed as many distractions as possible and kept the Game Play page extremely clean and easy to use. Just have a look for yourself: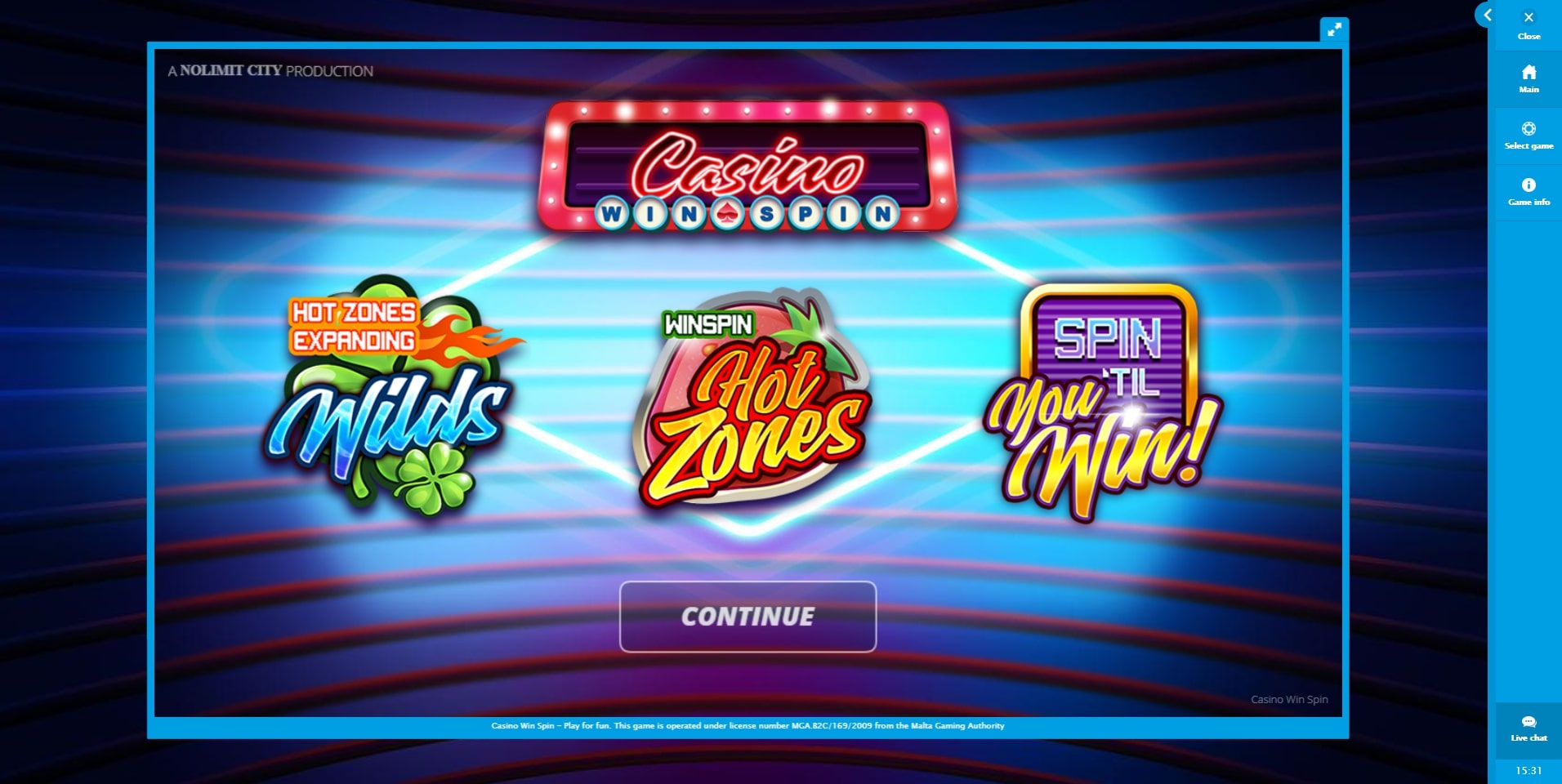 Welcome Bonus at Vera & John
At Vera & John, you'll get a sweet 200% bonus up to €100 when you make your first deposit. When most other Casinos out there stick to a 100% welcome bonus, Vera and John really stands out of the pack with their 200% bonus. The fair wagering requirement of 40 times the Bonus makes this a bonus we'd say yes to any day of the week.
As always, be wary of bonus terms and make sure you read up on all of them. We couldn't find any particularly malicious terms, but here are a few key excerpts:
40 times the bonus amount received in wagering requirement.
If you are from Uk, Sweden, Norway or Finland, and using Skrill or Neteller, then you are not eligible for the bonus.
Maximum bet of €6.25 on Slots and €25 on Table games.
Wagering Contribution for Slots 100% and Table games 15%. Some games excluded from bonus contribution.
UK, Japanese, Finnish and Norwegian customers have slightly different offers. If you hail from any of these countries, make sure to check what is in store for you.
Slots
When it comes to the Slots offering and number of Titles, Vera and John has aimed to get to and stay in front of the majority of sites out there. They have all of the big Game studios, but also some smaller ones we rarely see. How about Cadillac Jack, Oryx Gaming and Skillzz gaming? Not every Casino you can find games from these providers, but you do at Vera & John. With so many games, we've said it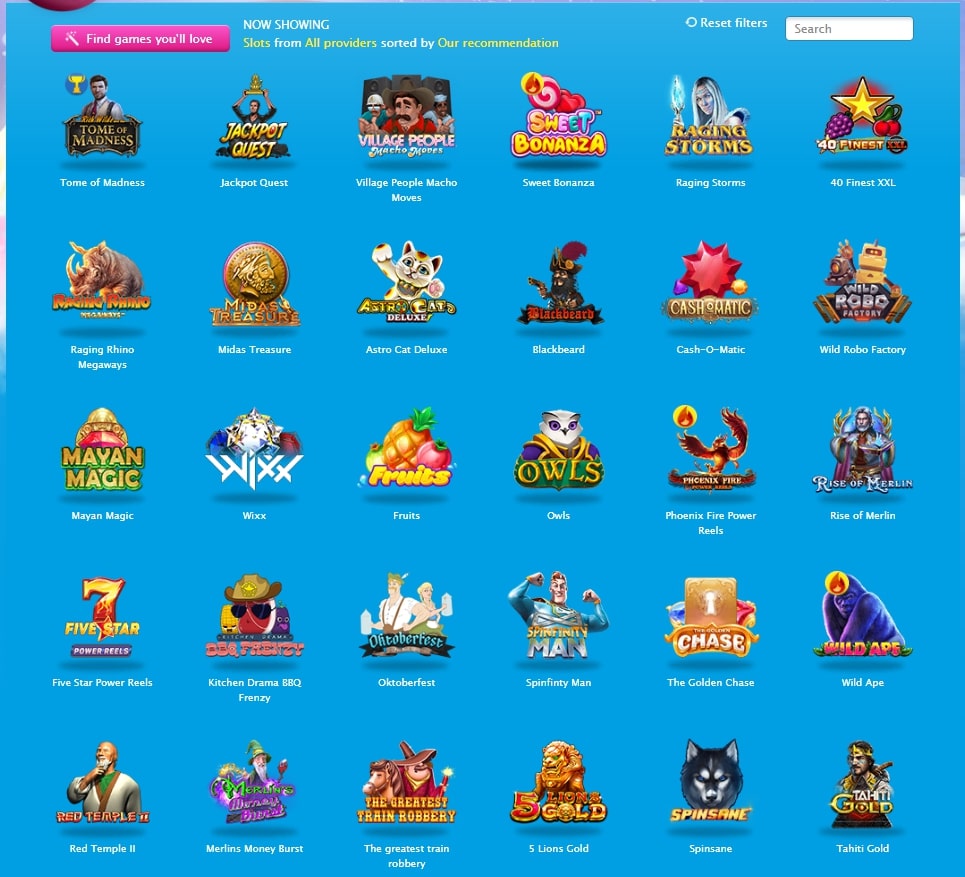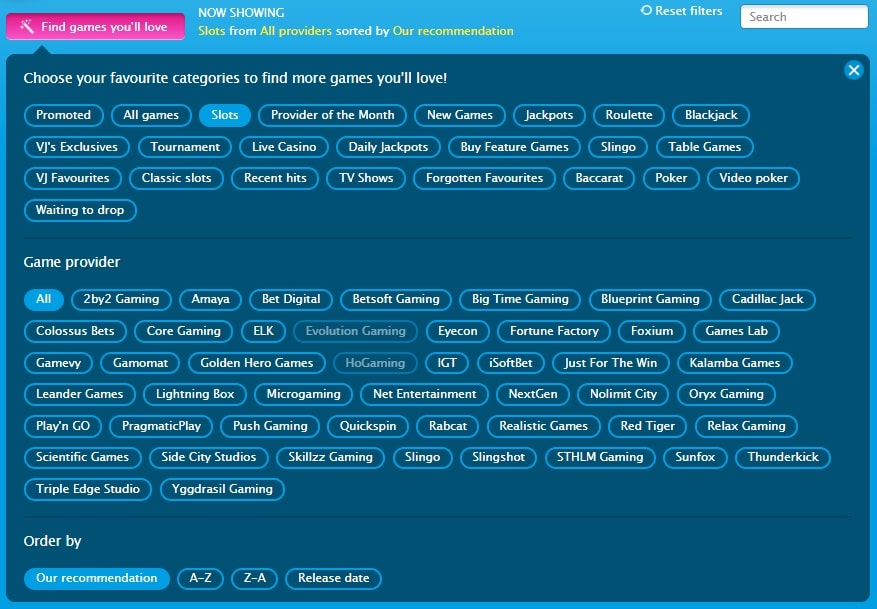 Live Casino
The Live Casino at V&J really stands out compared to other sites just by the amount of time they have spent on creating and perfecting the thumbnails. The offering is very similar to the many other online Casinos. The full Evolution Gaming offering is available, with all of their newest creations such as Lightning Roulette and Dice, Deal or No Deal and Monopoly Live. Of course, there is also the set of classics such as Roulette, Blackjack and Baccarat; and multiple versions and languages of each one.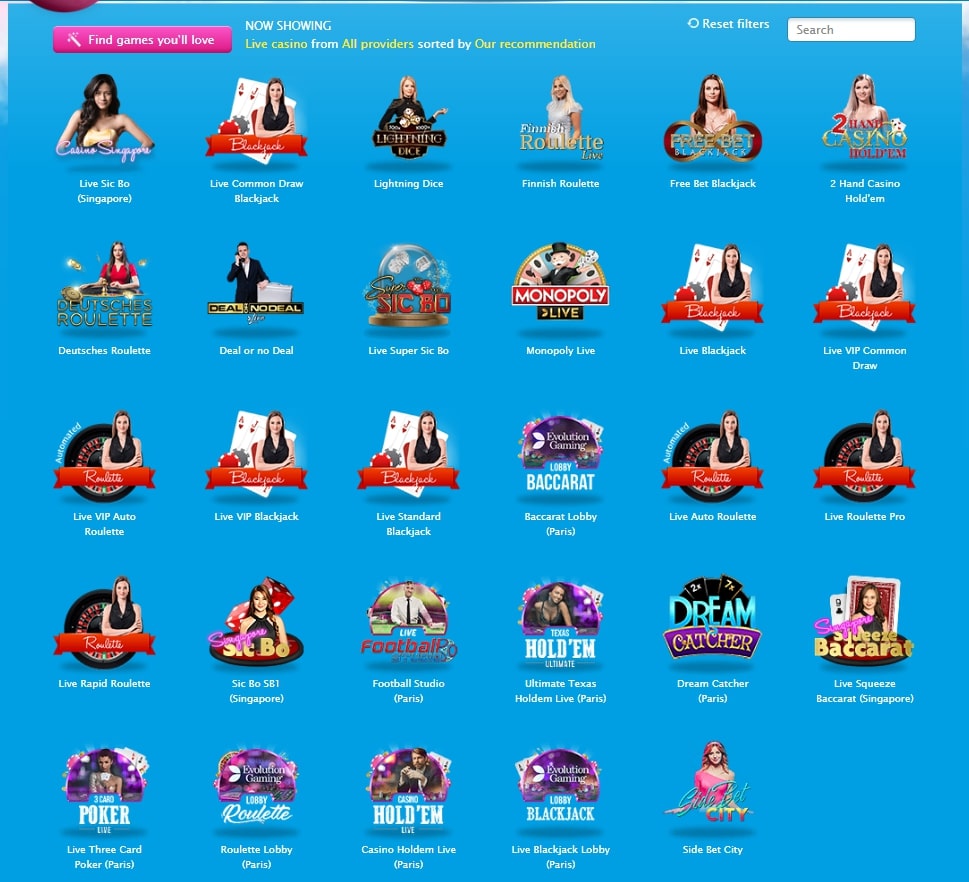 Other promotions
When it comes to rewarding loyal players, Vera & John does a lot. How about Daily Tournaments with prize pools of €1500 cash? It is easy to participate in the Tournaments. Simply play any of the eligible games as shown on the tournaments page and when betting higher than the minimum required bet, you're in!
The winner is usually determined based on best equalized payout over 25 consecutive rounds. "Best Equalized Payout" – What does that even mean? Don't worry, we had a hard time with this one as well. What it basically does is even the playing field for small and big players a like. It takes your win and divides it by your bet, over 25 rounds in a row. Betting €10 and winning €500 gets the same points and betting €0.10 and winnings €5.
Besides the Daily Tournaments, V&J runs site-wide promotions on a regular basis which can be found on the Promotions page. The majority of promotions are however personalized and communicated directly to the eligible players via Email or SMS.
Vera & John Loyalty Shop
Shop, shop, shop, until you drop! Besides the tournaments, Vera & John also boasts a thought-thru Loyalty points system where you earn points every hour, day or month by logging in, make a deposit, playing games or rating games. There is a limit on the number of coins you can earn on each action per hour. However, there is of course no limit on the amount of coins you can spend in the store! Collecting coins may be fun, but spending them are even more fun. The shop holds not just Free Spins and Bonus money to spend your coins on, but also Deposit bonuses, Super Spins and Spin Credits.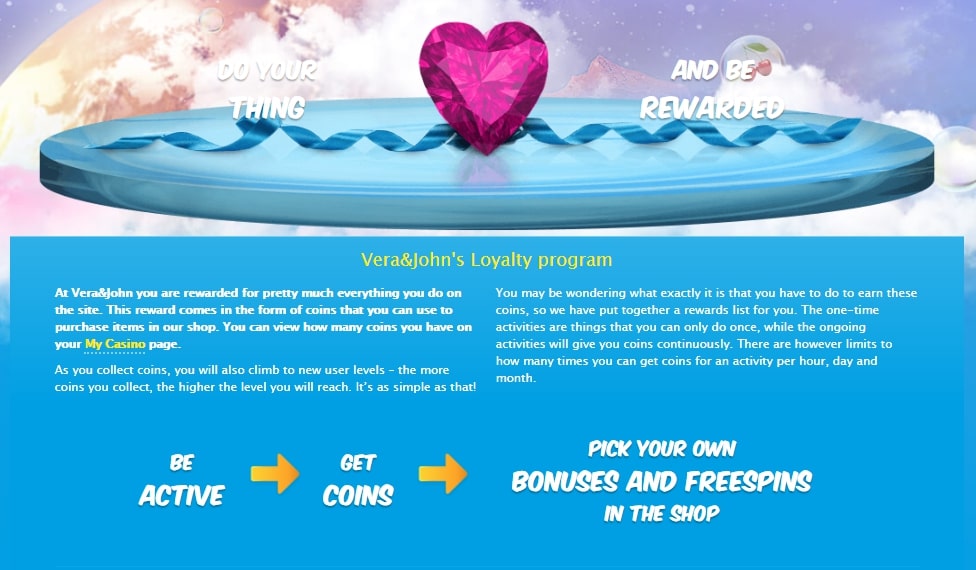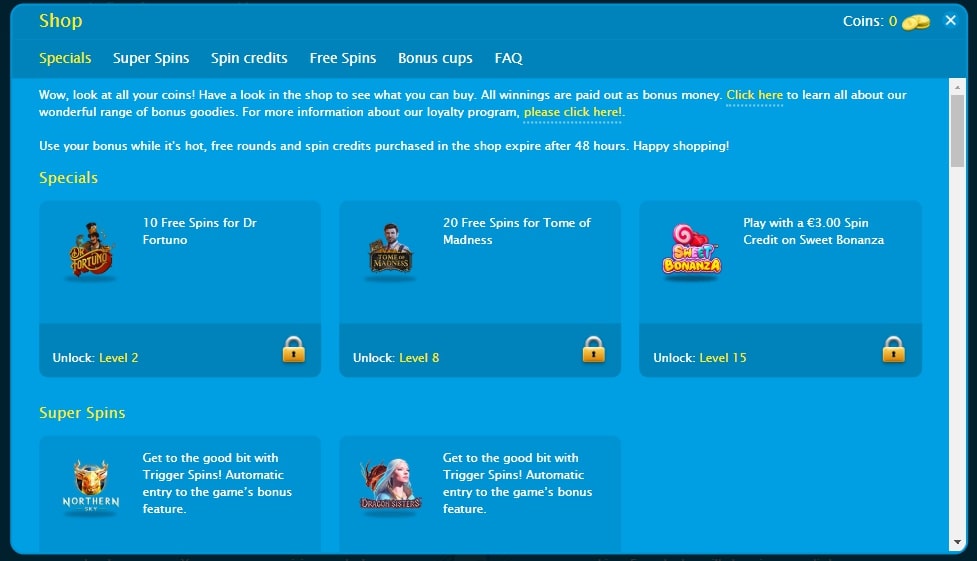 Conclusion
Vera and John is a Casino that has been around for more then 7 years, and it shows. They have really learned how to treat their customers. We've giving V&J a solid 4.5 out of 5 stars. The range of loyalty tools is impressive. With their daily tournaments, loyalty coins and a shop to spend them in, this site is slightly ahead of the pack. If you haven't tested it already, we suggest you give Vera and John a try!
Don't forget to join in on the laughs via Twitch or our Streaming page