Acorn Pixie Online Slot by Bally – Review by Slotmad and Free to Try Demo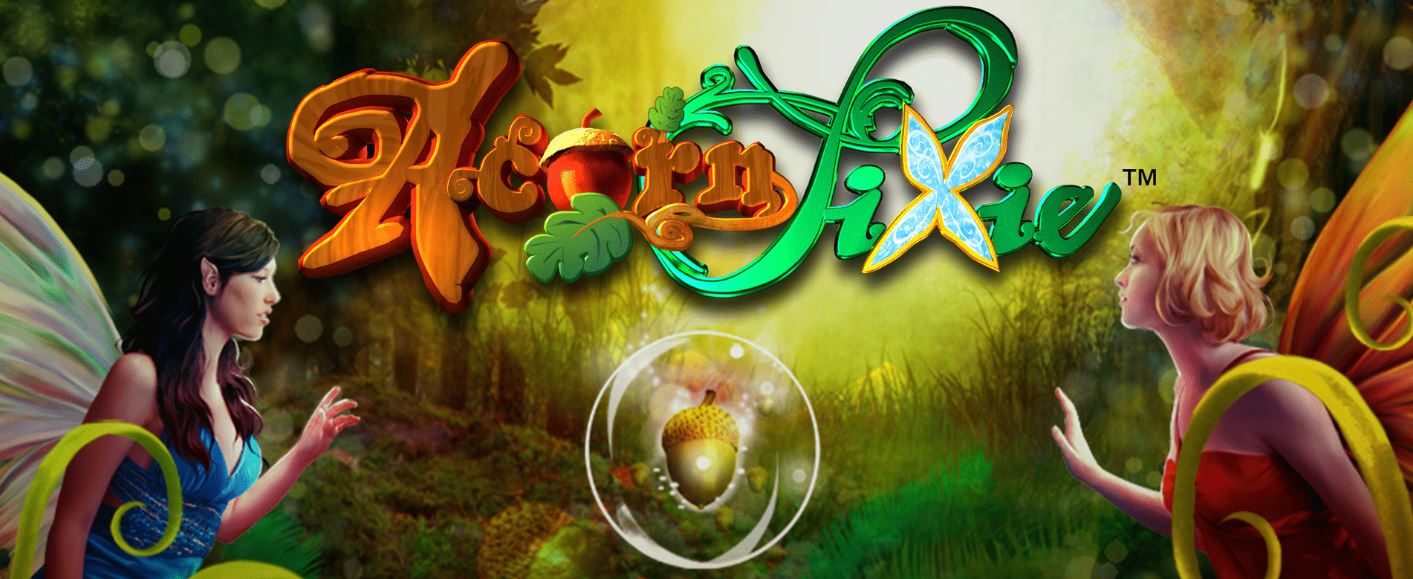 Get your groove on in this Grove with the Acorn Pixie Online slot from Bally. This video slot is available in landbased casinos as well, and we actually tried it at the Hard Rock Cafe Casino in Las Vegas last year. When we played the slot in Vegas, we kept buying the bonus until we filled up the entire slot during the bonus round. This happened one time out of 20 or so.
Great thing about the online version is that you can try it out for free here on Slotmad. Combine this with the fact that you can buy the bonus round and you can really get a good feeling for the slots before trying it with real stakes.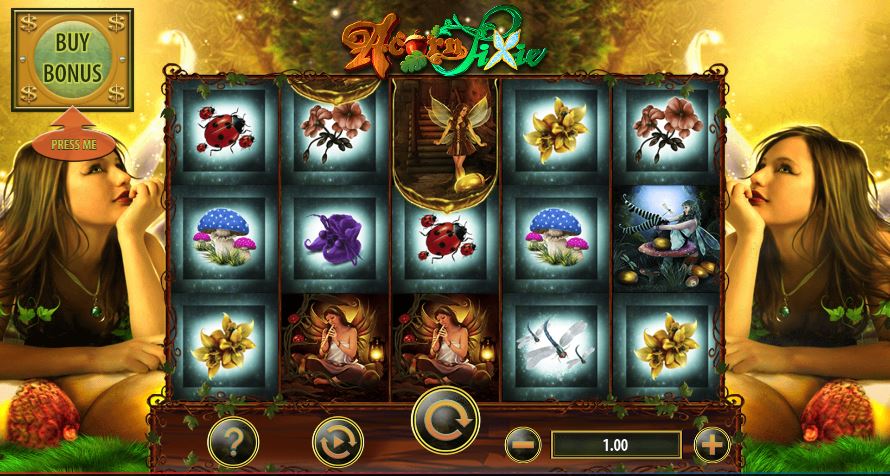 This review will focus on the online version of this slot, but it is very similar to the offline version. Lets get the basics out of the way with the symbols and pay table of Acorn Pixie.
Symbols and Pay Table in Acorn Pixie
Acorn Pixie is a quite unique slot and the pay table information pages really show that. There are twelvedifferent symbols, six low paying, four high payings, a Wild and a Bonus symbol.
Base game pays
During the Base Game game in Acorn Pixie, there are 30 paylines and the symbols pay similar to a normal 5×3 reel slot. The Wild pays 20 times your bet for five of a kind in the Base game.,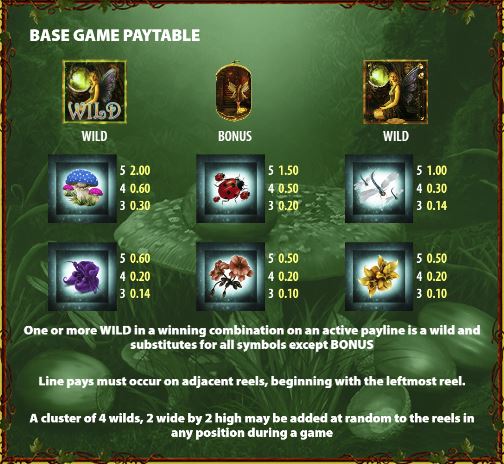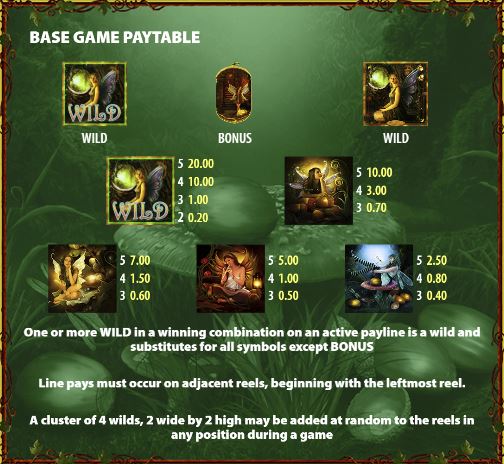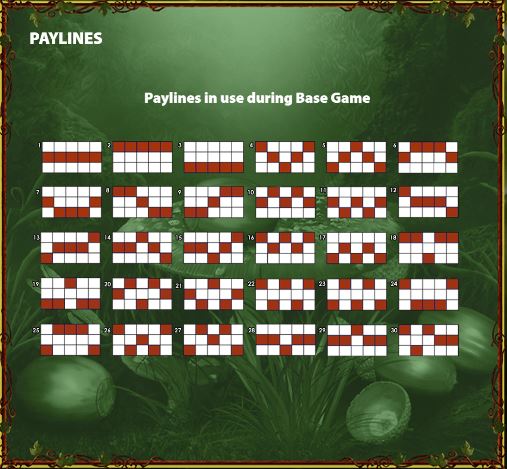 Bonus game pays
In the bonus game, the paylines go from 30 to 50, but the amount you win for each symbol drops significantly. The low paying symbols aren't affected as much as the high paying, where the pay for five of a kind drops by 5-fold or even more. This is because of the way the bonus game plays and the amount of sticky wilds that you get. Compared with the base game, the Wild 5-of-a-kind pay drops from 20 to 1.5 as you can see in the below and above screenshots.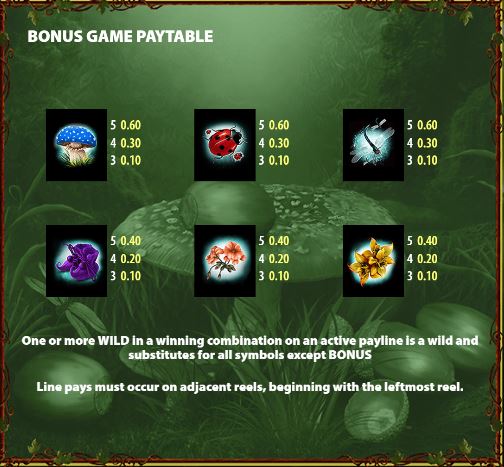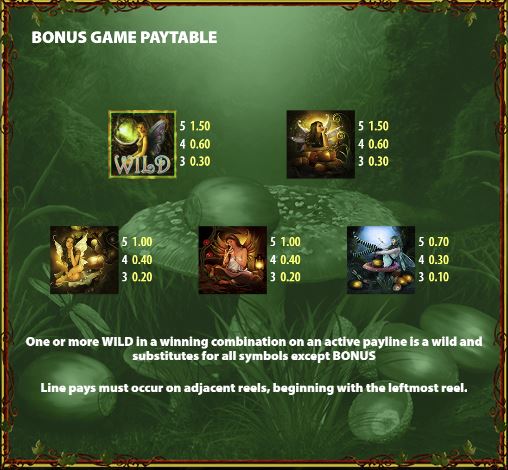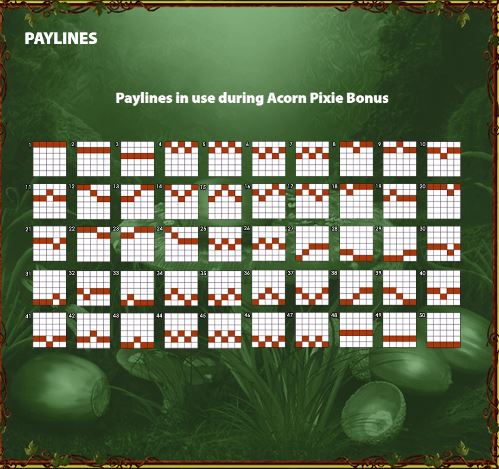 The Acorn Pixie Base game
The base game in this video slot is made up of 5 reels with three symbols showing on each when they stop. During the base game, there is a chance that a cluster of four wilds, two wide by two high, is added at random. This block of wilds can land on any position on the reels, revealing a big or massive win.
The aim is to get three scattered symbols, appearing anywhere in reels 2, 3 and 4. This triggers Acorn Pixie Bonus.
Bonus game in Acorn Pixie
The Bonus game activates when you hit three or more bonus symbols anywhere on reels two, three or four. The reels expand upwards to turn the 3×5 reel slot into a 6×5 reel slot with 50 paylines. Seven free games are awarded, and there is unfortunately no way to trigger extra spins. Each spin in the free games feature, there is a chance that one or more Acorns appear. An Acorn will transform the symbols they land on and reveal the wild background.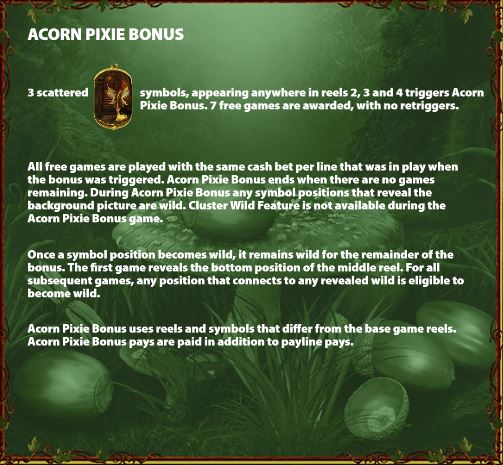 Once a symbol position becomes wild, it remains wild for the remainder of the bonus. The first game reveals the bottom position of the middle reel. For all subsequent games, any position that connects to any revealed wild is eligible to become wild. As Acorns show up, you open up more and more of the background, revealing the Acorn Pixie tree. The goal is to manage to clear out the entire background, but that rarely happens.
This Bonus round is a round of many, many small wins as you fill in more and more wilds. As winning combinations do not pay a lot, it is very hard to get any sort of huge win (500 times your bet or higher). In fact, during our testing and buying the bonus round, we have never even seen Acorn Pixie pay out more than 250 times the original stake.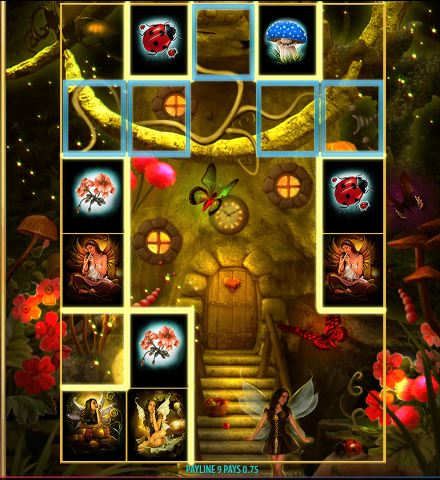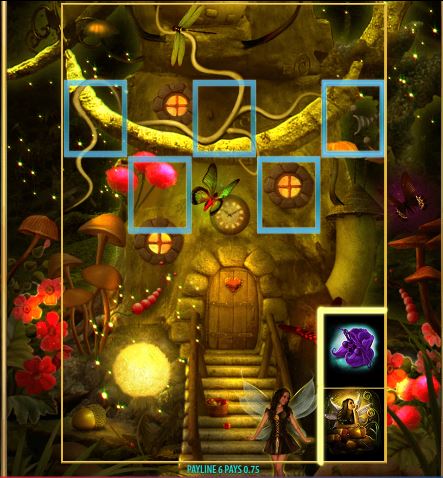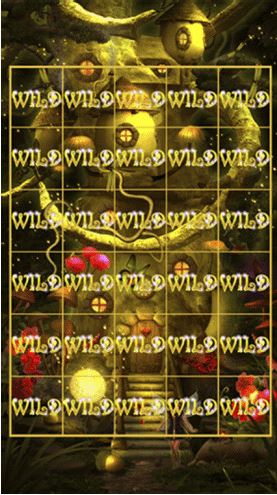 Buy a Bonus Round in Acorn Pixie
In this online slot from Bally, there is the option to Buy directly into the bonus round. This is great when wanting to just try the game, or if you are bored and want some quick action.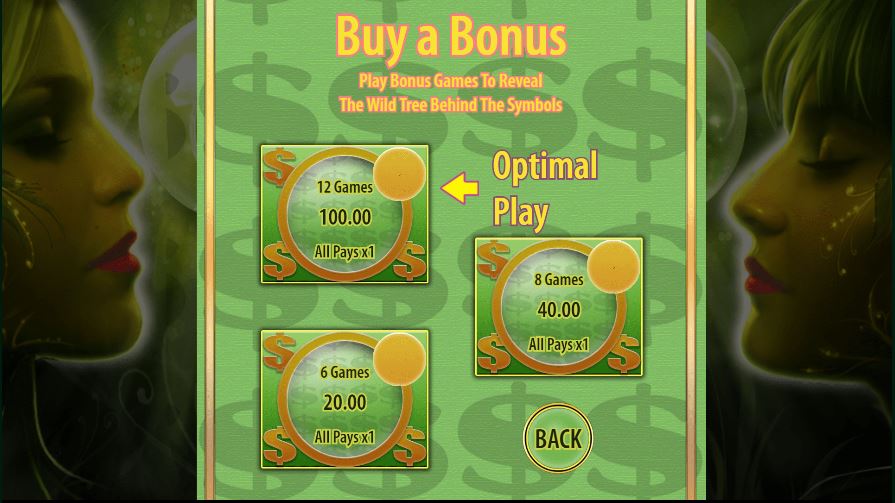 There are three different options when buying the bonus. You can choose to buy 12, 8 or 6 free games, for 100, 40 or 20 times your stake. The best option is to buy 12 games, as buying fewer leads to lower RTP. The RTP is 96% normally, but when buying the bonus it goes from 96% for 12, to 94% for 8 and 92% for 6.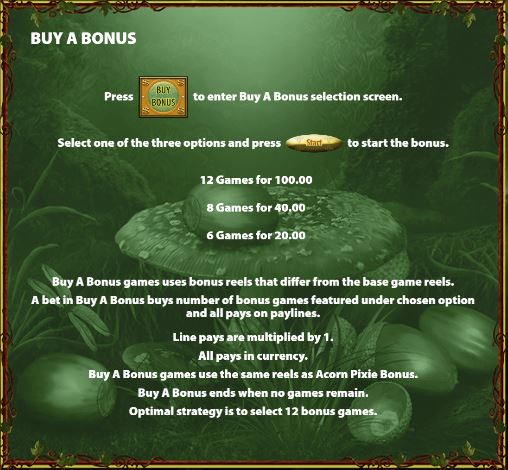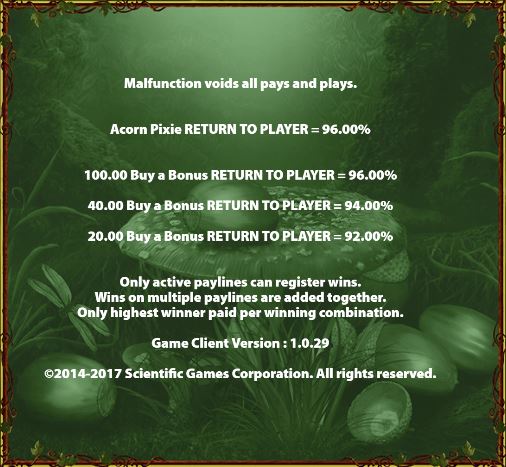 Conclusion
The Acorn Pixie online slot from Bally is a slot with very low volatility and you will get a lot of playtime for your money. However, it is very hard to win big. We tried buying directly into the bonus round about twenty times. Out of these twenty, we did not even win double our bet once. Most of the wins fluctuated between 60% and 180% back. This almost non-existent possibility of winning big makes this slot a "no thanks" for us here at Slotmad. We appreciate a lot of slot players like to have more playtime and play easier slots. For such players, this can be a good choice, but not for us. We rate it 2.6 out of 5 stars.
What to check out next at Slotmad!
Do you like to play slots and enjoy discussing all sorts including the state of the latest slot releases? Then join in with us on twitch. We'd definitely love to have you along.
Find out more here:
Take a look at the info on our Casino Streaming page
Youtube Slotmad Casino Streaming
Check out some more of our News and Review of other slots:
Our in-depth article on Scatters and How to Win the Free Spins Feature
Play Acorn Pixie at
100% Bonus on first 2 deposits

New and fresh casino
Level-up system for great rewards
Fair wagering requirements

Casino Review Claim Bonus

200% Bonus + 100 Free Spins

Casino, Live Casino and Sports
Triple your first deposit
No wagering on free spins

Casino Review Claim Bonus