Age of Asgard – Yggdrasil – slot review and play for free.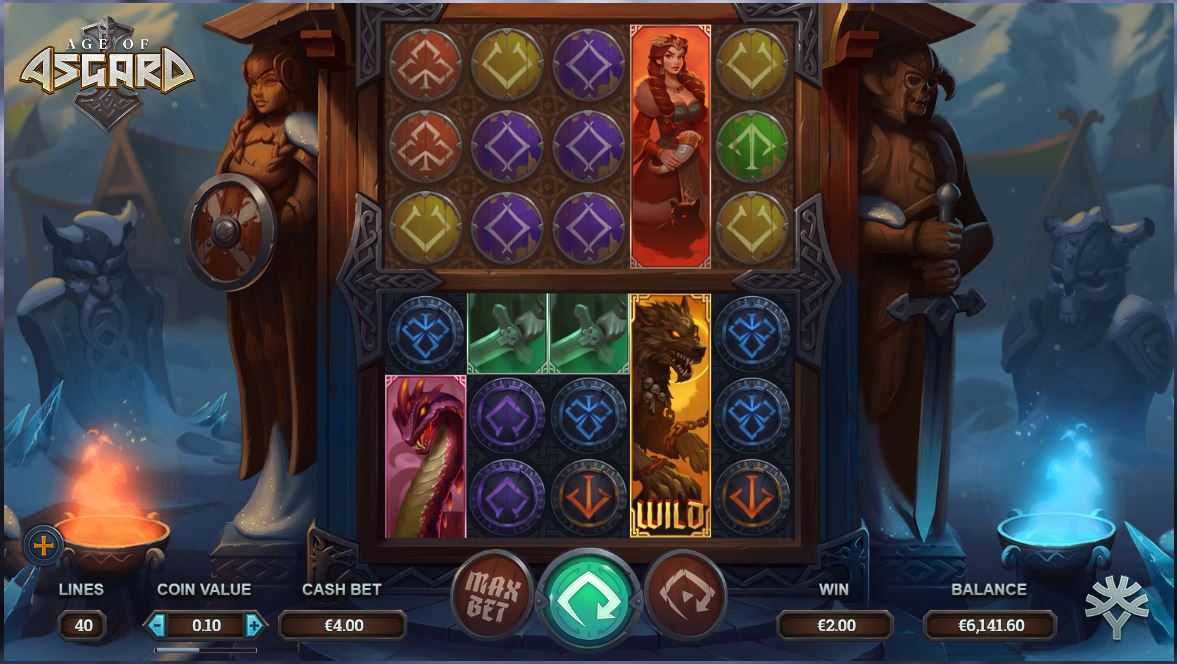 It feels like a while since Yggdrasil went back too their Norse roots (no pun intended but I'll take it).
Age of Asgard is a really welcome addition to their portfolio and it's great to see them doing what they're best at.
It's a 40-payline 5-reel setup and the graphics and atmosphere are exactly what we've come to expect from Yggdrasil.
Players see a fiery female-dominated cast cross swords as the reels collide. All high-pay symbols and Wilds are 1×3 long. Wilds can nudge to occupy a full reel in battle; triggering a Respin and remaining sticky for all future Respins. When rival wilds meet on opposing sides of the same reel, they CLASH! This feature spawns 2 to 4 smaller Wilds.

Landing 3 Free Spins symbols takes players to Free Spins, where two machines become one of 5×6 and wilds get even bigger! The machine with the Free Spins symbols invades the game screen for the duration of the round, leaving no room for the opposing characters. These rounds bring 10 Free Spins to start, while long 1×6 Wilds can nudge and clash every time; spawning up to 4 random wilds and bringing an eruption of Respins!

6 Free Spins symbols in the Base Game take players down into Ragnarok Free Spins where the ultimate battle ensues! If only 5 Free Spins symbols land, then the Randomiser is activated which will either take the player to Ragnarok or grant them a consolation prize of 1000 coins.

Only high pay symbols can withstand the heat of Ragnarok in this round. The inferno brings a rush of 20 Free Spins and Wilds with guaranteed nudge power bringing Clashes and Respins. When 3×5 or 5×6 machines are taken over by sticky Wilds, players earn a Ragnarok Big Win – Boasting rewards with a force strong enough to smash computer screens!

An eternal fray with enormous rewards awaits. Do your players have what it takes to enter the fiery battle of Ragnarok?
Do we have what it takes? F*ck yeah. VALHALLA!!!
Sorry I got a bit carried away there, it's the mead.
Age of Asgard – Features
Prepare yourself – there are a heck of  a lot features in this one.
Stacked Wilds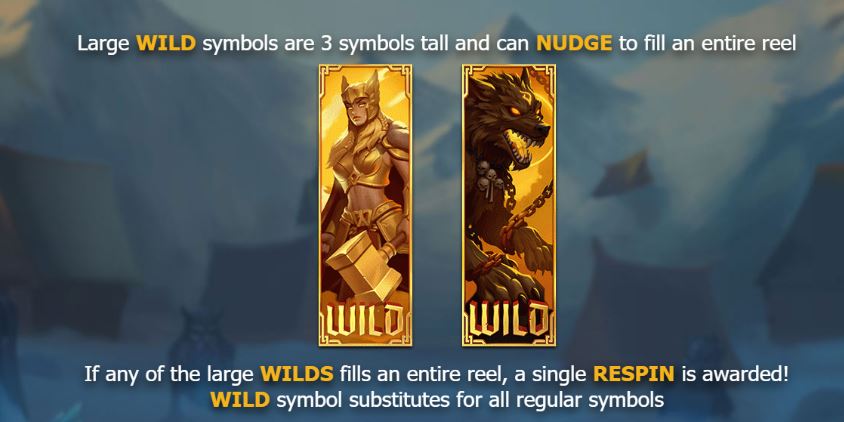 Wilds are stacked to a full 3 symbol height.
When a wild lands and fills the reel you'll receive a respin.
Land another wild and you'll respin again.
Get properly lucky and you'll fill all the reels with wilds and trigger the top win!
CLASH feature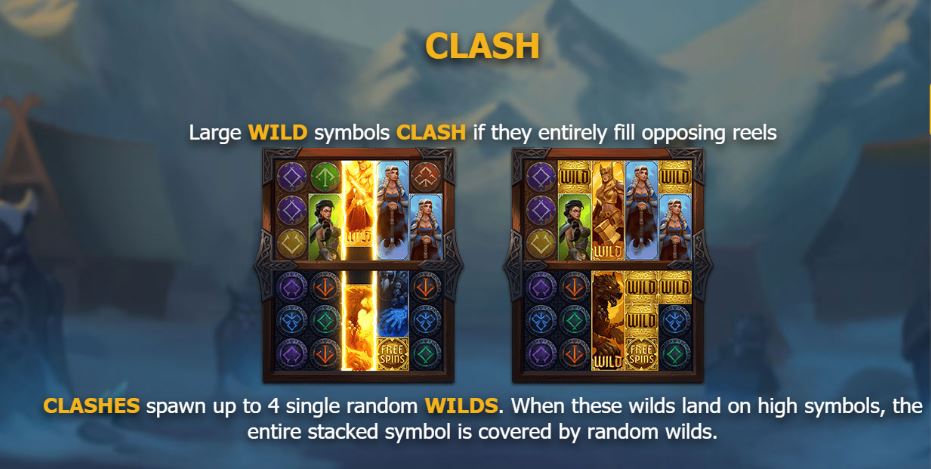 If you land two full wilds on directly opposing reels  the Clash feature is triggered.
Two additional Wilds are are given for the spin and then you'll get a respin.
It's like Sakura on Spice after that…
Two nudged wilds gives you two additional random wilds
Two stacked Wilds (not nudged) gives four additional random wilds
One stacked wild and one nudged wild gives three additional random wilds
Got it? You really just need to cross your fingers that  you get all the wilds. Simple.
FREE SPINS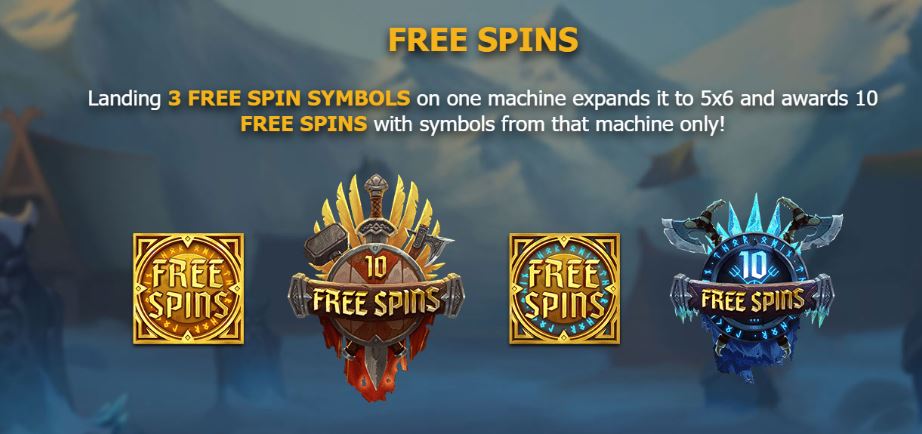 The standard free spins are triggered when 3 free spins symbols land in one of the game screens. 6-symbol Superwilds will be added to the reels with the chance to nudge and create respins and the Clash feature.
RAGNAROK FREE SPINS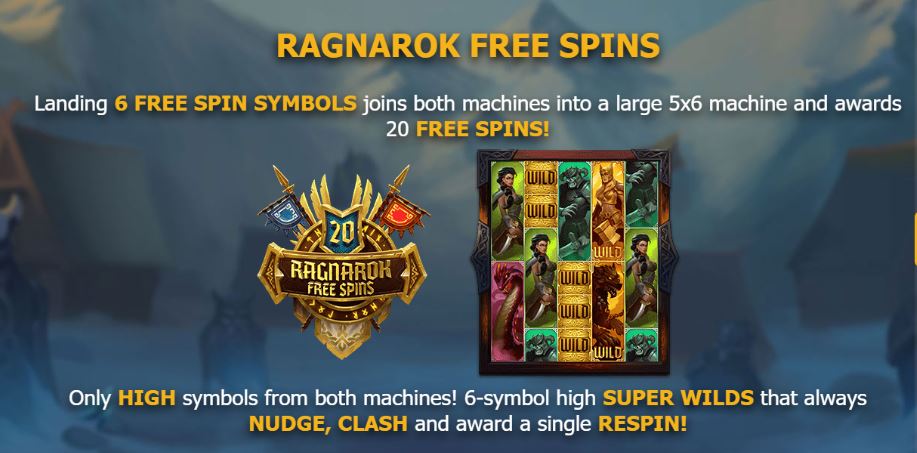 Land two wild stacks on each reel set and it's the big one. Ragnarok!
All low paying symbols are removed during Ragnarok free spins and you're playing with just the big payers.
Every time a stacked wild lands (anywhere in view) it will nudge to fill the reel.Nice.
THE RANDOMIZER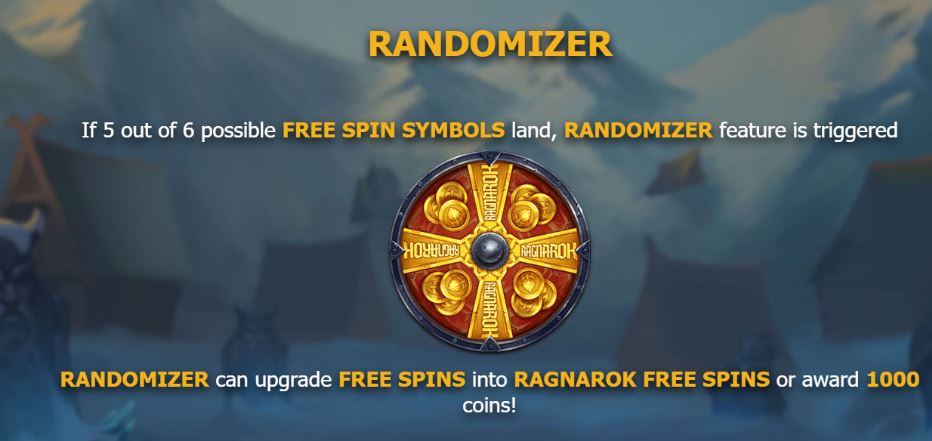 It wouldn't be a real Yggdrasil game without the addition of a modifier. I'm not buying the American spelling though gents..
Look at this as a near-miss second chance.
If you land 3 free spins symbols in one game area and manage 2 on the other the RandomiZer will appear.
It can add the missing symbol and trigger Ragnarok Free Spins or you or it can give you a nice  little 1000 coins top–up.
Age of Asgard – Yggdrasil – Conclusion
I love the theme. I love the fact that Yggdrasil are releasing games like this again. And not just exclusives that we can't all enjoy together.
I have two small issues with it.
It would benefit from being far more volatile – that's a personal thing though I do acknowledge the gap for more medium volatility games.
It's also  not really suited to Mobile. It's fine on a tablet or a bigger screen but the two game screen setup can be tricky on a phone.
Try it out for free at the top of this review.
If you like this we think you'll like
Play Age of Asgard at
Double Up or Cash back! Risk Free!

New Casino
No Wagering on Level-up Rewards
Great selection of Games & Bonuses

Casino Review Claim Bonus

100% Welcome Bonus

Gamified casino with great offers
Play 6 times faster with Blitz Mode
Unique Loyalty Program

Casino Review Claim Bonus