Beavis and Butthead Online Slot Review
Beavis and Butt-Head is probably something that rings a bell to anyone over 30. It is an American adult animated sitcom, created in 1992 by Mike Judge. It originated from a Short film and ran on MTV in the 90s, with a brief comeback in the winter of 2011. Lately, many other 80s and 90s movies, cartoons and sitcoms have gotten their own Slots. Now it is time for Beavis and Butthead to step up to the plate and hit it out of the stadium.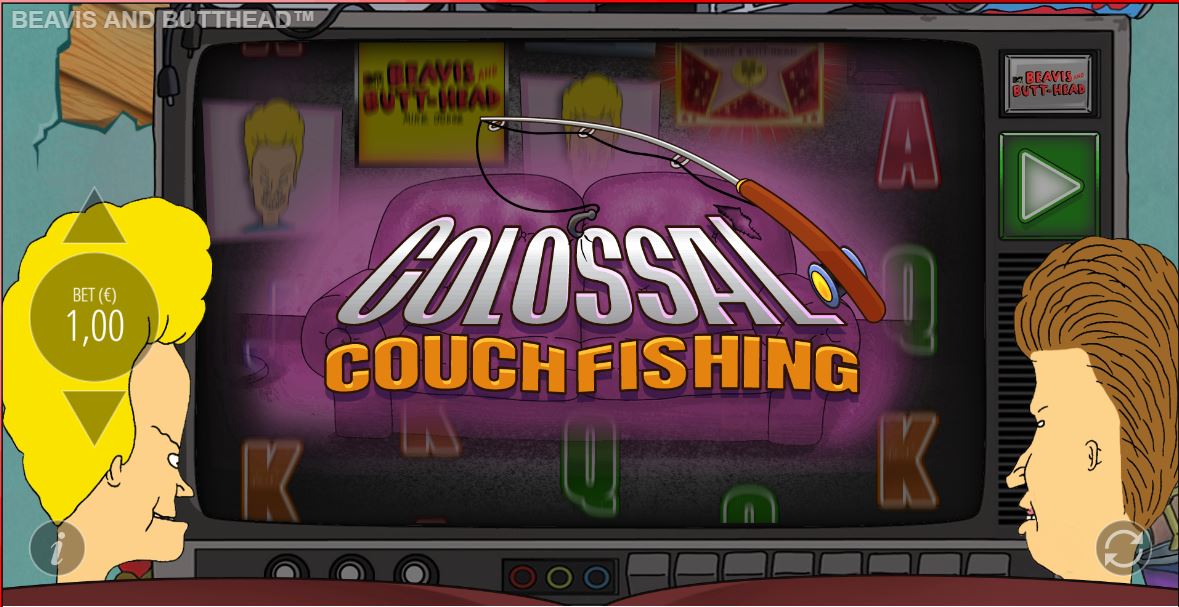 About Beavis and Butthead
The Beavis and Butthead online slot has 20 lines to bet on, and offers stakes from €0.10 to €500. As it has such a high maximum bet, we can conclude that the volatility is medium to low. This means that winnings of 1000 times your bet are very rare and much more than so will never happen. However, in these kind of slots you will get longer playtime in general and you can have good wins.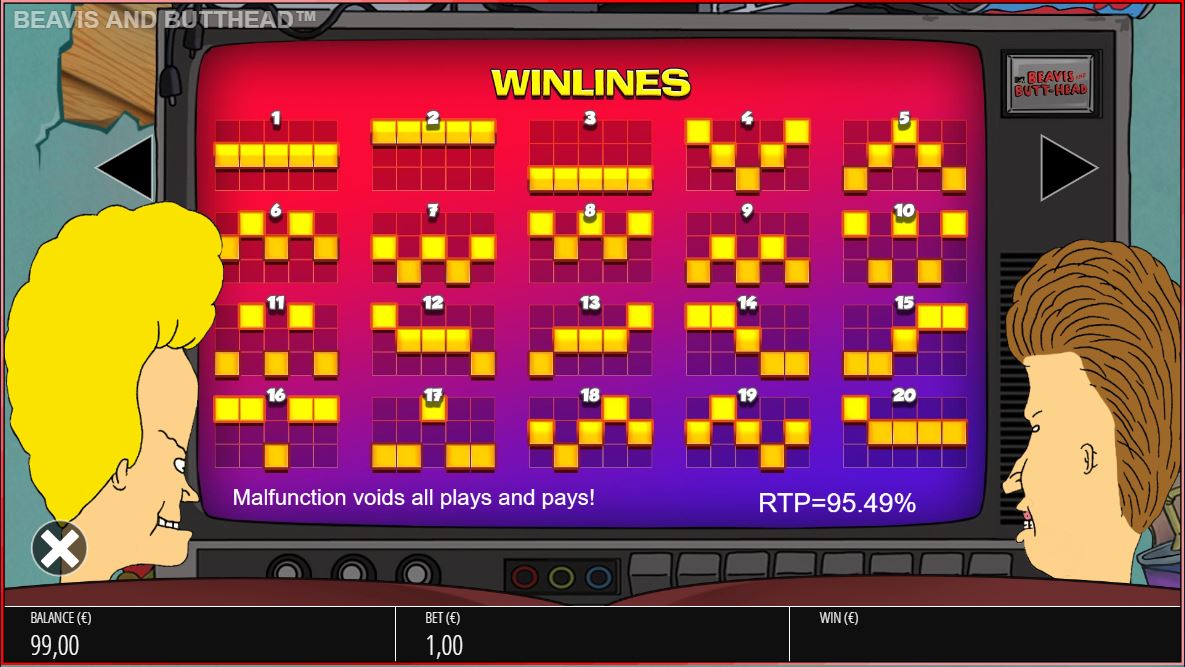 Base game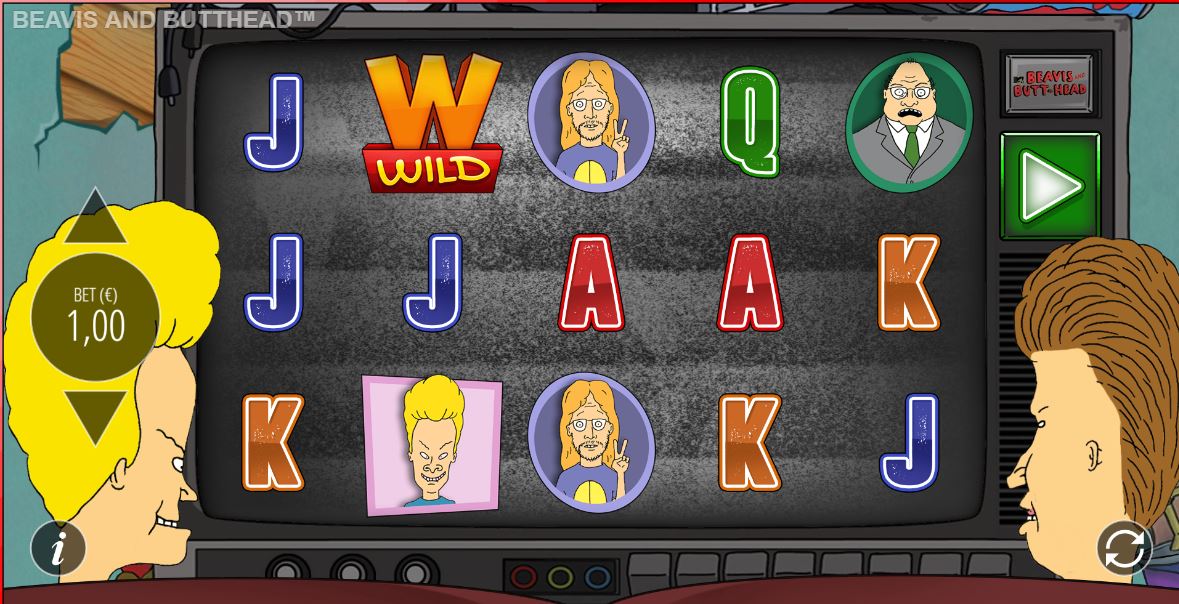 The Base game has a lot of fun random features called "Couch Your Cash". These features can trigger randomly on any spin. The different random features which can happen are:
Die Fly, Die! – Wilds can overlay the reels, turning positions wild.
Cornholio Wilds – Any of the reels can be turned into a full reel wild.
Colossal Couch Fishing – As the reels continue to spin, 3 adjacent reels can be turned into a Colossal Reel.
So Nacho – During any spin where a Nacho lands on the reels a symbol is chosen which is displayed from every Nacho in view.
Butt Flambé – Additional Bonus symbols are added to the reels.
Some Like It Hot – Guaranteed to award a big winning spin
Besides the Couch Your Cash features, there are also an additional random feature which can happen after a spin. Suddenly symbols gets knocked off the reels, replaced by new ones. Thus changing the channel to reveal a win.
Bonus Features of Beavis and Butthead
Beavis and Butthead Online Slot is packed with Bonus features. It is very similar to the Goonies in that sense, another great slot from Blueprint Gaming using a 80s movie. The Bonus Feature is activated as soon as three or more Bonus symbols land in view. No payout is rewarded for the three or more scatters, just entry to one of the Bonus rounds.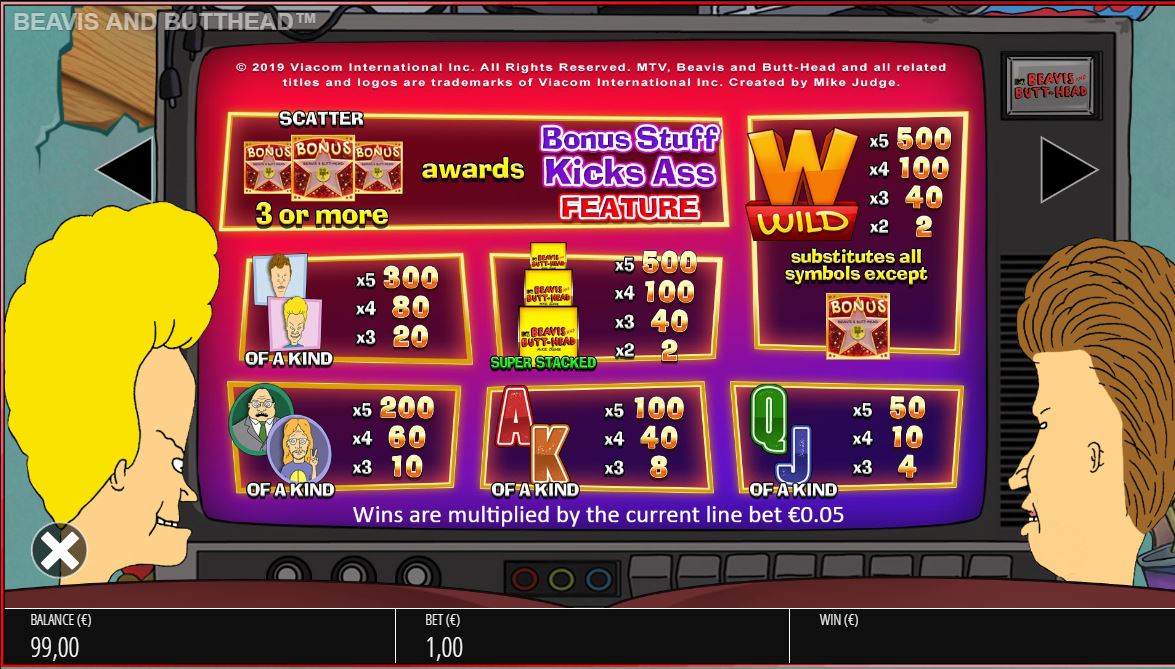 Just like in the Goonies slots, there is the option to Gamble your current feature to get a better one. If you gamble and win, the feature you have won can be collected. This continues until you either collect, reach the top feature (where it automatically awards that feature) or you reveal either a Mystery Win or a previously awarded feature. The feature the automatically starts. If you get a mystery win, it will be a cash value based on a multiplier of your total bet.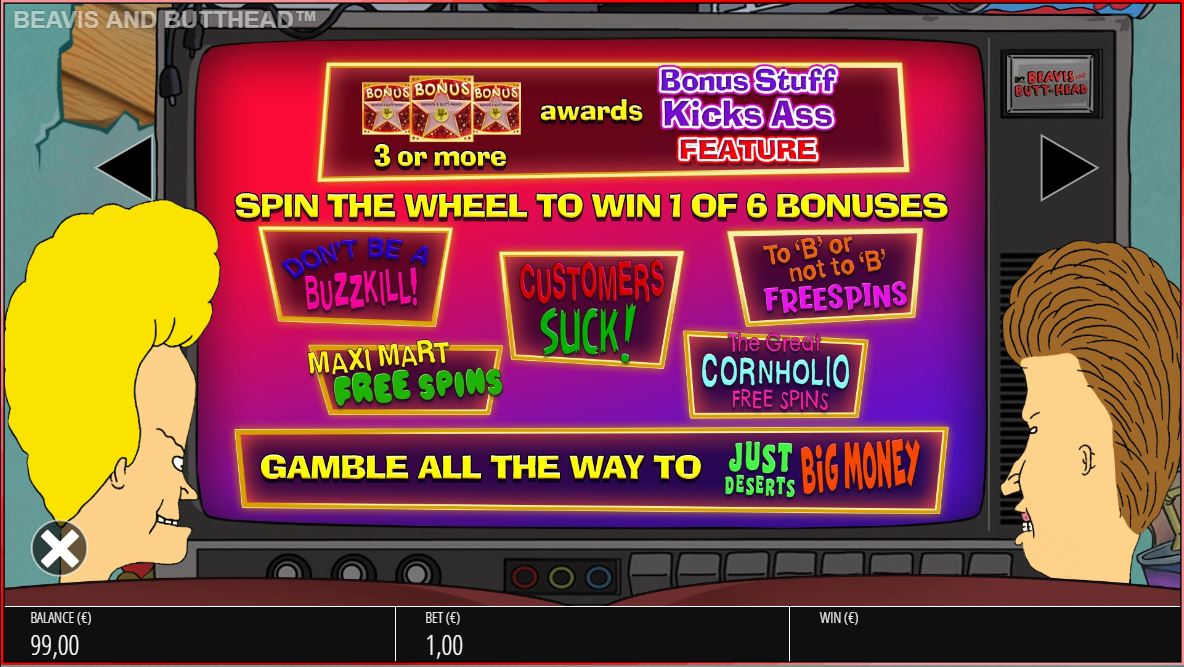 The different features available to play for in the Beavis and Butthead slot are:
Don't Be A Buzzkill Bonus
In the "Don't be a buzzkill" bonus feature, the player gets to pick either Beavis or Butthead to reveal one of the following outcomes:
CASH ADD (adds a cash amount based on the player's total bet);
BUZZKILL (increments the Kill-O-Meter. Filling the meter ends the feature).
During the bonus, the loud speaker can also give off an announcement and trigger any one of the 5 additional Bonuses.
Customers Suck! Bonus
Customers Suck! is a a pick me bonus, where you choose food boxes to reveal an icon. You can get a Cash Value times the current multipler, an Upgrade icon (which upgrades the multiplier), and Beavis and Butthead Worm Burgers. If you collect three worm burgers, the feature is over.
There are also Gold Super Burgers available. If you find enough of these, you will be awarded an additional Bonus feature.
To 'B' Or Not to 'B' Free Spins
These are the first Free Spins bonus. Each and every spin, either the Beavis or Butthead symbol turns into a wild. There are also overlays which can appear on any reel.  If the player collects enough overlays, they win the following:
Super Spins – All Beavis & Butthead Are Wild On Every Spin.
Just Deserts Bonus – this will award the player the Just Deserts Bonus.
Maxi Mart Free Spins
During the Maxi Mart Free Spins, a special Wild can land in view. If you get another Maxi Gulp Wild on any future spins, all reel positions where a Maxi Gulp Wild has landed before will turn wild for that spin. As you can imagine, this can become quite a few wilds after a few spins of build up.
Similar to the To B or Not to B free spins, the player has to accumulate a number of overlays to win one of the following:
Super Spins – Maxi Gulp Wilds all reappear and hold in place for all Super Spins (maximum of 3 Super Spins).
Just Deserts Bonus – this will award the player the Just Deserts Bonus.
Super Cornholio Free Spins
During these free spins, Cornholio can appear from any toilet cubicle and turn reels into Wilds. Several reels can turn wild on any given spin.
As in the other free spins features, overlays accumulates and lead to extra spins or the Just Deserts Bonus.
Just Deserts Bonus
The Just Deserts bonus is the bonus with the highest value. It only triggers when you collect 5 Bonus symbols, gambling to, or having revealed the Just Deserts Bonus in the Bonus pick feature. In this feature, you pick an icon to advance Beavis and Butthead along the desert trail. As you move forward, you accumulate cash wins. If you manage to land on an Oasis position, you will be awarded a mystery outcome. Make it all the way to the end of the trail and you get to pick a Super Big Money Multiplier.
Conclusion
Beavis and Butthead is an ok Slot. We give it 3 out of 5 stars. If we were to choose between this and the Goonies slot, we would choose Goonies every day of the week.
Check out this 170x win on Goonies we had on Slotmad Twitch. 
Watch us play Beavis and Butthead and other slots live on stream through the following channels:
SlotMad Streaming Page
SlotMad Twitch Channel
Youtube Channel
Have we peaked you interest in more reviews. Check out the following games:
Narcos Online Slot from Netent
Play Beavis and Butthead at