Big Bounty Bill – Kalamba – Slot review and play for free.
It's another Western-Themed slot. It's Alien-Western to be fair which is pretty much a genre nowadays isn't it?
Can Kalamba's Big Bounty Bill match up to the likes of Gun Slinger, Dead or Alive 2 or Bonanza?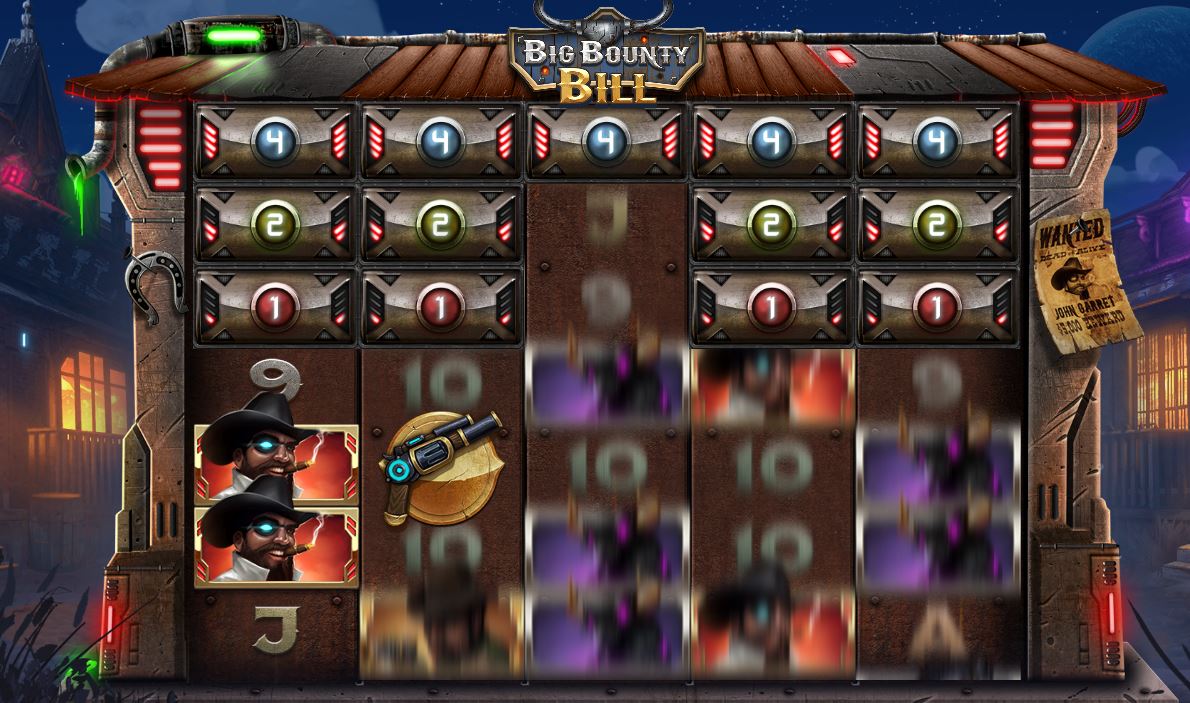 The Game takes place on a 5×4 grid with the possibility to expand by opening an additional three rows which are locked intentionally.
The grid has been used before on Doctor Elektro so you may well be familiar with it (it's not the same game though by any means)…
Kalamba sums this one up like so…
Join Big Bounty Bill on his journey to the Badlands in dogged pursuit of a gallery of original villains to reel in big prizes in this Retro-futurist slots adventure.

Packed with Kalamba signature features that let you play your own way, Big Bounty Bill lives up to his name with a maximum win of 5000x bet, allowing truly intrepid gunslingers out there to chase really big wins.

Persistent Hyperspins add an extra layer of fun – collect expansion symbols to raise column height then collect 3 symbols to trigger HyperSpins.

Can't wait to to land some prizes? Use our signature HyperBonus feature to shortcut to the bonus round
The base game is enjoyable although it's not the way I'd choose to play this. That's true for the potential return as well as for the entertainment value.
The paytable is low on the face of it but you do of course get a lot of help from the stacks, the wilds and the
The beauty of this game lies in the buy-ins.
Ordinarily, I wouldn't play at very low stakes but it is well worth it for the buy-in at 25 spins.
Anything less than 20 is unlikely to bring massive returns, the 8 spins option is just silly.
The cost is as follows
8 Free Spins – 45x bet
15 Free Spins – 107x bet
20 Free Spins – 165x bet
25 Free Spins – 229x bet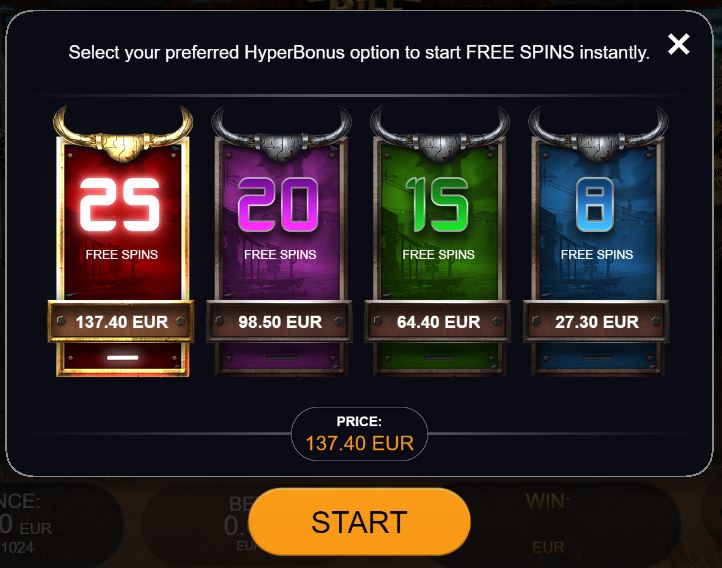 Buy in at the top on low stakes and this game is just incredibly good fun.
You will bomb out sometimes of course but you'll double up a fair bit too. There's a whopping 97.33% RTP on this one so it's not going to bite too hard.
Of course, you shouldn't gamble more than you can comfortably afford to lose. If you can afford the 25 though go for it you'll be glad you did.
Big Bounty Bill – The features
The game isn't short on additional features.
Pistol Expanding symbols
If you're going to get to the 16800 ways you'll need to see a lot of these in the free spins round. Each one that lands clears one of the markers on the tile above.
Row 1 contains 1 shot tiles.
Row 2 contains 2 shot tiles.
Row 3 contains 4 shot tiles.
In the base game clearing these adds new Hyperspin triggers.
If 3, 4 or 5 Pistol Expanding symbols land on the reels at once you'll get 3, 4 or 7 Hyperspins respectively.
Hyperspins
During Hyperspins tiles that have been hit previously are removed to expand the reels and the number of ways to win.
Max ways are 16807.
Bonus Spins
Land 3 Sheriff symbols and you'll also trigger hyperspins.
You'll get 8 free spins and with each tile moved you'll receive an extra spin.
Frankly, 8 just isn't enough – with that, it's just a poor game with little potential in sight.
It's there of course but few will see it.
The way around that is to use the Hyper Bonus and buy your way into the fun.
Big Bounty Bill – Conclusion
It's a good game, they've excelled on the graphics this time and the sounds, mechanics and sense of anticipation are all there.
The ONLY way to play this is as described above with the buy-in.
Without that this would have been a 3.0 review – with that it becomes a 4.5+.
Lucky they put that in, next time perhaps they can incorporate the 25 spins chance into the base game.
Give it a go for yourself in the demo at the top of this review.
For more info read Kalamba best online slots
Play Big Bounty Bill at
Double Up or Cash back! Risk Free!

New Casino
No Wagering on Level-up Rewards
Great selection of Games & Bonuses

Casino Review Claim Bonus

100% Bonus and 200 Free Spins

New casino with great bonuses
Level up and get rewarded
Fresh design and a good selection of slots

Casino Review Claim Bonus