Big Vegas Online Slots Review
Bally bring you the Big Vegas online slot! Bally haven't had the best record with online slots so far, they are undoubtedly popular offline but they still haven't quite managed to get such a following online.
The problem is that their online games appear as an afterthought, as though some executive somewhere looks at the offline games and instructs the team to "get that one online, but do it in the quickest, cheapest way possible"
They are starting to get better though and Big Vegas is, well, it's not bad…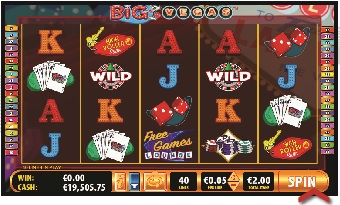 Features
40 paylines
Double Directional Wilds Feature – Reels 2 and 4 have Double Directional Wilds feature for big win opportunities. Players spin for 1 or more Roulette Wheels symbols on reels 2 or 4 in the Base Game; all symbols become Wild in the direction of the arrow! That can give some crazy wins to be fair.
Free Games Bonus Feature – Players spin for 3 scattered Free Games symbols on reels 2, 3, and 4 to win 5 Free Games and 3 times their total credits bet!
Scatters – Players can spin for 3 scattered Free Games symbols on reels 2, 3, and 4 – Features 5 Free Games at 3 times the total bet.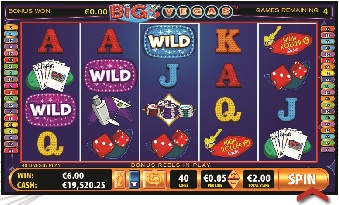 If you like your slots simple and with big win potential then you should certainly give this a go at your favourite Bally online casino.
If you prefer your slots with 3D intros and intricate storylines then this one isn't for you.
Watch us play Big Vegas and other slots live on stream through the following channels:
SlotMad Streaming Page
SlotMad Twitch Channel
Youtube Channel
Have we peaked you interest in more reviews. Check out the following games: