The Billion Dollar Movie Slot Review
Billion Dollar Movie is a new slot from Betsoft, part of the growing 3D range.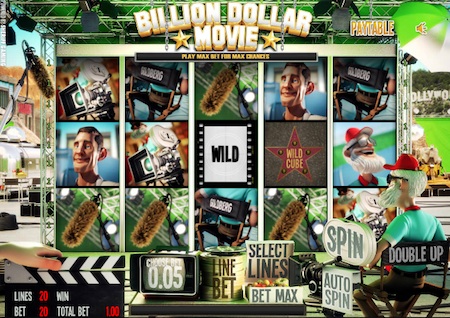 Now these have been a bit hit and miss in the past, graphically brilliant but often lacking in playability. In this slot you take the role of the Director a certain Mr Goldberg… Betsoft have got the maths behind this much better than in previous games, although it is still possible for you to get five-of-a-kind with less than adequate rewards. I really hope Betsoft address that soon.
Something else they need to address is the lack of a real big payer – the top line on this is 5xGoldberg symbols which is only 1000 coins. The total average RTP (return to player) for this slot is a fairly average 94.81 – that's low Microgaming territory and much lower than Net Ent releases – again Betsoft need to pay attention to players and up their RTPs by 2% or so.

Free spins and bonuses in Billion Dollar Movie
The slot features two different Wild symbols:
The Wild Cube – this symbol substitutes for any other symbol and will activate when a win is possible to fill the winning line.
The Wild move reel is a standard Wild and appears anywhere on the reels.
Free spins:
In the Billion Dollar Movie slot, free spins game is triggered by 3 or more clapperboards anywhere on the reels. During the Free Spins game there are new symbols containing higher win amounts than during the standard game. A nice touch that really adds to the usual excitement of getting free spins. Unlike older Betsoft slots the free spins round seems to pay off nicely every time – I had 70 times my bet, 45 times bet and over 150 times bet in the three free spins rounds I got while writing this review.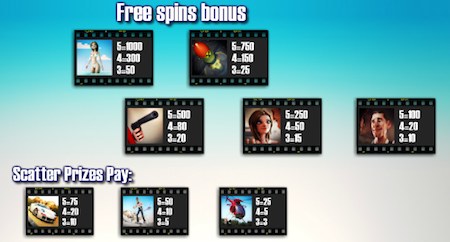 You'll get the following for the clapperboards:
3 = 10 free spins
4 = 20 free spins
5 = 30 free spins
The free spins can be retriggered with the same number of symbols and free spins as shown above.
I like this slot, it feels fairer than most Betsoft games and there is the feeling that you can land a big win. It also plays more smoothly – you're not waiting around for graphics that add nothing to the game or poor bonus rounds as is so often the case with Betsoft. I'll be playing this quite often I expect.
See us playing slots live on stream through the following channels:
SlotMad Streaming Page
SlotMad Twitch Channel
Youtube Channel
If this has got you interested in other reviews you may like the following games:
Play Billion Dollar Movie at