Blackbeard's Compass – 1×2 Gaming – slot review and recommended casinos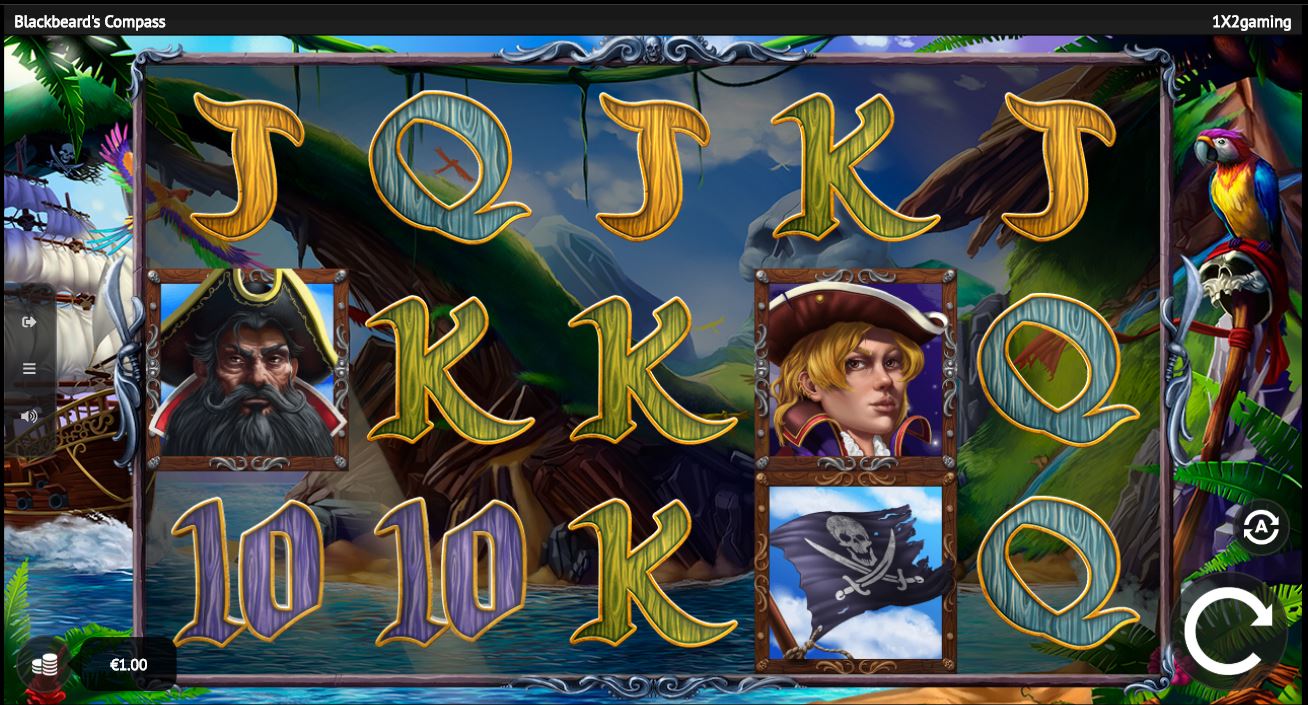 It's not unfair to say that 1×2 gaming's slot output in the past  has been less than compelling.
if you delve into their back catalogue it's farr from a pleasant experience.
Their virtuals are great mmind you.
Blackbeard's Compass slot is a much better effort than most.
Throughout history, Blackbeard has always been the most notorious pirate, renowned for his fierce attitude and hordes of golden delights. The pirate whose treasures were hidden and still lay undiscovered ventured the broad seas on the hunt for treasures beyond imagination, and he now has one more space on his crew for those bold enough to venture into the unknown.

When the steering wheel begins to turn, it is merely a matter of time before you begin to see your fellow crew meets on the reels, bringing with them gold and more. When Blackbeard himself lands on the reel, he brings with him payouts of up-to x800!

And if you can land some of either his treasure chest or treasure map, you can claim free spins and a bonus game! His compass can bring you sticky wilds during free spins for more payouts of this bountiful treasure!
That's what 1×2 have to say about it, let's take a look..
Blackbeard's  Compass – The game
Graphically Blackbeard's Compass is a good effort, Netent it isn't but it's not Merkur either.
It's all put together well and the sounds are nicely crafted to enhance the game.
The UX and options on the game are a challenge.
on the plus side they have some nice options like
Require Spin Button Cllick to start Free Spins. Excellent addition if like me you like to set auto spin and return  for a bonus game. Or better still you're building a Bonus Hunt.
The negative is that the UX is all over the place. Once you find the options (it's in dark text on a dark background to the left of the game screen – you're welcome) you'll still have to flip back and forth from left to right to get to the sections you want.
Sounds minor but it's one of the first things you encounter and it's not a great idea to frustrate the player before they've even started to play.
You get beyond that quickly of course but it bears mentioning. Oh the icon that looks like it takes you back to the game from the info screens will actually take you back to the lobby…. Hopefully you have a  better memory than me because I've done it 3 times already!
The action happens on a 25-payline setup and offers a top win of 80,000x. Nice.
Paytable and modifier symbols


The compass acts as a mystery transforming symbol and when it lands it will transform into a new symbol to bring you a win.
The good news is if they can turn  into a win they will. Don't you hate it in games where they turn into everything except the symbols that will trigger a win?
The Trail Bonus game hasn't been good to me, I've had between 10x and 20x each time. I'm sure it can pay more but it doesn't seem to like me much.
There's a bit of trend there…
Update as I write this I'm playing the game and I just hot 80x on this bonus.
It's triggered by 3 Bonus symbols which only appear on reels 2,3 and 4 so you'd expect a bit more for that.
Your ship will cock in a harbour and your crew will go ashore to dig up treasure. They'll work their way around the map collecting cash and multipliers as they go.
The free spins game
3 Scatters awards you with 10 free spins.
There's nothing additional for 4 or more because you can only get 3 as they only show up on reels 1, 3 and 5.
At  least they're not blocking each other out too much.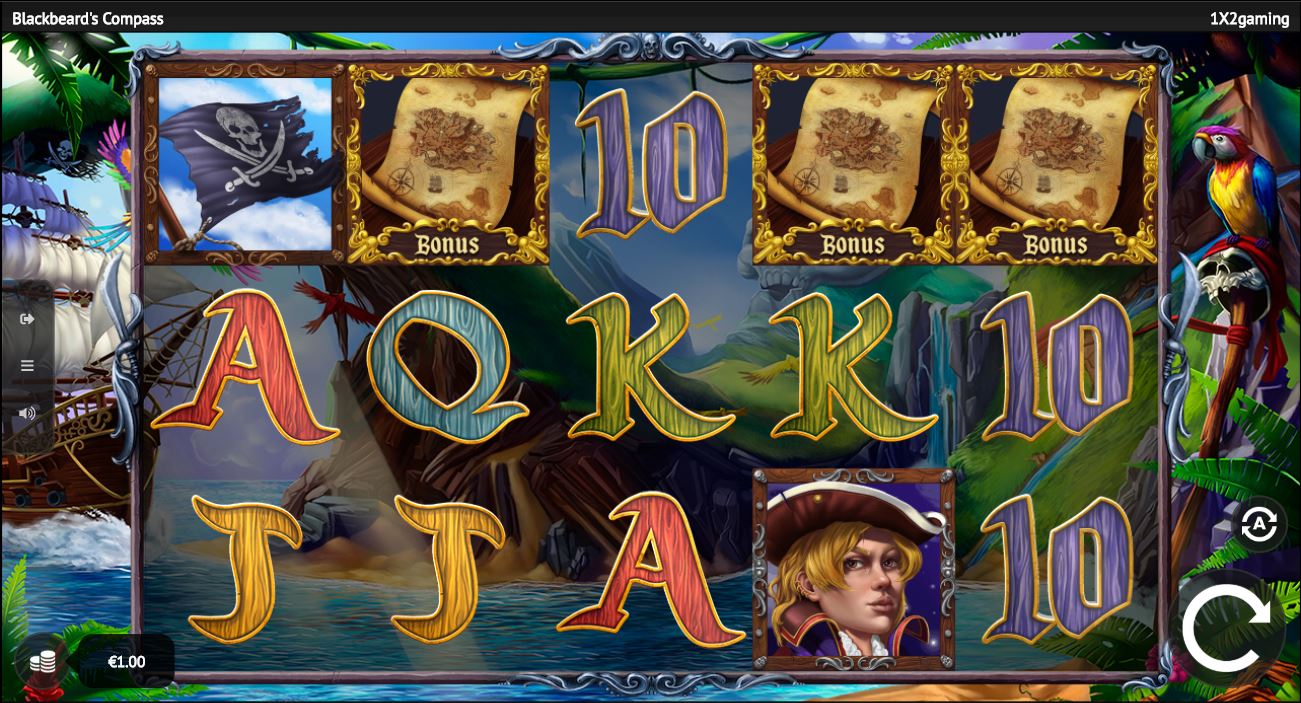 In free spins all compasses that land will stick for the rest of the round.
That can lead to some proper wins.
Alas I've yet to see it but there is no doubt that this has massive potential.
Well worth waiting for.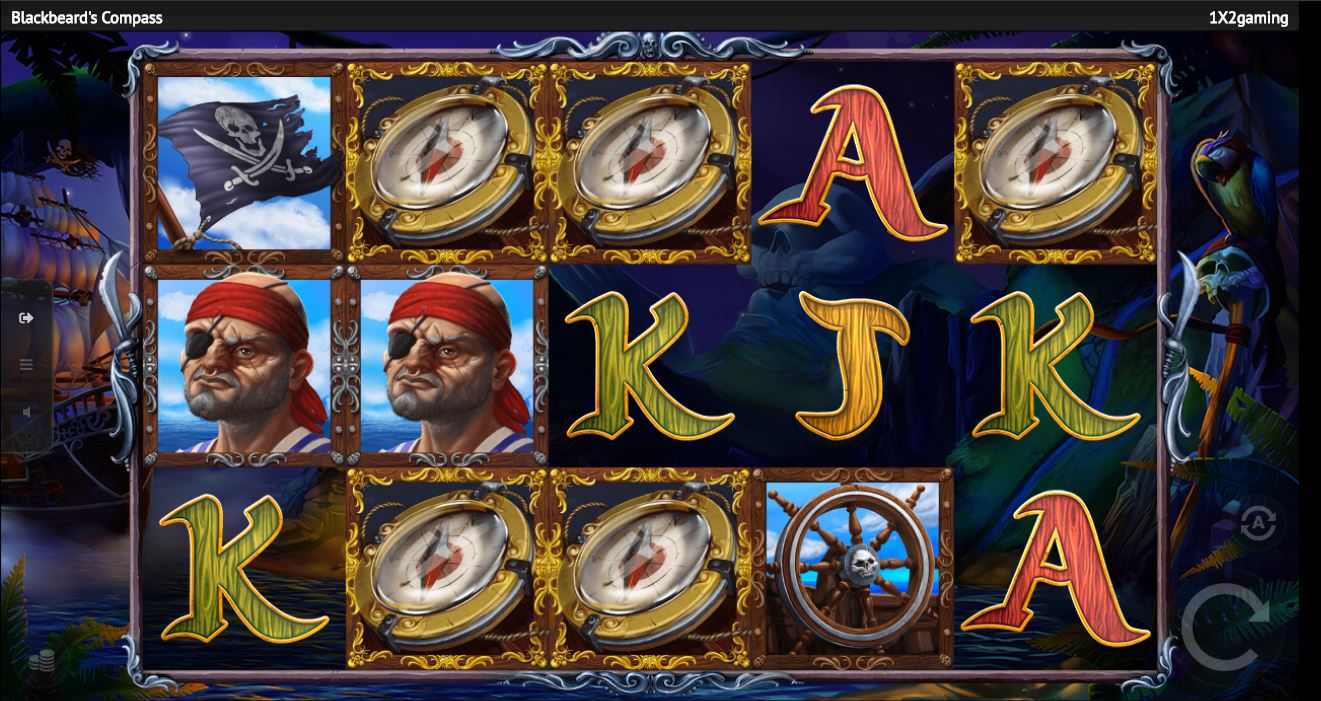 Blackbeard's Compass – Conclusion
I really like this one.
The bonus game can be lucrative and the free spins round could be immense.
The base game is fun enough thankks to the compasses that you won't get bored waiting for a bonus or free spin trigger.
UX is a bomb but the game is a winner.
Try it for free at the top of this review.
Let us know what you think in the forum.
Why not keep an eye on what's coming from 1×2 Gaming via their site 1×2 Gaming.
If you like Blackbeard's Compass we think you'll enjoy