Book of Halloween – Inspired Gaming- slot review and play for free.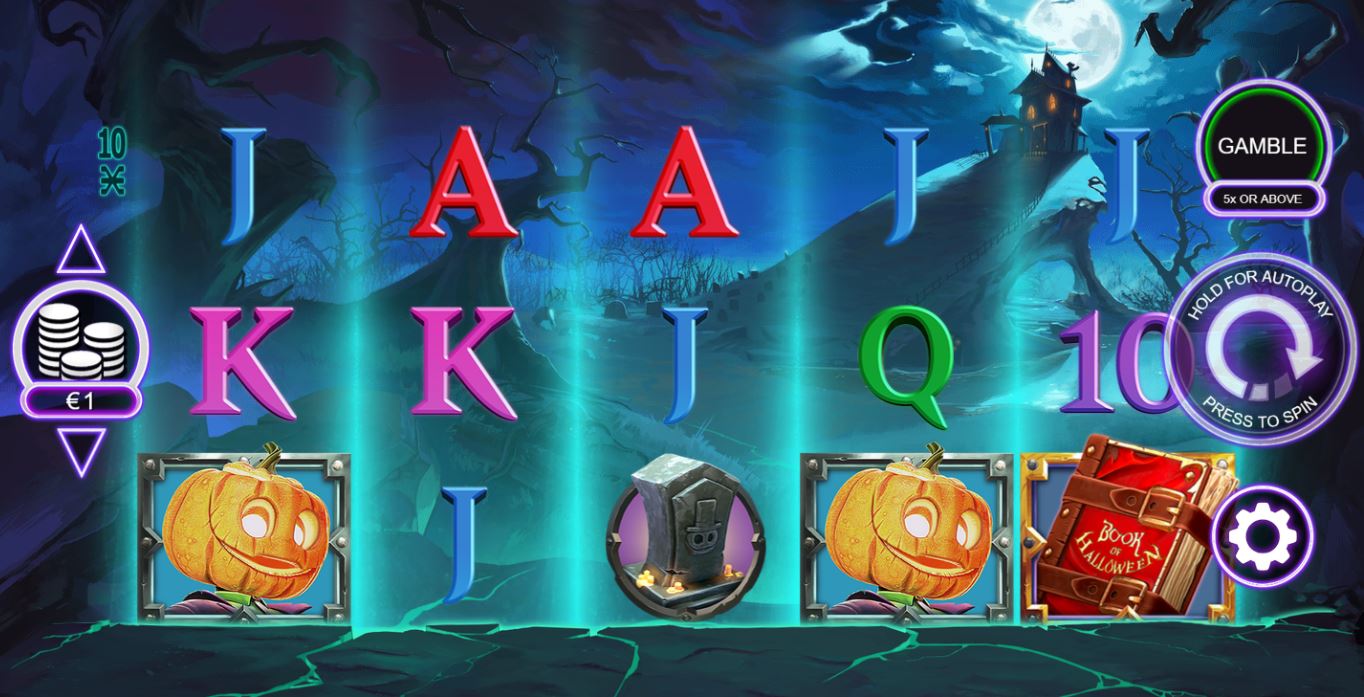 It's Halloween and there's a new book game. It's called imaginatively Book of Halloween.
It's a nice game. It may have come at a bad time, for the UK at least because the Gamble feature in this is pretty close to the type of feature they seem to be taking action on.
This one may be OK as there's no buy-In but I do fear that the gamble free spins functionality is living on borrowed time.
See our article here about the UKGC and buy-in bonus rounds.
This game is from Inspired Gaming.
It is of course on a standard 10 line setup.
It acts for all intents and purposes like the original Book game.
Paytable differs somewhat but that's almost it.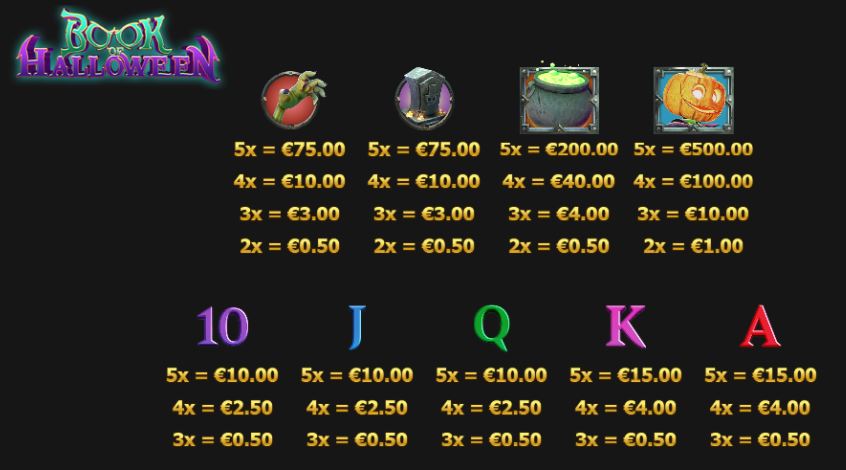 There is one twist.
You can select to have
Gamble on
Gamble Off
Gamble on 5x or above.
This feature gives a bonus wheel in which you can opt to collect your winnings or gamble them.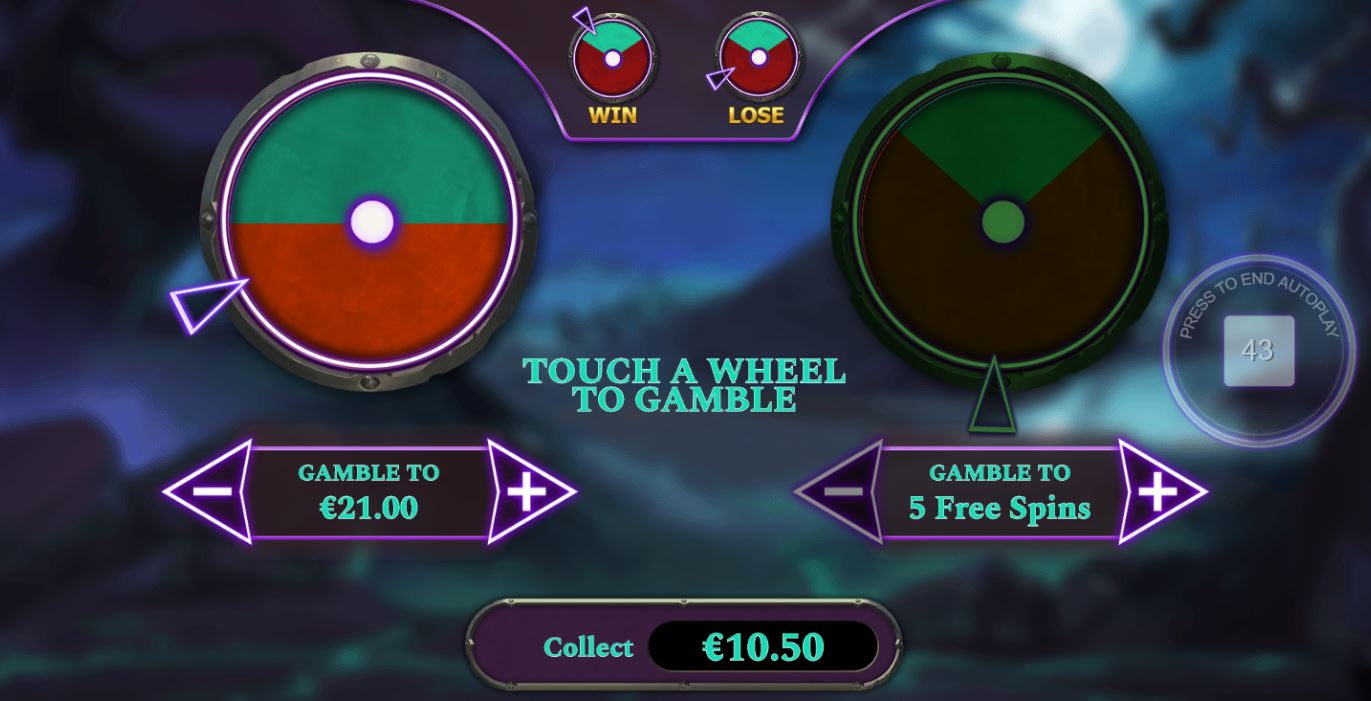 They can be gambled for additional coins or for free spins. It's a nice touch.
My advice to you as a player is to take a look at it, have a couple of plays and then turn it off. It's clever, it's so much more compelling to gamble on a wheel than it is to flip a card (look at Vikings Unleashed for the ultimate wheel gamble).
It does tend to make you gamble where you ordinarily wouldn't which can quickly see off your bigger win profit and batter your bankroll.
If not then get used to seeing this…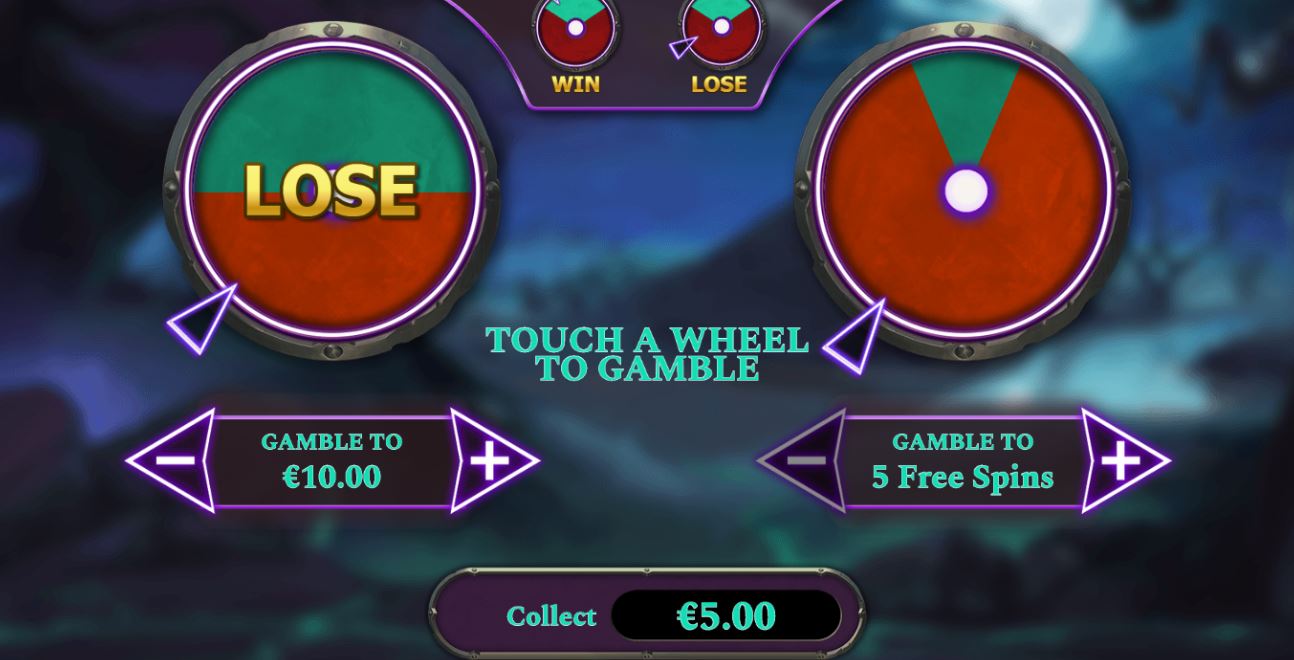 Spin times
Although I'm on a fast casino and I'm playing from outside the UK it seems that Inspired Gaming may have only made one instance of this game which condemns us all to the UKGC 3-second rule.
OK, it"s a pain and it's something that they should geo-target but worse, from start to finish a spin takes a whopping 6 seconds.
That's just too much.
Unfortunately it's a recurring theme with some providers,  they make amazing games but they don't seem to bother putting a little extra effort in to make the games the best they can be for all markets.
Over time things like that build up and players just avoid your releases.
To be fair to Inspired they're not the worst but it is good to pick these up in order to grow.
There is a Turbo Spin button though folks – that gets you down to about 2.5 secs it seems. Not exactly Turbo but it does make it playable, otherwise it just isn't, for me at least.
Top Tip: If you do use Turbo Spins turn them off before you enter a bonus round or else you won't see half the spins and you can't turn them off once it starts…. A bit of pre-release QA would have spotted this one too I think.
Poor QA seems  to be a recurring theme with games released by US companies. SG are the same, as are IGT.
Book of Halloween – Conclusion
This is a really nice game. Of course it is it's Book of Ra with a gamble wheel and a part-chance spin when funds are low.
It is badly let down by the lack of QA and polish though.
They've showed us they know how to make great games they just need to take more care over the production values.
Keep an eye on what Inspired Gaming have coming up I think we're in for a few surprises.
They've got the pockets to make it work – they just need the focus.
If you like this we think you'll like
Best Free Halloween Slot Machines
Play Book of Halloween at
100% Welcome Bonus

Gamified casino with great offers
Play 6 times faster with Blitz Mode
Unique Loyalty Program

Casino Review Claim Bonus

200% Bonus + 100 Free Spins

Casino, Live Casino and Sports
Triple your first deposit
No wagering on free spins

Casino Review Claim Bonus