Caveman Bob Online Slots from Relax Gaming
Ah Caveman Bob.
Caveman Bob is a 5 reels and 3 rows slot machine with 20 pay lines from Rlax Gaming.
If any game can be classed as our nemesis here at SlotMad it's this one.
Sure, we've had wins, there's a 123x win in the video above.
But we have had dead spots. So many dead spots. More dead spots than a night out in Middlesbrough.
But did we give up?
Well yes we did actually.
We eventually called time on it after an unlucky run lasting what was probably a few hours but felt like  a few months.
We got to Level 2 of the three levels you need to be able to choose  your favourite place within the game.
Oddly the second (and we have to assume most difficult level to break through) is the worst section of the game.
Until you open location 3 you can't go back to location one.
That left us stranded in the worst part of the game and our only motivation to keep playing was to escape the worst part of the game.
You can see the issue here can't you?
Badly misjudged that one Relax. You can't get them all right.
I would re-release the game with the locations unlocked if the opportunity ever arises because without that quirk Caveman Bob could be a great game.
I'd also have a word with Bob.
There is no way in Hell that humanity would have survived beyond a few years if Bob was our ancestor.
He can't even catch a giant egg. A GIANT egg.
He has the hand eye co-ordination  of a drunk wearing a blindfold receiving random electric shocks.
Him and his entire family would have starved to death long before he managed to bring them any dinner.
Caveman Bob –  The game locations:
There are three locations in the world of Caveman Bob.
The  Cave.
The Mountains.
The Oasis.
Once the three locations in the game have been explored randomly, it will no longer be possible to change world randomly.
When the three locations have been explored, the player will be able to pick one location in the game and remain there until another world has been picked.
Locations are changed by accessing the map within the game and picking a location, once a location has been chosen click 'Travel' and the new location will be launched.
It is only possible to change world manually when the game is not in an active state.
Mammoth respin feature
The Mammoth Re-Spin Feature triggers randomly in each of the 3 locations.
During the Mammoth Re-Spin Feature it is possible to land Colossal Mammoth symbols that vary in sizes of 2×2, 3×3 and 4×4 depending on Bob's Location.
Bob's Wheel Feature in Caveman Bob
The Bob's Wheel Feature is triggered Randomly in each of the 3 locations.
During the Bob's Wheel Feature a random win amount will be awarded.
The Hand of Bob Feature is triggered Randomly in each of the 3 locations.
During the Hand of Bob Feature, one symbol will be chosen by the game to overlay and replace symbols until a win has been created.
Locked Wilds are triggered randomly in the 'Cave' and it's possible to land anything from 1 to 5 Locked Wilds on the reels in the same game round.
Spreading Wilds are Triggered Randomly in the 'Oasis' and it's possible to land anything from 3 to 13 Wilds in a Cluster within the same game round.
Random Wilds are triggered Randomly in the 'Mountain' and it's possible to land anything from 3 to 15 Wilds within the same game round.
The features change slightly, the volatility changes.
The paytable remains the same.

We really don't like to review games here on SlotMad unless we've experienced all of the game.
So, in order to finalise this review, months after the game's release I'm going back in…
Going for the Egg!
He did it! He finally went and did it.
Caught an egg and got us out of this frozen wasteland!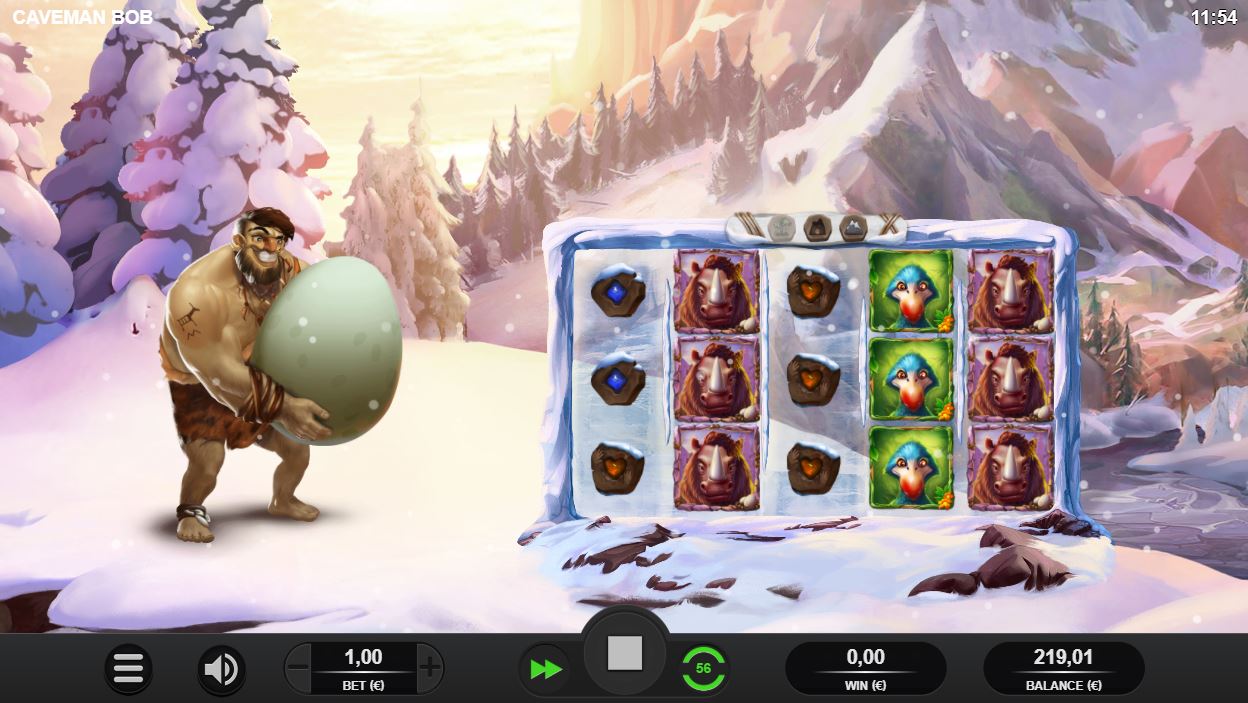 I had too lower the usual stakes to get there but we're off to the Oasis!
It looks a lot nice here.
Each location has it's own set up and RTP.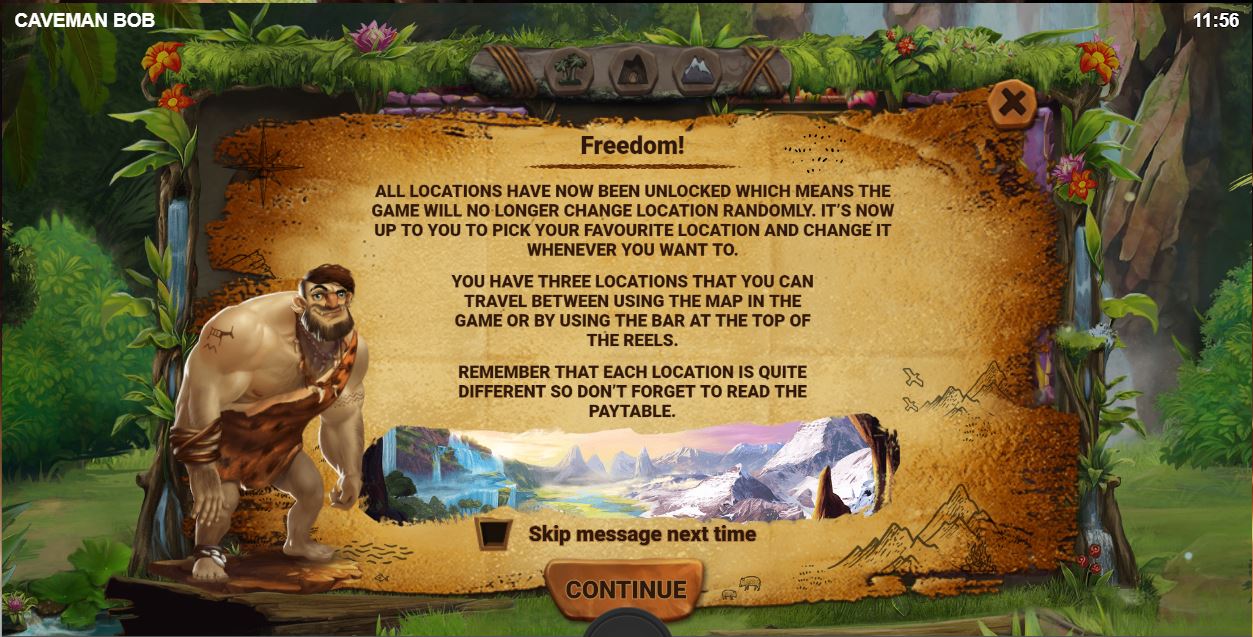 This it Bob – the land of  Milk and Honey and if this one doesn't work out it's all back to Bob's Cave for an after-dinner party.
So we spend some time in the Oasis, we needed to thaw out a bit.
Now Bob is catching (or failing to catch) fish.
In terms of the bonus game features the oasis is my favourite.
I'll take 15 spreading wilds over 5 sticky wilds and 15  random wilds all day.
The issues is that the game isn't fun enough, regardless of where Bob is.
I'm giving up now….
Caveman Bob – Summary
Looks great, really great.
The gameplay isn't there though, it's just not good enough to keep you coming back for more.
Try it for yourself with the  play for free demo at the  top of thhe page.
let us know what  you think in the forum.
better still let us know what you think by joining our live casino stream.
More info here:
Why not try some of Relax's better games?