Columbus Deluxe Online Slot Review
One of my favourite slots to play in offline casinos – Columbus Deluxe – finally I've found somewhere decent to play it online.
This game is medium variance – so you're not seeing wins all the time but you do have that chance of really big wins and that's the excitement I crave with slots. Too low and it's dull grinding away, too high and you can lose your money way too quickly.
This slot is pitched just right for me to keep plugging away with while I wait for a bonus game or a massive win.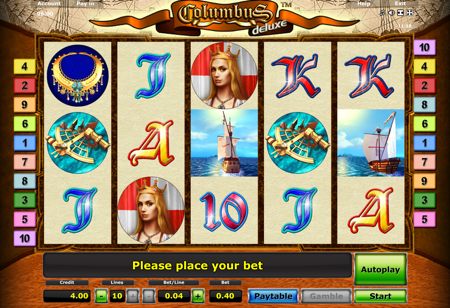 The standard game is just that, a 10-reel slot with a nicely weighted payout.
It's possible to win 500 times your bet in normal play without wilds or scatters.
The graphics are nice and simple and the audio is the classic offline casino slots sound – I love it!
Take a look at the Queen's face when she forms a win, she gives the most sarcastic smile I've ever seen – it's great – it's like she knows she's looking at a poor gambling peasant but has been told she must smile, there's a look of sheer contempt on her face.
Bonus free spins
When it comes down to it Columbus Deluxe is all about the bonus game free spins.
Free Spins Feature
3 Scattered ships (a caravel, a galleon and erm if you can tell me the third ship type I'll give you a free casino bonus – stick the answer in comments) kick off the free spins bonus round.
In the bonus game, you are rewarded with 10 free spins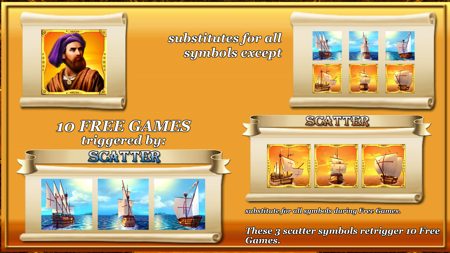 The ships and Columbus all act as wilds during free spins – that can lead to some bumper payoffs, I've had some really lovely wins on this in the past, to be fair I've busted out a couple of times in free spins too but that's the way this one plays.
Overall I'd say this is set at about 96% RTP (return to player) so it'll only take a bit of luck to beat it. Up to you to know when to walk away after that of course!
Payout per win is below:
Watch us play Columbus Deluxe and other slots live on stream through the following channels:
SlotMad Streaming Page
SlotMad Twitch Channel
Youtube Channel
Have we peaked you interest in more reviews. Check out the following games:
Itching for a bit of a gamble? Try out this slot at one of these casinos: