Conan – Netent – slot review and play for free
Ah Conan.
We're a  bit late reviewing this one aren't we, it's been out forever.
What? It's not the slot called Conan?
It is the Conan slot, but it's a new one?
With exactly the same name?
They didn't even bother to add 'the barbarian' to the title?
That's bloody confusing.
You're absolutely sure it's not 'Cohen the Barbarian' – that would  be legendary.
OK OK let's take a look then.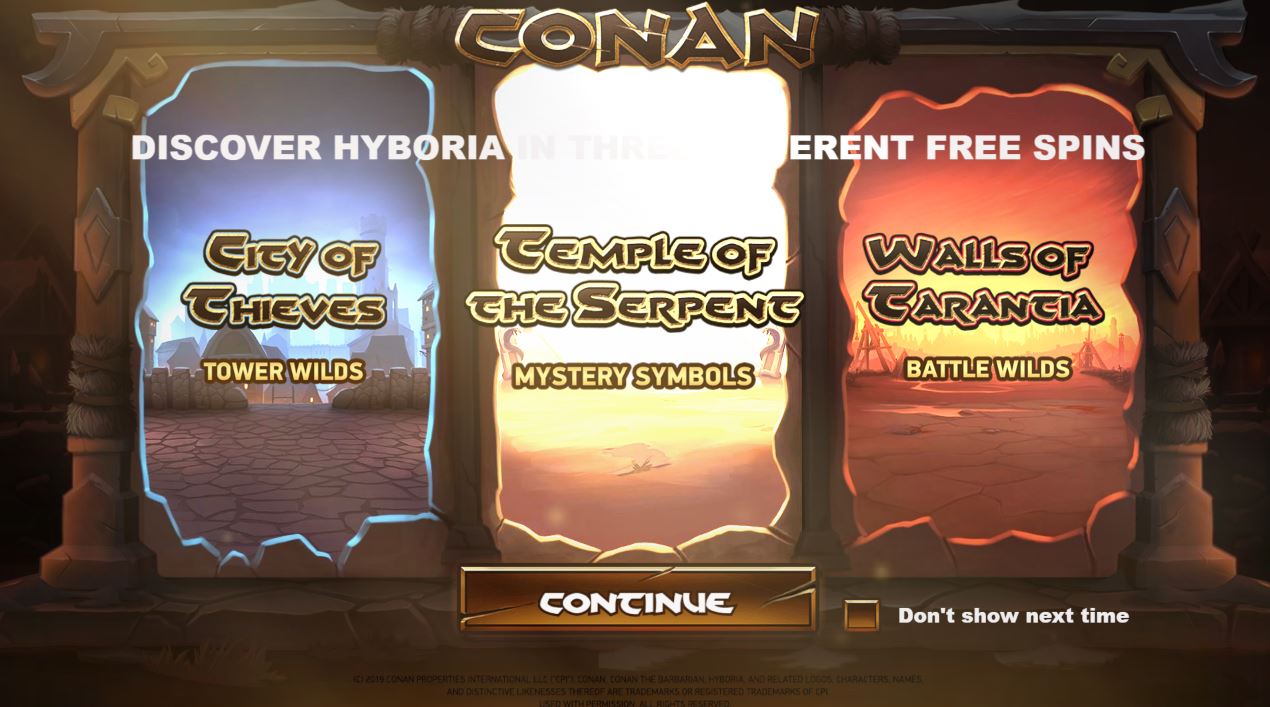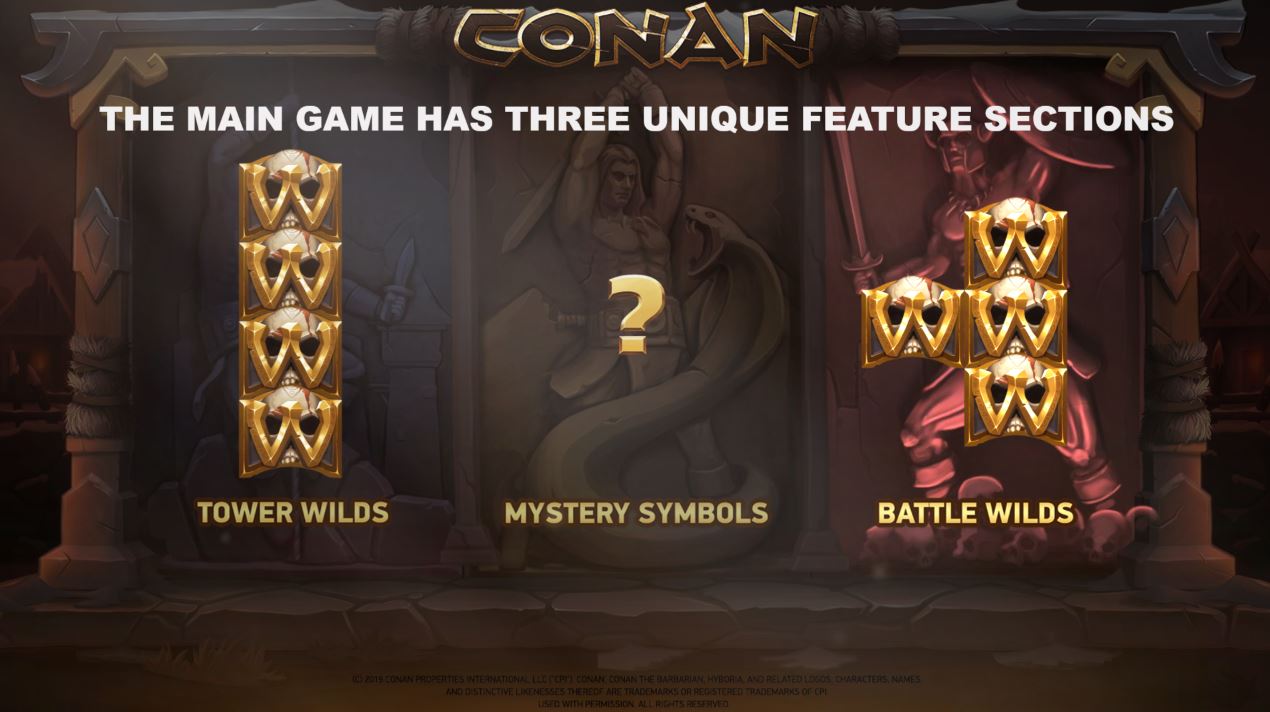 Netent's Conan slot (not to be confused with Cryptologic's Conan slot) is a Conan is a six-reel slot with 24 paylines that pays both ways.
The game takes place in Hyboria (or rather during Hyboria). Technically it takes place on Earth but in the Hyborian age in the novels.
What do you mean I'm being highly boring? Oh yeah I see that…
Symbols and Paytable
Top paying symbols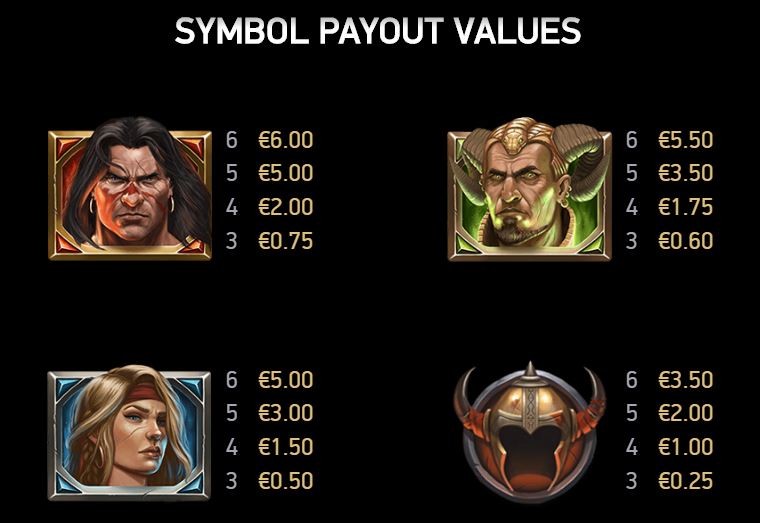 All the money comes from these 4 symbols.
Conan is the top payer with a standard flat 5-of-a-kind paying 6x bet. Princess
Jenna, I'm assuming that's her – obviously this is early days because in the novels Conan eventually drowns her in a pool of sewage. Nice lad. Is worth a fiver.
The chap with the horns(Thoth-Amon)  is squeezed between the two of them (they did get a tad raunchy at times to be fair).
Bear in mind there are modifiers and multipliers to throw at this payable yet so it's not as miserly as it initially seems.
The Conan base game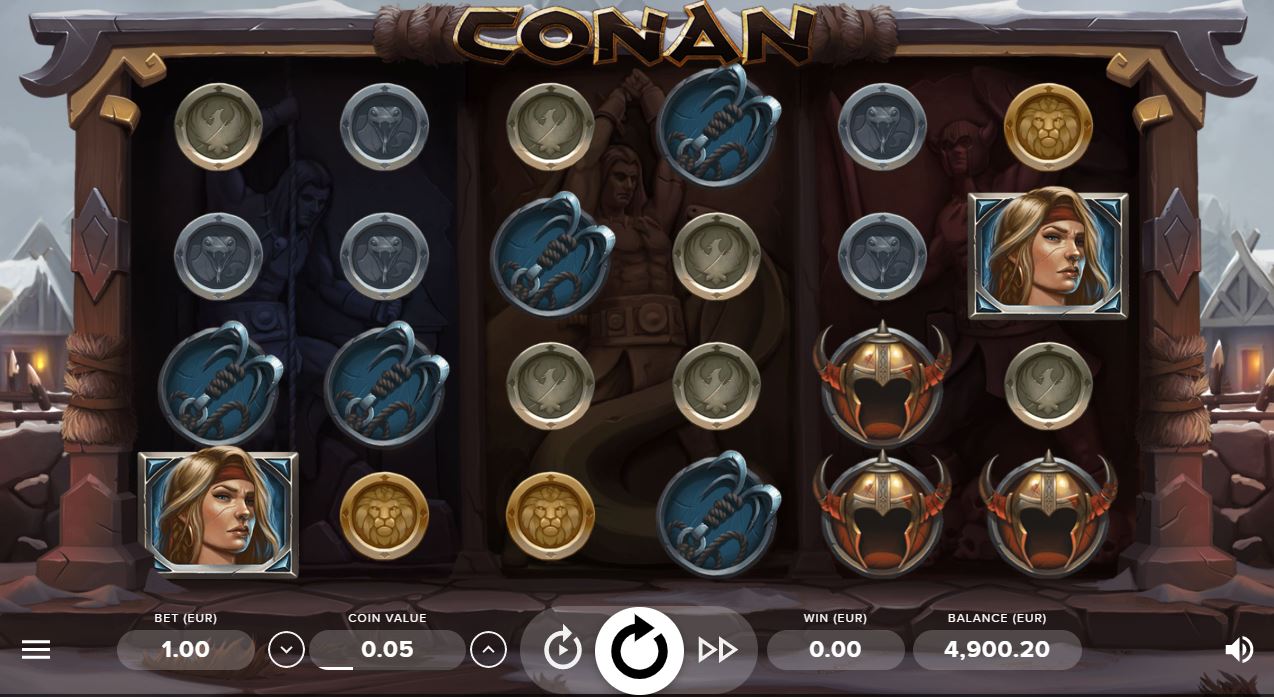 The graphics are great. The symbols are functional and a bit old-school but the animations and sounds on for example the anticipation spins are brilliantly done.
The Wild Symbols: Tower and Battle Wilds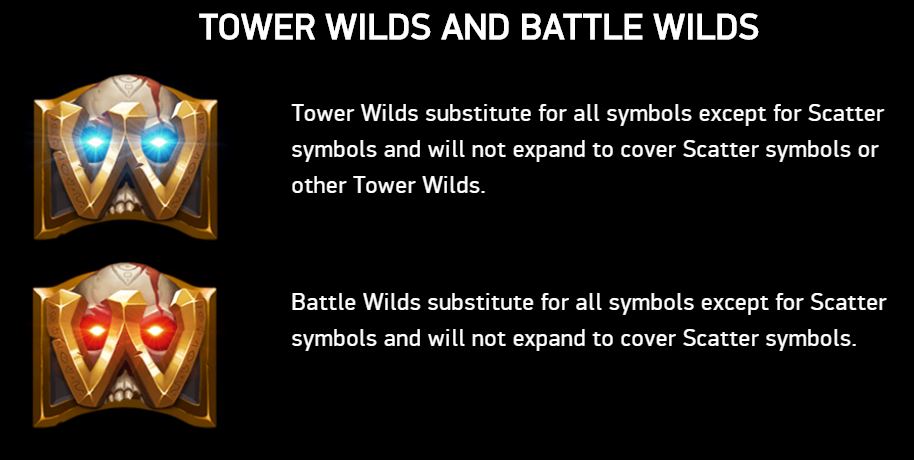 Tower and Battle Wilds will substitute for all other symbols except scatter symbols.
Both of these symbols expand but will not expand if blocked by a scatter symbol.
So we expect to see a fair bit of that… I know, I'm an optimist by Crom!
Battle Wilds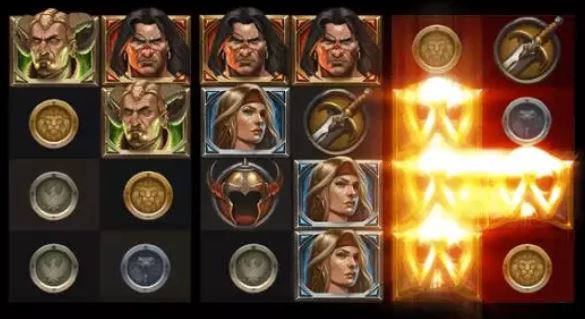 Battle Wilds can show up on reels 5 and 6 during the base game and can expand up to three symbols as well as sideways onto reel 5 or 6.
Tower Wilds
Tower Wilds act in the same way as the battle Wilds but on reels 1 and 2.
Scatters Symbol
3 or more scatters anywhere on screen trigger the Free Spins.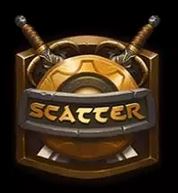 Mystery Symbol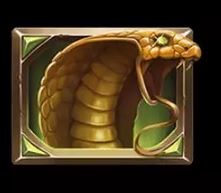 Mystery symbols transform into any other symbols except Scatters.
A fully stacked Mystery Symbol landing on reels 3 or 4 (Think Vikings bonus round trigger and you'll know what we mean)  will trigger the Mystery Multiplier.
The Mystery Multiplier awards a multiplier between 3x and 7x.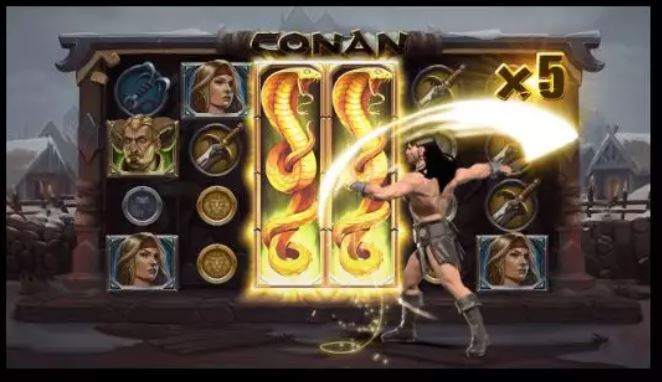 If these stacked mystery symbols are combined with either a Battle or Tower Wild then you'll be rewarded with the Thoth-Amon feature.
Thoth Amon feature
When the Thoth-Amon feature roars in Mystery Symbols are randomly added to reels 2, 3,4 and 5.
You can receive between 3 and 6 mystery symbols.
They will be in addition to any existing Mystery Symbols and they can't land on Scatters symbols.
Once all the possible positions are covered by Mystery Symbols the feature will end.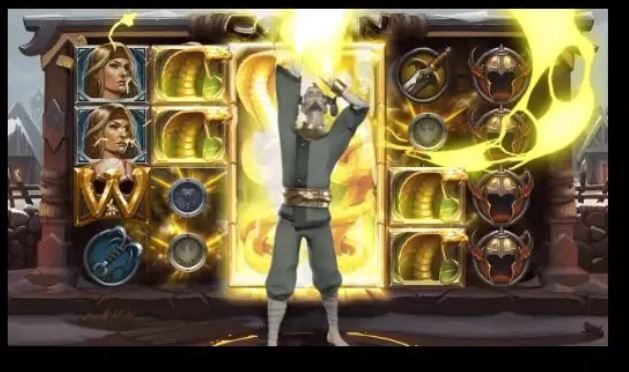 The Features in Conan slot
On landing 3 or more free spins you'll be invited to choose between three bonus rounds.
Each one has a different feel and a different volatility level.
City of Thieves Free Spins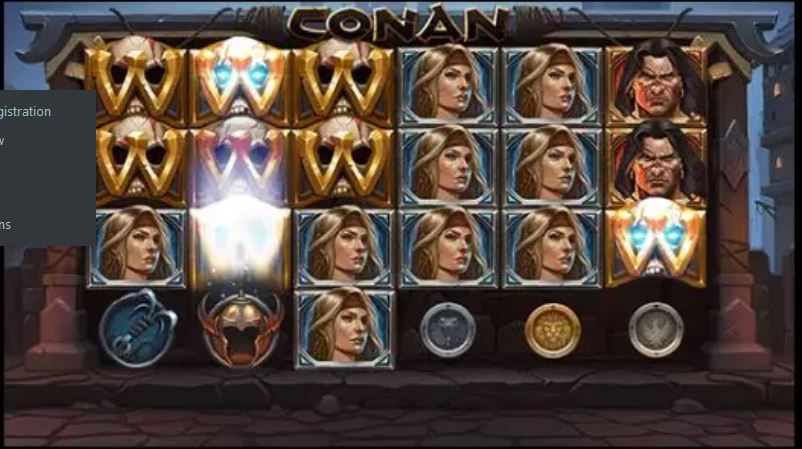 If you're familiar with Netent,s wildly successful Twin Spin then you've got the basic idea of the linked reels which appear in all these bonuses.
Reels will be highlighted and will match up together to enhance the chances of the reels matching up for wins.
In this feature the Tower Wilds can appear on all reels and create stacks of Wilds.
In two visits to the City of Thieves I've averaged 50x. Not too bad for a low volatility feature…
Walls of Tarantia Free Spins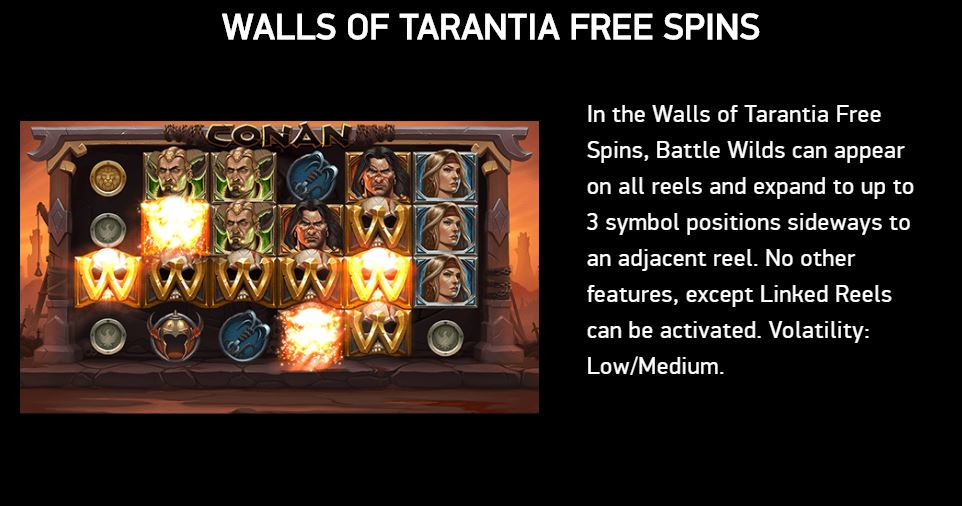 During the Walls of Tarantia free spins round Battle Wilds can appear on all reels.
These can expand up to 3 positions horizontally.
Linked Reels are also in play here.
As with the City of Thieves feature this one is low-medium volatility.
Temple of Serpents Free Spins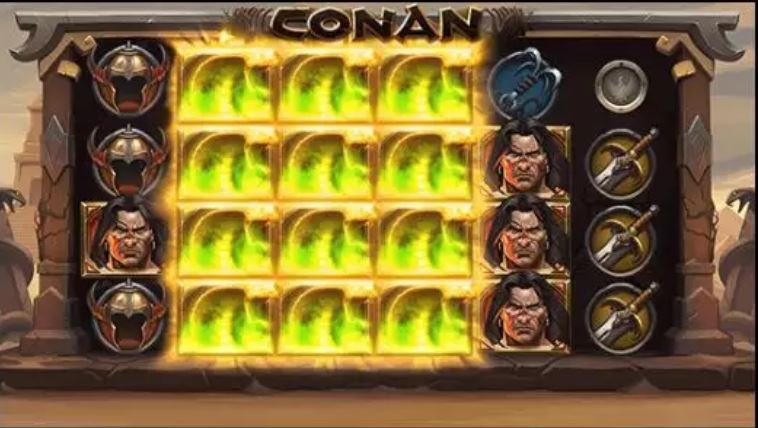 In this bonus round both Mystery Symbols and Stacked Mystery Symbols can appear on all reels.
Landing a single stack of Mystery Symbols will trigger the Mystery Multiplier (3 to 7x).
Bring in between 5 and 9 Mystery Symbols and you'll trigger the Thoth-Amon feature which will randomly add another set of Mystery Symbols (between 3 – 6) to the reels.
This is of course somewhat more volatile then the previous two bonus rounds and is the one most-likely to get the picks.
Conclusion of Conan
Nice game.
Beautifully made of course (netent seem to be doing in a 1-in-4 release schedule in terms of top top quality).
Volatility wise I think it's a bold, but necessary, move away from the slew of highly-volatile monsters we're seeing all the time.
It's nice that Netent are recycling some of their mechanics and features between game too.
This is fun to play. It's going to find a lot of fans.
Give it a play on the free demo above (remember that legally all demo games need to perform in exactly the same way as they would if you were playing for real) and see what you think.
What to check out next at Slotmad!
If you like to play (or watch) slots and enjoy discussing all sorts including the state of the latest slot releases etc then join in with us on twitch. We'd definitely love to have you along.
Find out more here:
Take a look at the info on our Casino Streaming page
Check out some more of our News and Reviews and try some related slots
Play Conan at
100% Bonus and 200 Free Spins

New casino with great bonuses
Level up and get rewarded
Fresh design and a good selection of slots

Casino Review Claim Bonus

20 deposit free spins

20 no deposit free spins
Bonus on 4 first deposits
Nice and simple website layout

Casino Review Claim Bonus