Deal or No Deal Live Review 
For a show that basically involves someone picking a box and being offered money for it this game shows no signs of slowing down.
Deal or No Deal's latest incarnation is as an Evolution Gaming Live table game.
SlotMad playing Deal or No Deal live on Stream
See this short summary of game play streamed live on the Twitch Channel.
Getting into the Game
The object is to qualify for a live round of Deal or No Deal. To do this you need to gain entry via a bonus wheel.
The bonus wheel consists of three sliding segments. You must align these segments before you can move onto phase 2.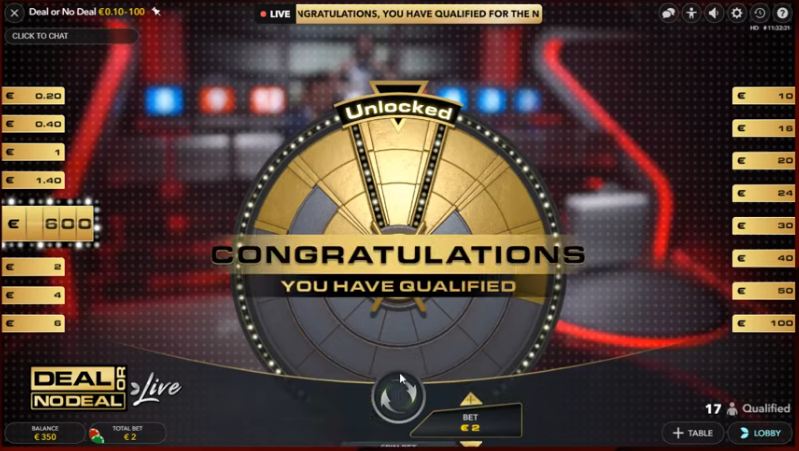 The second phase involves filling up the pot. Pick a bet size, pick a number and you'll have some time to add to the pot. It may be wise to wait if you only have a few seconds left in the previous qualifying stage so that you aren't left without enough time to fill up your chosen pots.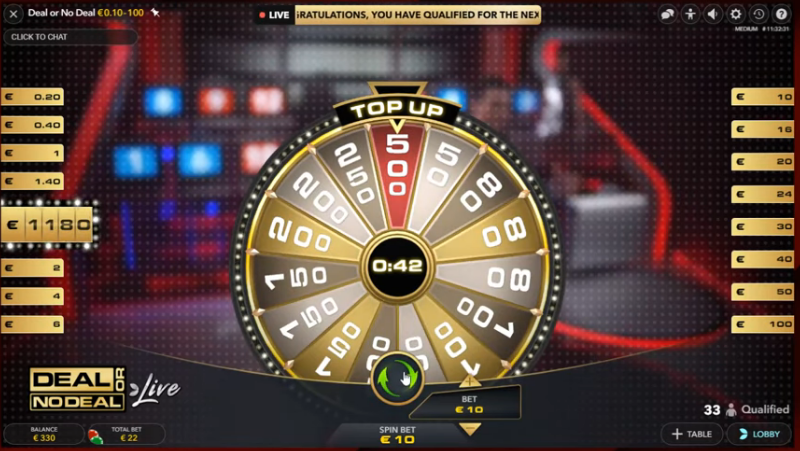 The live round.
Phase 3 is the live game round in which you watch a series of boxes openings. Again, as with the TV show, the boxes each have a number, from 1 to 16. The lovely lady opens the boxes three or four at a time. This is where you don't want to see your number and lose out.
You'll be offered a 'cash out Deal' at each step by the banker. The more boxes you have in the game at each stage the higher the offer. As the boxes dwindle down the Bankers Offer can change too. If there are still high paying boxes left on the screen then his offer isn't too bad, but if the high paying ones go then you get stuck with a really low Bankers Offer
You can take the offer at any time or if you're lucky and keep your nerves right till the end, you might find your number in the winning box. And if you're feeling really brave, you can also switch the last box, it could have your number in it, it could not.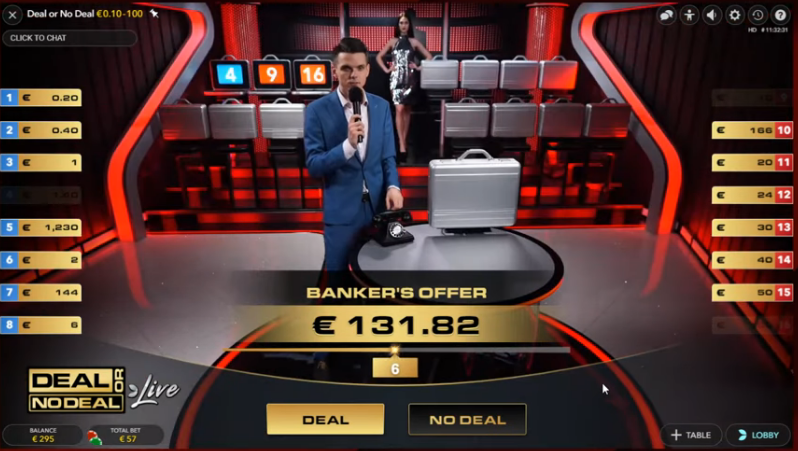 Summary of Deal or No Deal
This is very well made slot. It's a professional set and Evolution have definitely made a winner with this one. And have still kept the whole theme from TV Show really well. Just missing Noel Edmunds!
Absolutely their best game yet.
Here is the game in action:
Watch us play this and other games live on stream through the following channels:
SlotMad Streaming Page
SlotMad Twitch Channel
Youtube Channel
Have we peaked you interest in more reviews. Check out the following games:
Tractor Beam from No Limit City
Vikings Unleashed Megaways
Reel Gambler
Owls Online Slot Review