The Demolition Squad Slot has arrived!
It's all getting a bit predictable over at Net Entertainment these days, but in a very good way, every new slot seems to have a brand new feature that we've never seen before, Demolition Squad is no exception.
This is a 25-line slot (and there are some weird line combinations here) with graphics inspired by Japanese manga or Anime (complete with slightly iffy girls in school uniforms).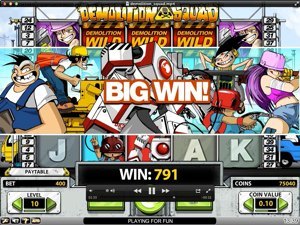 The Gameplay:
Gameplay is good in the normal game – there are those odd line combinations due to the four layer reel setup but you get used to them after a while. The game offers 3 high paying symbols (4000, 2000 etc) so it's not going to get boring too quickly. I stuck a top win in my first 50 spins (as it was for the review I was only spinning for 80c a time but hey a win is a win it kept me in the play until I got the bonus round).
Free spins
Free spins are triggered with scatters of course and you can get
10 for 3 scatters
20 for four
30 for five
Each spin is announced by a Demolition Squad character swinging across your screen on a Bulldozer ball.
The free spins can be retriggered. I hit once in my testing period (€50 in) and won 45 times my bet (that included a retrigger).

The Demolition Wilds:
This is the new feature in this game.  When you get 2 wild symbols in a line (Wilds appear on reels 2, 3 and 4), the symbol in between transforms into a wild too. That means a guaranteed win every time (it was this combination that led to my max win).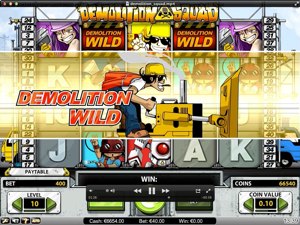 Overall:
There's little to dislike here – the graphics are cute but don't become annoying, the gameplay is nice and the free rounds seem fairly balanced. one thing that you may want to do is turn down your speakers as the sounds can be a bit harsh (at least they were on my tinny Imac speakers).
Game Play Video
Take two minutes and check out the game play video for this great slot game
Watch us play Demolition Squad and other slots live on stream through the following channels:
SlotMad Streaming Page
SlotMad Twitch Channel
Youtube Channel
Have we peaked you interest in more reviews? Check out the following games:
Or Check out our biggest wins in March 2019 here!