Dr Electro Slot Review
Kalamba is on fire recently with the deliverance of new games.
I'm a really big fan of their games and do love how different they are from slots that are currently out there. All be it that, admittedly, it can take me a little time to work out the mechanics and how they work. But this is just part of the fun playing their games.
Dr Electro is no exception to the level of sheer hard work and mind-boggling thought that has gone into making these games!
Dr. Electro Base Game and Features
The base game is a little differently set up compared to their more recent games, Mermaids Galore and Age of Ice Dragons. You're looking at a 5×4 reel to start with but as you play through the reels expand to a 5×7 set up with a massive 16807 ways pay! By now, from reading my reviews, you all know how I can be so on the fence with base games. And much like everyone else, putting spins through just for a bonus or free-spin round.
But here, the base game is great and you're not just putting the spins in just to hit the bonus round (which is also great by the way!).
To the left of the screen, you have the eccentric looking Dr Electro, who, each time you get a winning line shouts out "YES!" and then has a bit of crazy giggle when you land big. Gives you a little added boost when you're playing!
During the base game, you collect little lightning bolts that shoot up from the expansion symbols. These are collected on the upper reels.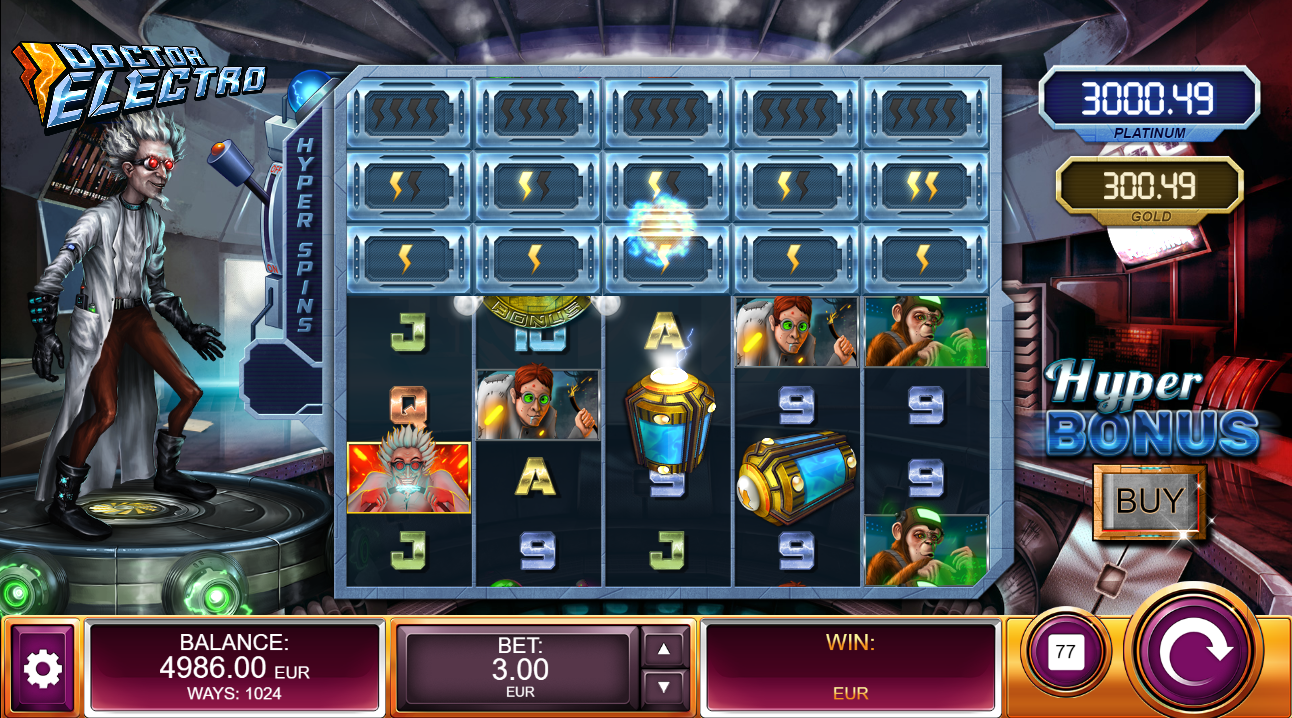 During the base game, if three scattered expansion symbols appear, the reels above expand depending on how many lightning bolts have been collected in the counters above. You then get 5 free Hyper- Spins. Once it's over, the counter is reset, and you start collecting over again.
1-2 Expansion symbols collect = column height to 5
3-6 Expansion symbols collect = column height to 6
7 or more Expansion symbols collect = column height to 7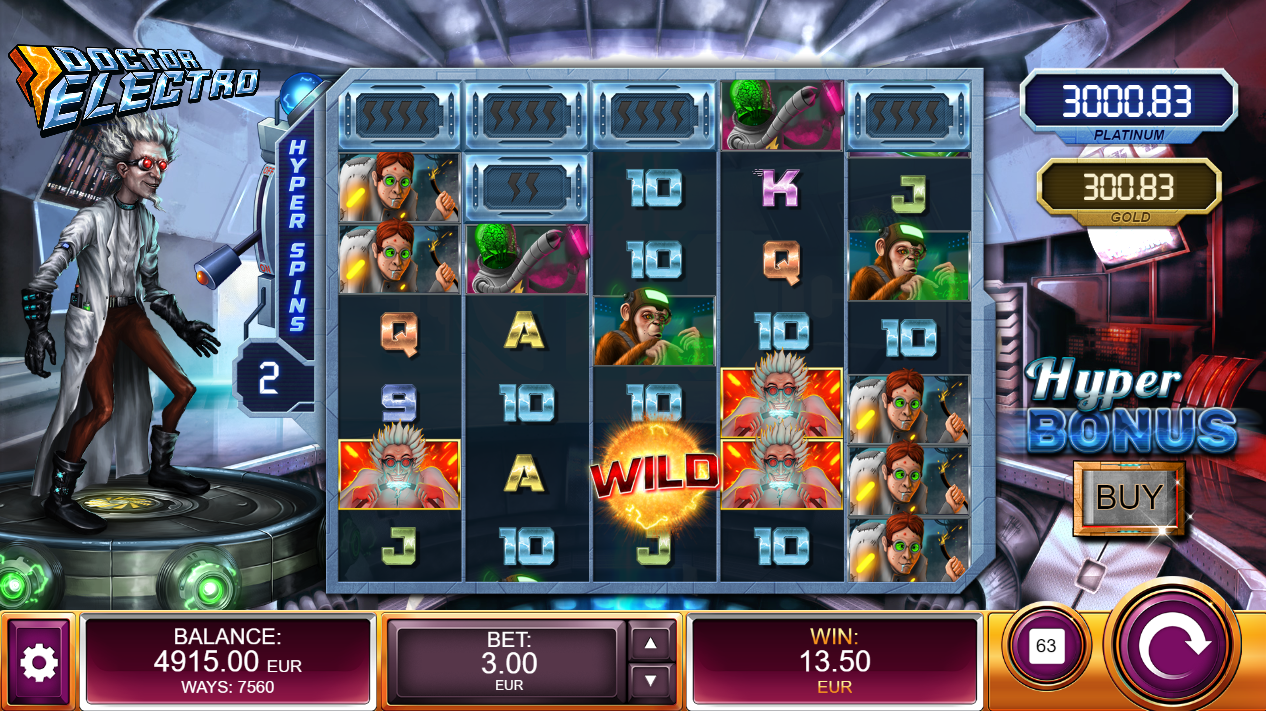 Dr. Electro Bonus Round
So, the base game gives you a little something to keep you going until you land the bonus round.
Hitting three of the bonus scatter symbols in one spin on reels 1,2, and 3 gets you in.
You start off with 8 free- spins. But don't fret, you can earn more as you play. As with the base game the Hyper- Spin scatters fill up the lightning bolt counters. Except, rather than you having to wait for three of the scatter symbols to appear, they automatically expand as they fill up. As they expand you get extra free- spins.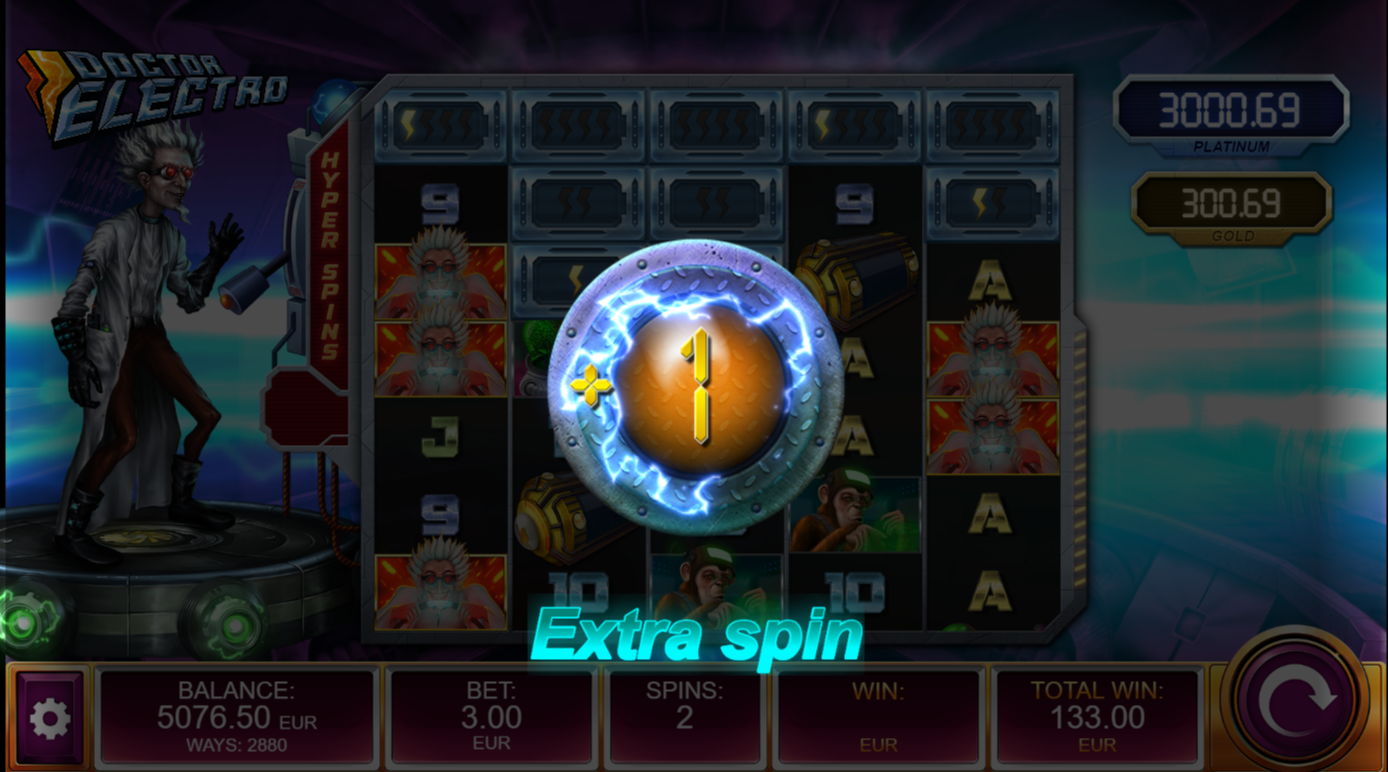 The Bonus Jackpot
This bad boy game doesn't just end there with the base game and Free-Spin round. No. You also get an in-game jackpot that you personally contribute to.
There are 2 level jackpots, Gold and Platinum. For every bet placed the jackpot amount increases.
The Platinum Jackpot is 1000x the main game bet and the Gold 100x. With you contributing €0.75 of the total bet.
Winning it, not so easy, but then the good things in life never are, are they!
For the Platinum, Jackpot to drop you need to get 14 or more scatter Wild and Dr Electro symbols appearing in a single spin, and 12 for the Gold
Fret not, the jackpot balance is saved between sessions, and distinctly for each player.
HyperBonus
So, this is also a buy-in game. For those who watch our stream know we are constantly playing buy-in games. You can choose to trigger either 8,15, 20, or 25 free- spins.
A great option for anyone who doesn't want to wait for the bonus to trigger.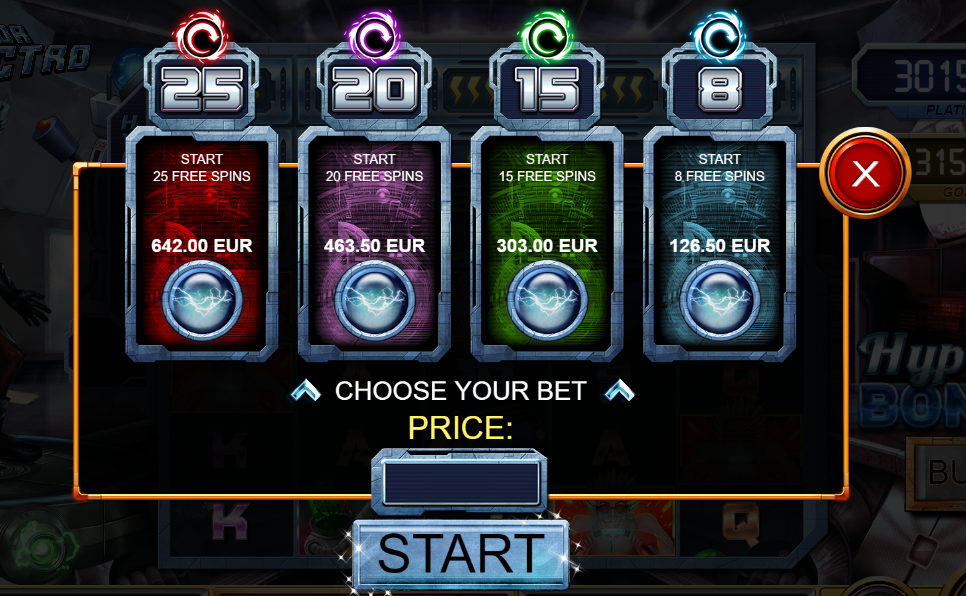 Slot Summary
I honestly can't fault this game. I fell in love with this while playing it and put through a fair amount of spins and really didn't mind waiting for the bonus to hit. Graphically this game is amazing, it's so good to watch play, and the sounds compliment it perfectly!
Kalamba, this game is awesome!
You'll find this and many more Buy-In games over on our Bonus Buy-In post!
Slotmad Casino Streaming
Give us a follow and join the live casino streaming – every weekday from 1pm until we're out of balance or fed up with the slots:
SlotMad Streaming Page
SlotMad Twitch Channel
Youtube Channel
Have we peaked you interest in more reviews. Check out the following games:
Tractor Beam from No Limit City
Play Dr Electro at
200% Bonus + 50 Free Spins

Wheel of Rizk gives you extra rewards
Casino, Live Casino and Sports
Great selection of Slots and other games

Casino Review Claim Bonus

200% Bonus + 100 Free Spins

Casino, Live Casino and Sports
Triple your first deposit
No wagering on free spins

Casino Review Claim Bonus