Extra Chilli Online Slot Review
The Extra Chilli slot is part of the ever growing list of MegaWays games which utilizes Big Time Gaming's trademarked slot-functionality where upon every spin a new set of reels and number of symbols is presented. When you launch the game, you're whisked away to a central American Plaza (most likely Mexican), the Mariachi bands starts playing and you're presented with six vertical reels and one horizontal reel. The extra horizontal reel is located under the main six reels and adds an extra symbol on reel 2,3,4 and 5.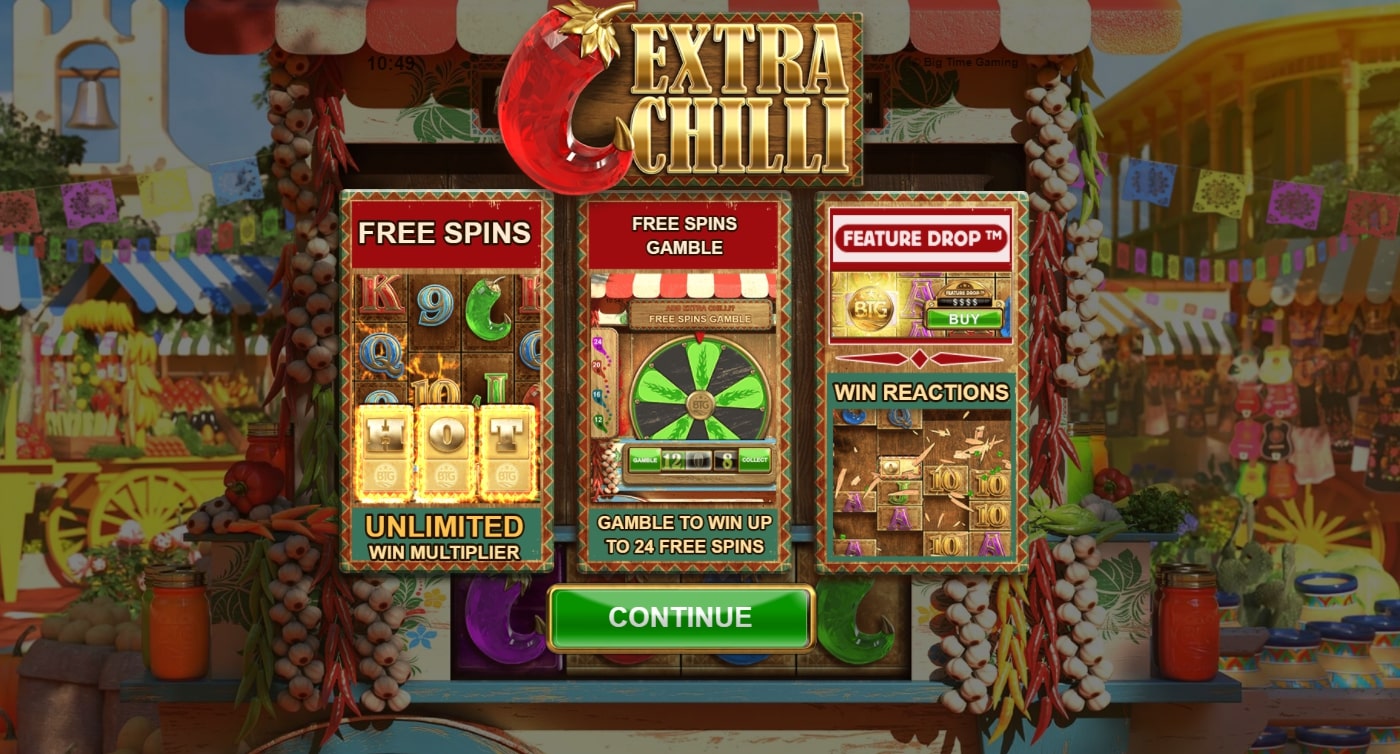 Extra Chilli – The Base Game
The Extra Chilli Base game is very similar to many of the other MegaWays slots, both in reel structure and every winning symbol forming part of an avalanche style reaction and replaced by symbols coming from above on the reels and from the right on the extra reel. The symbols featured on the Reels are:
HOT Scatters Symbol
Firework Wilds
Feature Drop Coin (if this lands, it lowers the Feature Buy cost and is replaced by another symbol from above.)
Purple Chilli (Highest paying symbol which pays on 2 in a row.)
Red Chilli
Blue Chilli
Green Chilli
Standard set of Royals: A-9
The base game itself can be very exciting as winning reactions have you sitting wishing for certain symbols to show up on every winning spin, but it is when you hit the HOT Scatters that the heat is really turned up.
Extra Chilli – Feature Drop
Feeling Hot, Hot, Hot? Getting into the Free Spins Feature feels easier than many MegaWays games. You only require three of the HOT Scatters symbols to activate the Feature. Should you get more than three scatters, you will receive an additional four free spins for each extra scatter.
Extra Chilli also features the possibility to pay to get straight into the Feature. This is a functionality which is starting to pop up in more and more slots. Where is the world heading when even Slots can't escape the "I want it now, now, now" mentality of today's society. For reviewing slots, it is however a great tool as it allows to quicker experience the slot as a whole.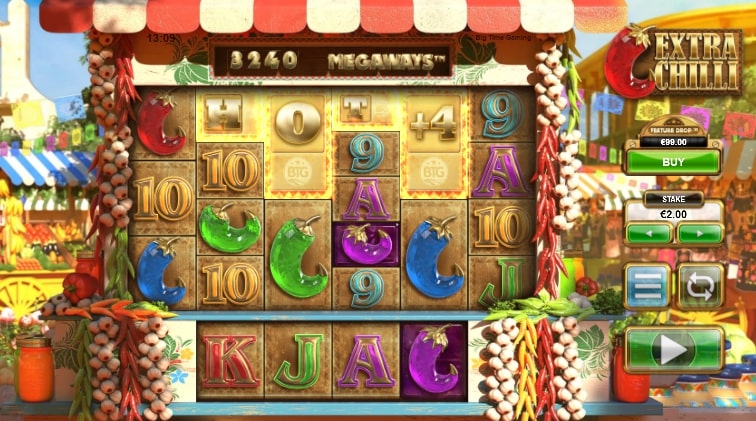 Extra Chilli – Free Spins Gambling
After getting into the Free Spins, you are offered the option to either take the Free Spins you have won, or gamble to win more Free Spins. Gambling your Free Spins may see you losing all of them; this is not a game for the faint of heart. If you choose the stay the course of the Gambler, you are presented with a Green Wheel showing five green and five black section, a coin flip. Spin the wheel, and if you hit a Green Section you've secured yourself 12 free spins. To keep you Gambling, the Blue wheel which follows features 6 blue sections and only four black sections; a 60/40 chance of winning those alluring 16 Free Spins. Be wary though, as losing on the blue wheel sends you straight back to the base game.
If you win, you are now posed with the Red wheel and the Conundrum to stop and take 16 spins, or gamble for 20. Losing on this gamble doesn't send you on your way with no free spins, but you will instead receive the consolation prize of 8 free spins. Keep going and  you might end up going all the way to the max prize of 24 free spins.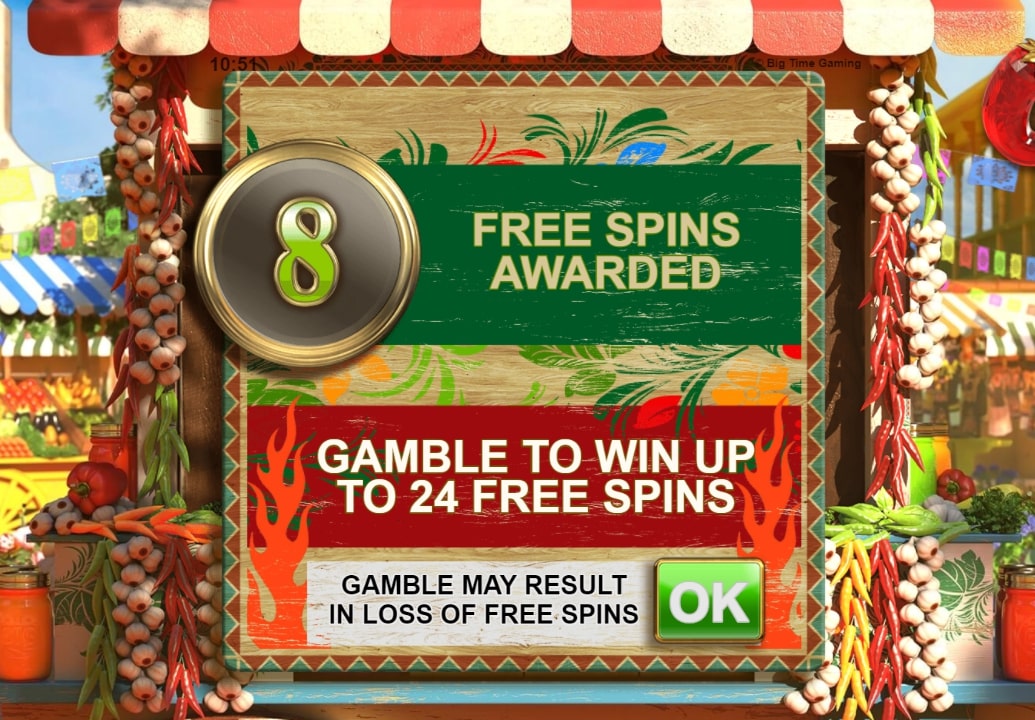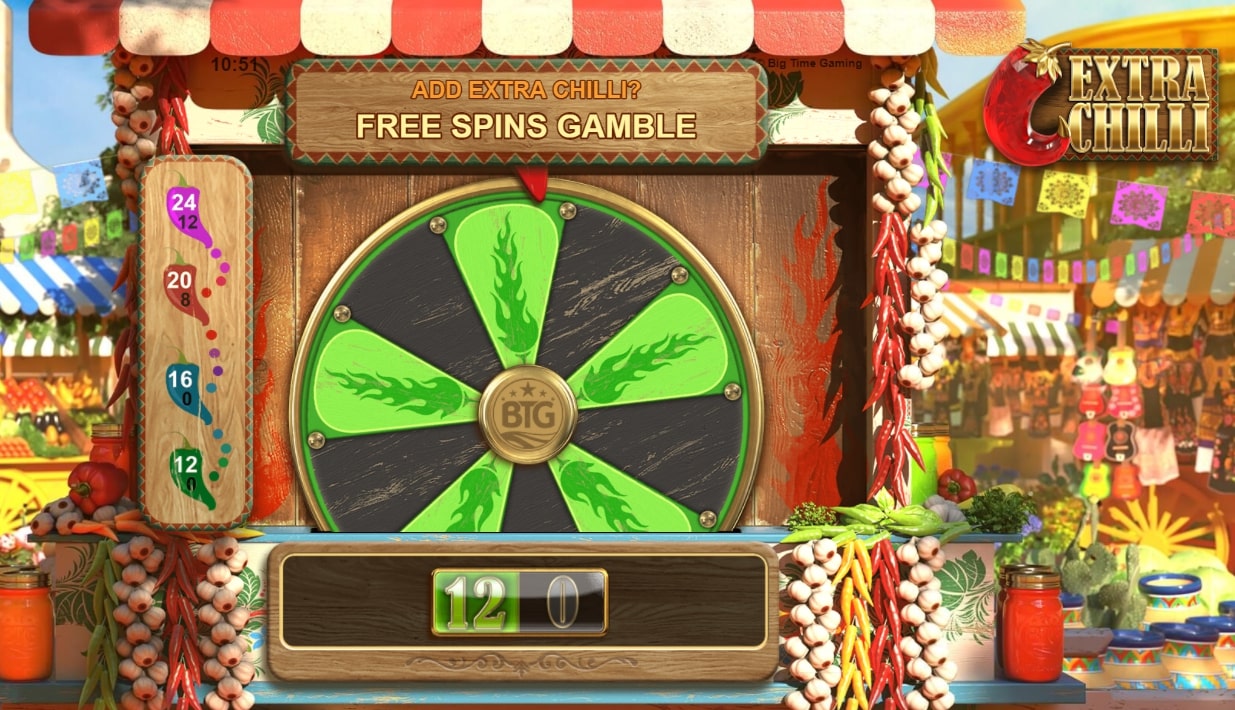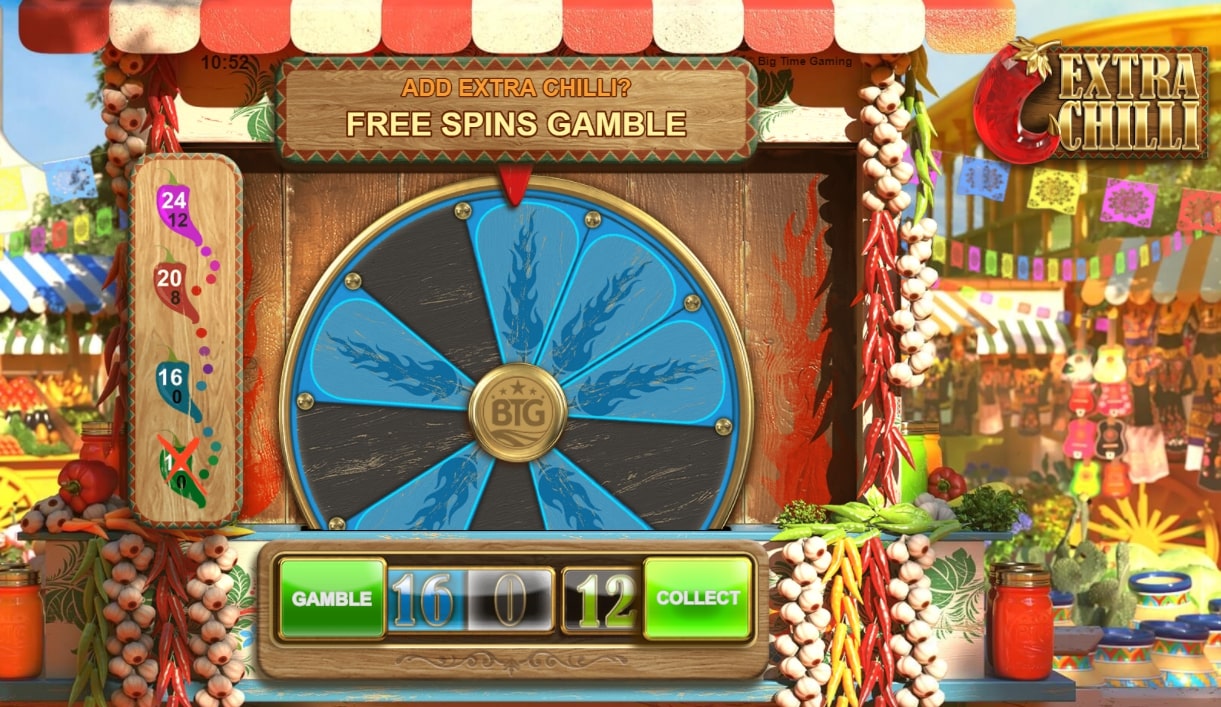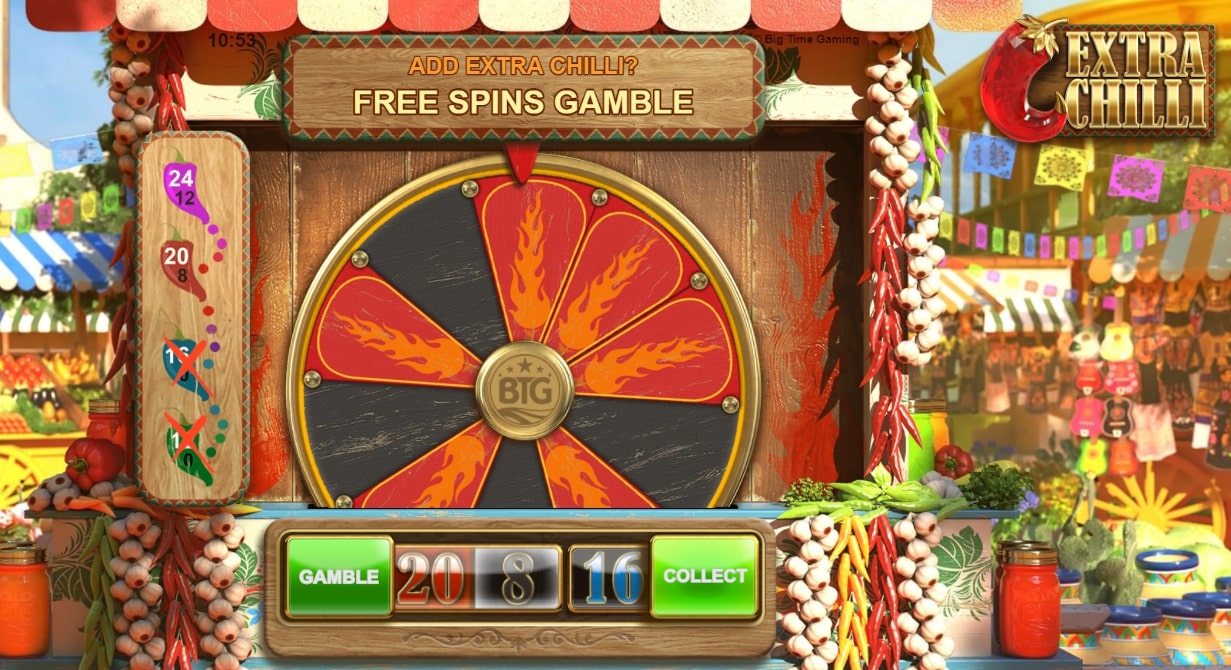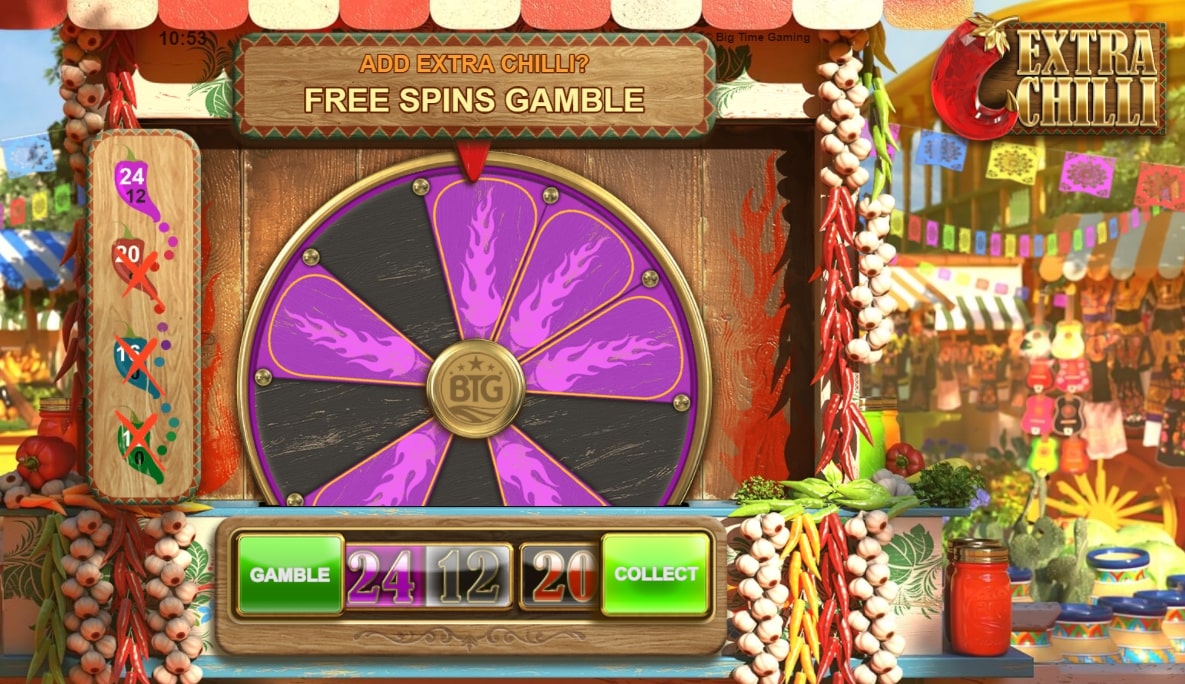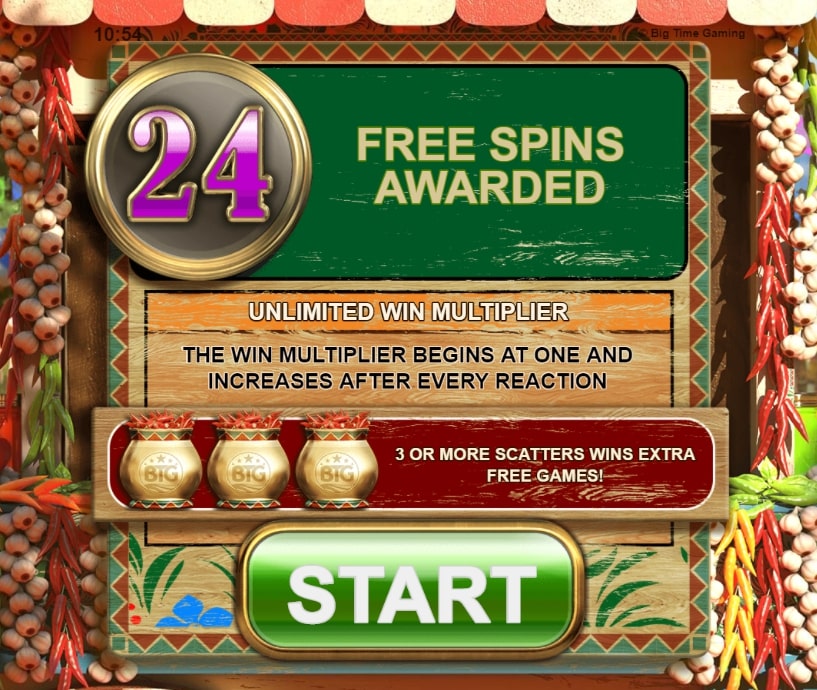 Each time you get a winning reaction in the Free Spins, the multiplier increases and future wins get even larger. There is the chance to get extra free spins by hitting three or four Free Spins Scatters on the extra reel during the Feature. This will reward you with four and eight free spins respectively.
After the dust had settled from the 24 free spins, we have cleared a good 200 times our initial bet. We made it all the way, we thought we would win much more than 200 times the bet, but beggars can't be choosers.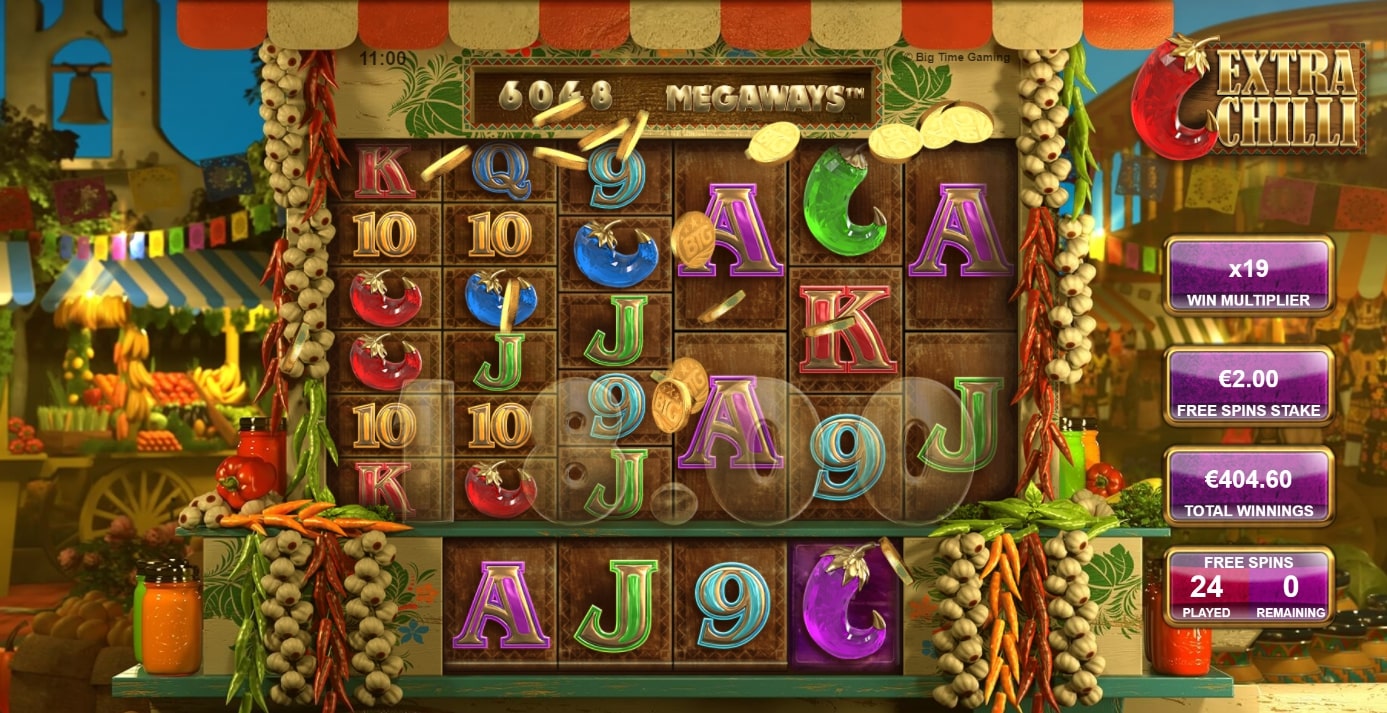 Summary
We are gamblers here at Slotmad, but gambling the Free Spins is something that really splits us down the middle. Some of us really love it. Sure, it isn't fun to lose your free spins, but the potential to hit big is high. With 20 or even 24 free spins on the line, we can't keep ourselves from Gambling. On the other hand, we have the haters. Some of us really do not like gambling the hard earned free spins.
More and more games are starting to introduce similar functionalities. You are allowed to gamble the Feature in Mystery Reels MegaWays for example, but you can't lose it all. Vikings Unleashed MegaWays gambling is similar to Extra Chilli in the sense that you can lose it all. It does however offer you the option to gamble on increasing free spins and/or the starting Multiplier. Then there's the MegaWays games where you can choose three options for your free spins or a randomized version of the three options. You see this functionality in megaways games such as Buffalo Rising and Temple of Treasure. Lastly we have games such as The Goonies with different features which you can gamble for a different/better feature.
What is your take on gambling your Feature to get an even better Feature? Would you do it? Join us on our stream and discuss!
Try playing this slot at Casinoeuro or Leovegas! Two of the best casinos around.
Watch us play Dragon Island and other slots live on stream through the following channels:
SlotMad Streaming Page
SlotMad Twitch Channel
Youtube Channel
Have we peaked you interest in more reviews. Check out the following games:
Narcos Online Slot from Netent
Play Extra Chilli at
100% Bonus on first 2 deposits

New and fresh casino
Level-up system for great rewards
Fair wagering requirements

Casino Review Claim Bonus

100% Welcome Bonus and 200 Free Spins

Reel Races running every day
Bonus on first 5 deposits
Fair wagering requirement

Casino Review Claim Bonus