Flower Fortunes MegaWays Slot Review
Flower Fortunes MegaWays is the newest slot from a new player in town. Ladies and Gents – Fantasma Games, a Stockholm based studio founded in 2017 – have some really great up and coming games.
Flower Fortunes MegaWays is the latest addition to their ever-growing collection of games that we will soon be seeing out in our casinos. This beauty may look all sweet and innocent but, boy it's far from it! Want something that packs and punch and keeps you engaged? Well, this is going to be the slot for you.
Base Game and Features
Flower Fortunes Megaways is a a level up slot game, set in the middle of a deep, hidden, valley of mystical forces and sparkling gemstones. Spin the reels and you get random little orbs that fill the flower meter to your left. The game is 6×5 reels but expands upwards the more you level up to become a 6×9 reel set.
This is still a base game feature, and you all know how I love base game features! It's great to expand upwards within the base game and not to have to wait for a bonus round or free spin round to get something like that.
The little orbs fill up the bar which helps you level up. And with each level up you get rewarded with a particular feature. These orbs are on the spins. Randomly in one of the tiles. As you level up and activate a new feature, you also expand up. So you're getting two different game functions at the same time. If there are no orbs on the spins then you level down. And the expanded reels drop back down to the corresponding level.
The base game has four levels. And admittedly this took me a few tries to get my head around as I levelled up, but actually its really simple once you see it in play and figure it out.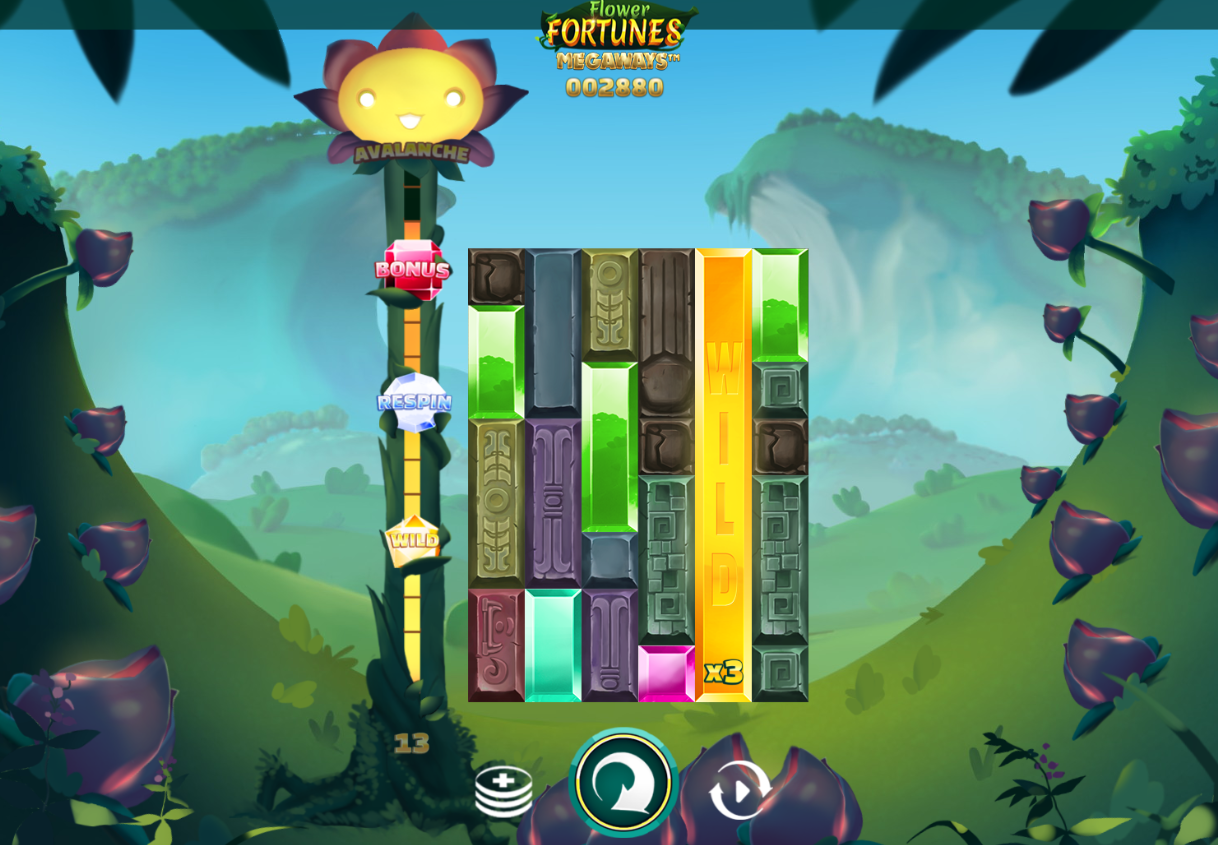 Level one sees you activate the Expanding Wild feature. If you land a Wild symbol it expands over the entire reel, top to bottom. And also award random multipliers between 1x to 9x to the winning combination they're are part of
Level two see you activate the Re-Spin feature. So here is where I got a little confused until I saw it in action. This works similar to a re-spin round, but it's actually not, it's still in the base game. Once you level up here, you will randomly see the re-spin symbols. When this happens, it will take out between 3-20 random symbols and replace them with something else. Then you re-spin to see if you get another re-spin symbol, and if you don't you just keep spinning as normal. Any Wild symbols, bonus symbols or anything that part a winning combination won't be replaced, so you're just enhancing your win.
Level three takes you up to the bonus round. Here is where you can land 3 or more of the bonus symbols. This gets you 3 or more flowers, depending on how many symbols you land. Pick a flower and you can win up to 200x of your bet. You don't have to take the first flower you pick. You get the choice to gamble if you really want. Maybe you get a better bonus, maybe you don't… The choice is down to you there!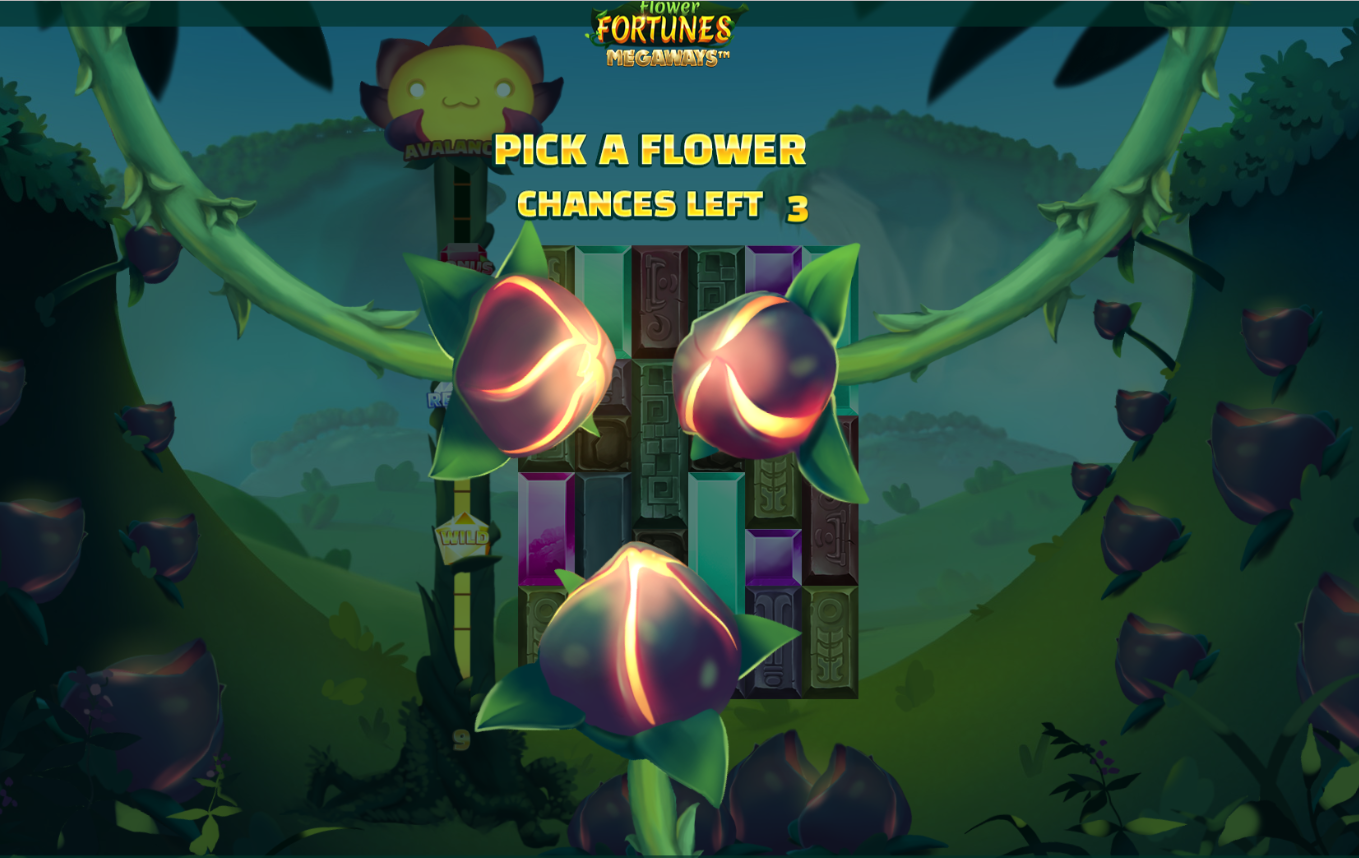 And then we have the final level four! The Avalanche level! I have no doubt everyone is going to have so much fun playing this round once you get there! All winning symbols explode and are replaced with new ones! And you get a progressive multiplier! With every explosion of winning symbols, the win multiplier goes up, starting at 2x. but if you hit a bad spin, you lose the X multiplier and have to start rebuilding with the next set of winning explosions.
Summary of Flower Fortunes
This is a great release from this new studio.  And it's going to make a mark. A lasting impression. A game people are going to want to play. the music is so relaxing, calming, and the visuals all compliment to background soundtrack perfectly.
This is going to be one to watch when it comes out, and I really can't wait!
A game where you're playing because you actually enjoy the base game, and not just putting the spins in, so you can hit the bonus round!
Really excited about this one Fantasma Games! Really looking forward to this!
See us playing Flower Fortunes MegaWays and other slots live on stream through the following channels:
SlotMad Streaming Page
SlotMad Twitch Channel
Youtube Channel
Have we peaked you interest in more reviews. Check out the following games:
Puffer Goes Wild from Plank Gaming
Caishen's Cash from Microgaming
Want to see even more Megaways slots? Check out our Megaways page.