Ghosts of Christmas – new online slot
I like the Scrooge slot, in fact I love it. Especially when you're trying to meet a bonus wagering requirement. That feature aside I like the theme, I like Christmas, I'm a big fan of Santa's Wild Ride and Deck the Halls too.
So, it was pretty likely that the Ghosts of Christmas slot game was going to make me happy.
It did.
The animation is nice, very nice, importantly it doesn't get in the way of actually playing the game.
The variance of the game seems pretty low (you get a lot of small wins quite frequently).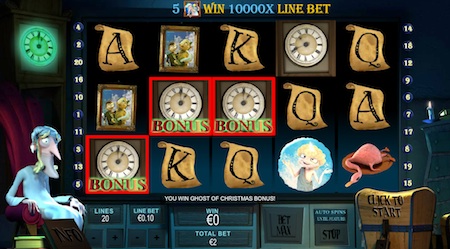 Bonus Game
The bonus game is triggered by three clocks on a winline (not scattered).
There are 3 different bonus games and you'll be presented with one of them at random.
In Christmas Past, you are in a classroom. Choose 3, 4 or 5 school desks (depending on how many clocks you got to trigger the bonus).
Pretty uninspired givent the time they've spent on the opening credits movie and in-game graphics but it is what it is.
Seems to average (based on my brief experiences) at about 10 – 20 times your total bet.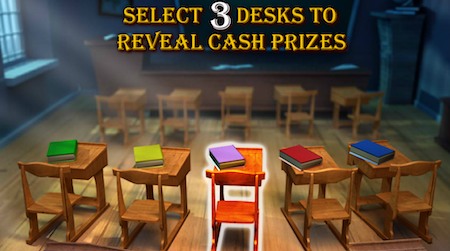 The Christmas Present bonus takes you to the scene of a Christmas party surrounded by family.
The Christmas Yet to Come bonus takes you to your future Graveside.
Free Spins bonus
The Free Spins are triggered by 3 or more scattered Marley's Ghosts.
Pick one of the ghosts to see how many free spins you have won (up to 12).
each free spins pays 3x usual win and 3 or more Marley Ghost symbols will retrigger them.
Top win in normal spins is 10,000xbet, which can be tripled!
This is another great addition to my Christmas Slot favourites.
Watch us play Ghosts of Christmas and other slots live on stream through the following channels:
SlotMad Streaming Page
SlotMad Twitch Channel
Youtube Channel
Have we peaked you interest in more reviews. Check out the following games: