Immortal Romance slot from Microgaming
There's been a lot of buzz about this new slot from Microgaming.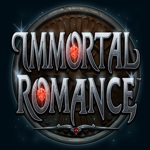 To be fair a lot of the hype is justified, it's the best thing they've done since Thunderstruck 2. No coincidence that, since it basically IS Thunderstruck 2. Well not entirely, it's TS2 meets the Twilight Saga. That's got a few of you salivating I bet! Here's what Microgaming have to say about it:
"From the creators of Thunderstruck and Thunderstruck II comes another epic online slot saga from Microgaming. Prepare to be swept away into the dark and dangerous world of paranormal romance, where the beautiful graphics and haunting soundtrack will keep you playing late into the night.A wealth of thrilling entertainment awaits you, from the heart racing Wild Desire feature to a sequence of intriguing Free Spin features buried deep within the Chamber of Spins. Learn more about each character as the saga unfolds to reveal hidden truths and ancient treasures." Learn more
Base Game and Features
OK they've added some bells and whistles, and they've increased the payout. In TS2 the top payout was 2.43 million coins, In Immortal Romance it's well over 3 million, nice, but you're never going to win that. So what else is new? Remember the Loki feature in the Great Hall of Spins in TS2?
It's the feature you only bothered using twice, once when you first reached it, and then once more just to check that it really is that rubbish. Well it's here in Immortal Romance but they've switched it about a bit – instead of 15 spins you get 25 and now it's in The Chamber of Spins, oh and Loki has been replaced by Sarah.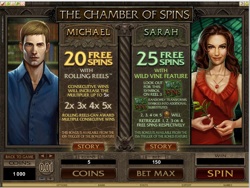 .
The Valkyries
The Valkyries – the best bonus you could get in TS2 – I always wonder why they made it the most accessible – stays the same as it was, 10 free spins with a 5x multiplier, and it can be retriggered. It's now Amber rather than the Valkyries but that's the only change. As you can see from the screenshots they've made a few more switches – I think for the better.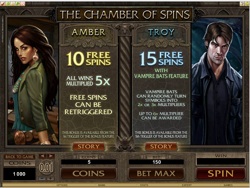 As I mentioned they've also tweaked the payouts not only the top prize (up to 3,645,000 coins) but across the board. Righting a few wrongs here too – well done Microgaming.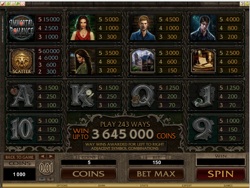 Other new stuff for this game versus Thunderstruck 2. The Wildstorms are now Wild Desire spins too. All in all this is a cracking 243-way slot that is going to be played like crazy by lots of people – I prefer the theme of Thunderstruck 2 but the payouts on this are better so even I'm converted.
Immortal Romance game video
Here's Microgaming's release video for Immortal Romance, check it out:
Enjoy the game!
Watch us play Immortal Romance and other slots live on stream through the following channels:
SlotMad Streaming Page
SlotMad Twitch Channel
Youtube Channel
Have we peaked you interest in more reviews? Check out the following games:
Narcos Online Slot from Netent