Ivanhoe Online Slots Review from Elk Studios – Video, Free to Play and Bonuses
The year is 1194 and Wilfred of Ivanhoe returns to England. Evil Prince John rules the land and King Richard Lionheart is lost abroad during his Crusade. From Elk Studios comes the Ivanhoe Online Slot which offers a tantalizing twist of the famous novel. Originally, Ivanhoe is a historical novel by Sir Walter Scott, first published in 1820 in three volumes and subtitled "A Romance". It is a story about the Saxons vs. the Normans and of course, about love.
Elk is a Swedish slot provider, and in Sweden people have a weird tradition of watching Metro Goldwyn Meyers classic "Ivanhoe" on New Years day. It was a little bit because of this tradition that Elk chose to build a slot around the story of Ivanhoe.
Ivanhoe is a 3 reel, 3 rows slot with a total of 17 bet lines. Elk Studios often use the term Connection Bet lines in their slots to explain the reasoning behind the lines. We will go over this concept more in detail later in the review.

Symbols and Paytable in Ivanhoe
The Paytable in Ivanhoe is easy to understand and there are not so many symbols. Infact, there are only seven symbols. The highest paying are the Red 7s, closely followed by Blue 7s at a third of the value for three in a row. There are also three fruits, Watermelon, Lemons and Cherries as well as the classic BAR symbol. What would a 3×3 slot be without 7s, Cherries and Bars right?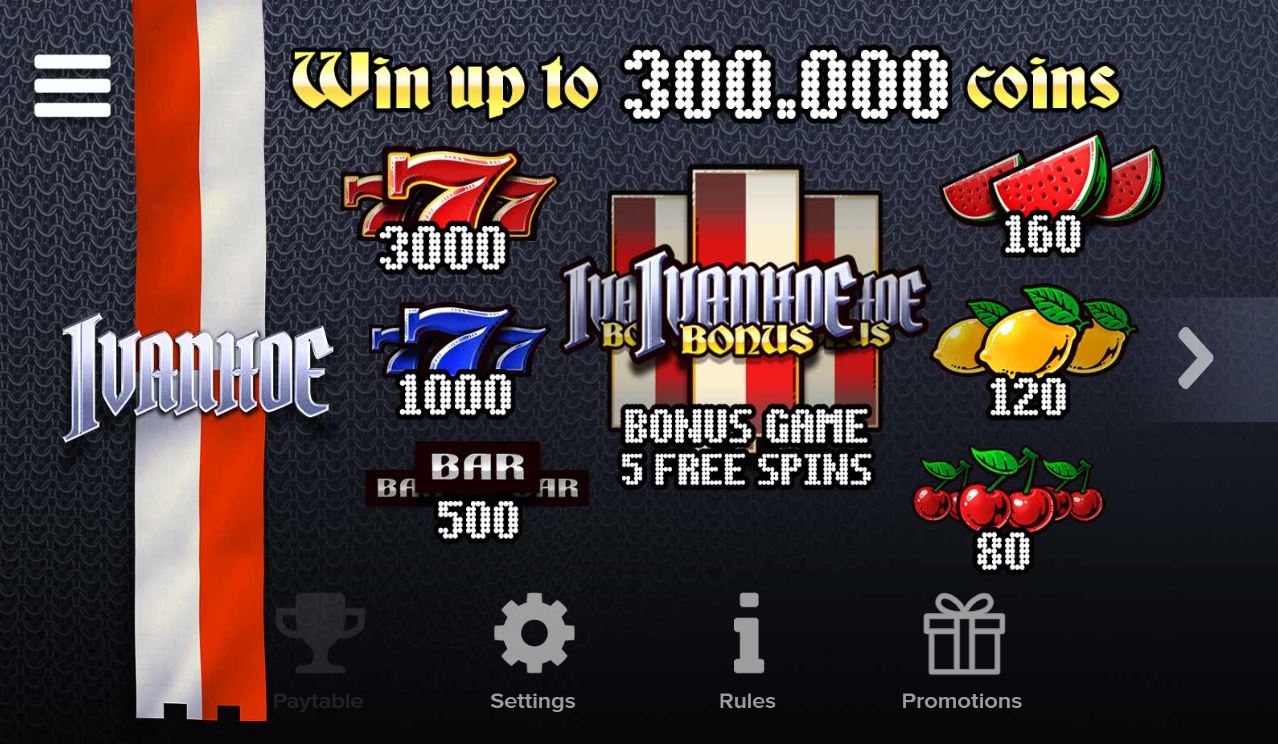 Connecting Paylines
Elk studios often use a pay lines they call "Connecting Paylines". Their idea is that it should be easy for the customer to right away know if they have won. In a three times three slot, the number of connecting paylines are seventeen. Compared to an All Ways Pay slot which would have a total of 27 ways to win.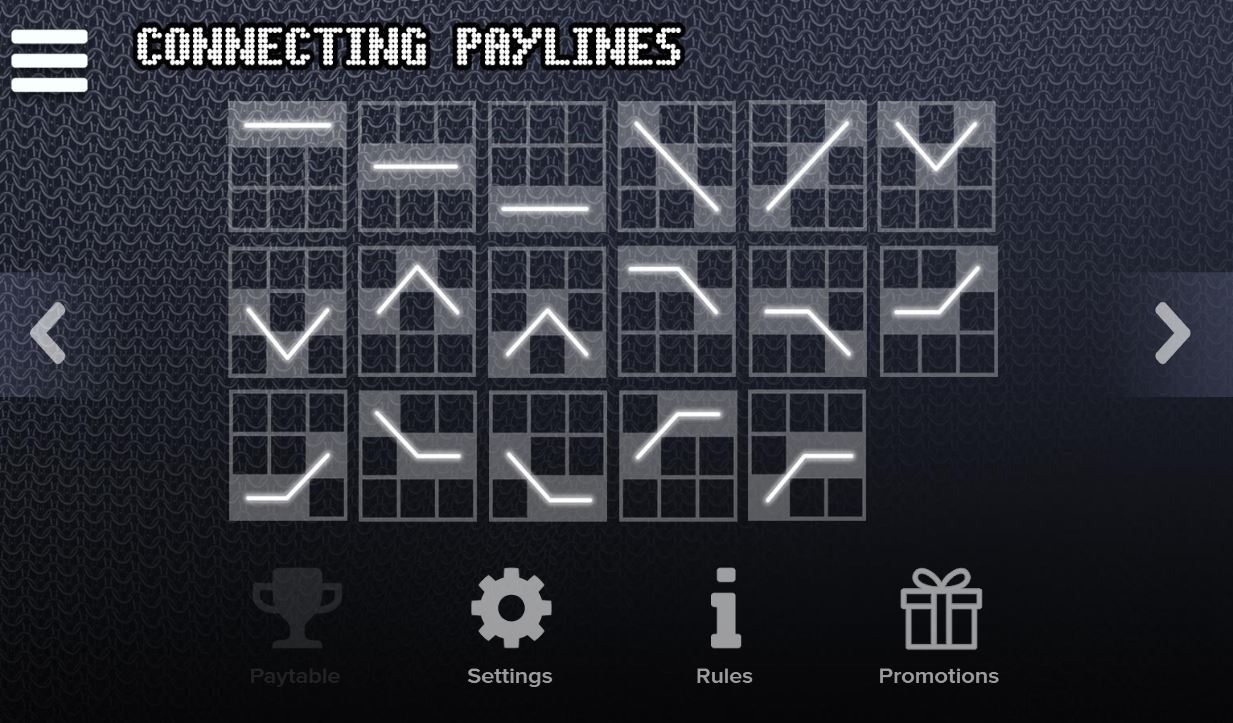 Base Game
The Base game in Ivanhoe is quite simple. It is a 3×3 slot with 17 lines. The bonus game activates when you hit Three Bonus symbols fully covering the three reels. In other words, if you see any other symbols on the reels, you aren't getting the five free spins.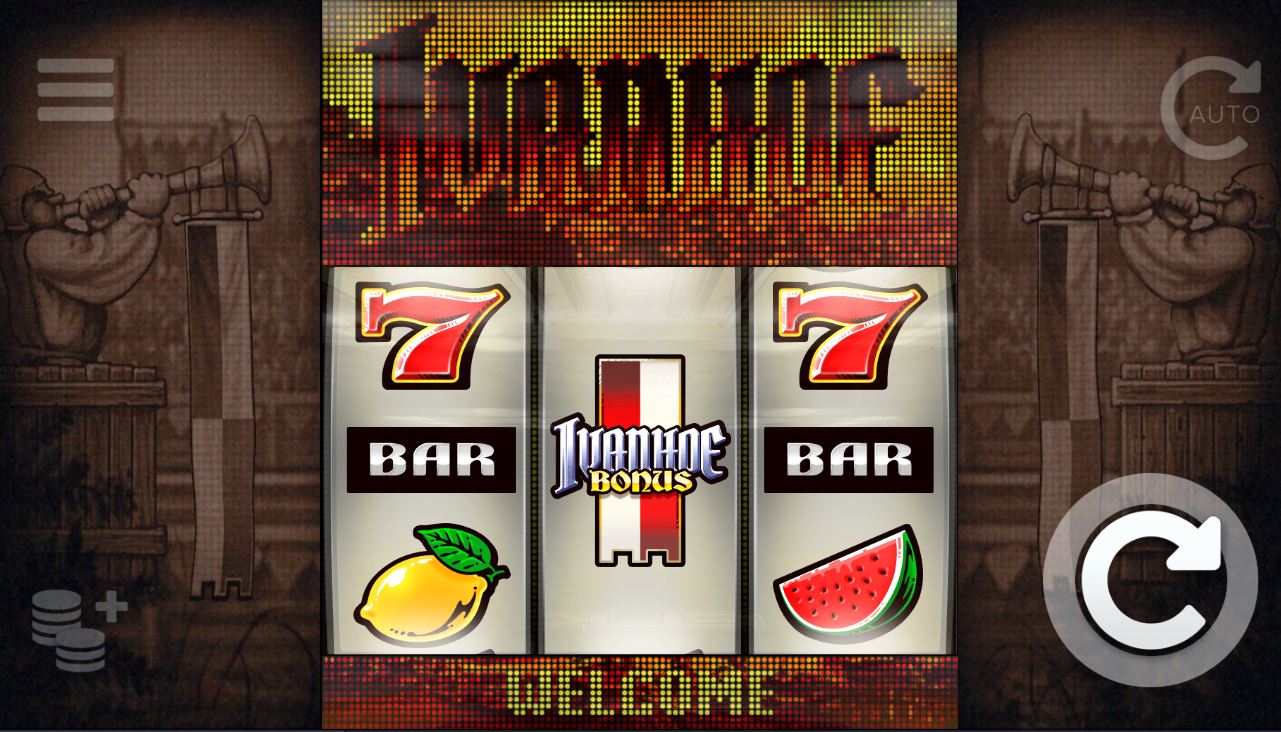 Bonus Game
Elk Studios describe the bonus game, it's levels and how it was made as follows:
"The five different Bonus levels in the game are visualized in a dot matrix display in the retro style known from classic pinpall machines. The creation of this effect demanded close interaction between both artists and programmers."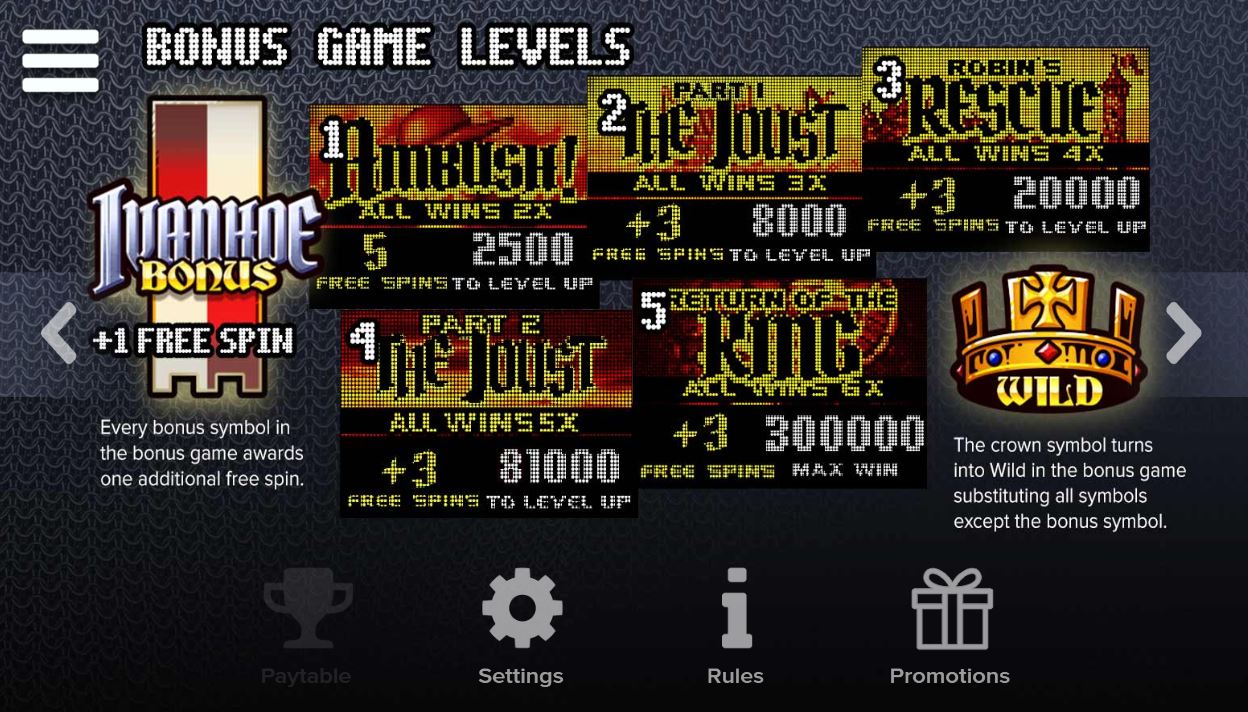 It is great that Elk often showcase the amount of work their employees have done, and we do agree that the feeling from Classic pinball machines have been kept. The bonus game consists of five levels. The first level you start in is called the "Ambush!". You have five free spins to make it to the next level and all wins pay 2x. You get one extra free spins every time you hit an Ivanhoe bonus symbol.
The aim of each level is to reach a total amount won. If you in the Ambush! level win 2500 coins, you get three more free spins and get moved up to the second level, "the Joust". Here, the goal is to reach 8000 coins. If you are lucky reach this, the next level is Robin's Rescue. This level starts off by giving you three more free spins, a multiplier of 4x on future wins and a goal of 20000 to reach. Part 2 of the Joust is what awaits anyone who makes it past level 3. Three more free spins, a multiplier of 5x and a target win of 81000 coins are awarded.
The last level is the Return of the King. This level starts with three more spins as all the others and a multiplier of 6x. As it is the last level, there is no longer a goal but instead a cap. The winnings you can get are capped at 300 000 coins.
Betting Strategies in Ivanhoe
Elk studios have added their "Betting Strategies" which are also present in many of their other games. There are four different betting strategies to use. These are:
The Optimizer – Bet level changes automatically according to a % of your balance. If you win, you will start betting higher, and if you lose, the stake will be lower.
The Leveller – This strategy raises your stake by two levels after five consecutive losses. Another repetition of losses and your bet is now ten times higher than where you started. This resets when you get a win.
The Booster – In the Booster strategy, your stake is raised after each loss up to a maximum of four levels above the base bet (10 times higher). It resets after a win.
The Jumper – This strategy can be the most positive one, as it raises your stake when you win. A chain of wins can thus churn out a pretty good balance.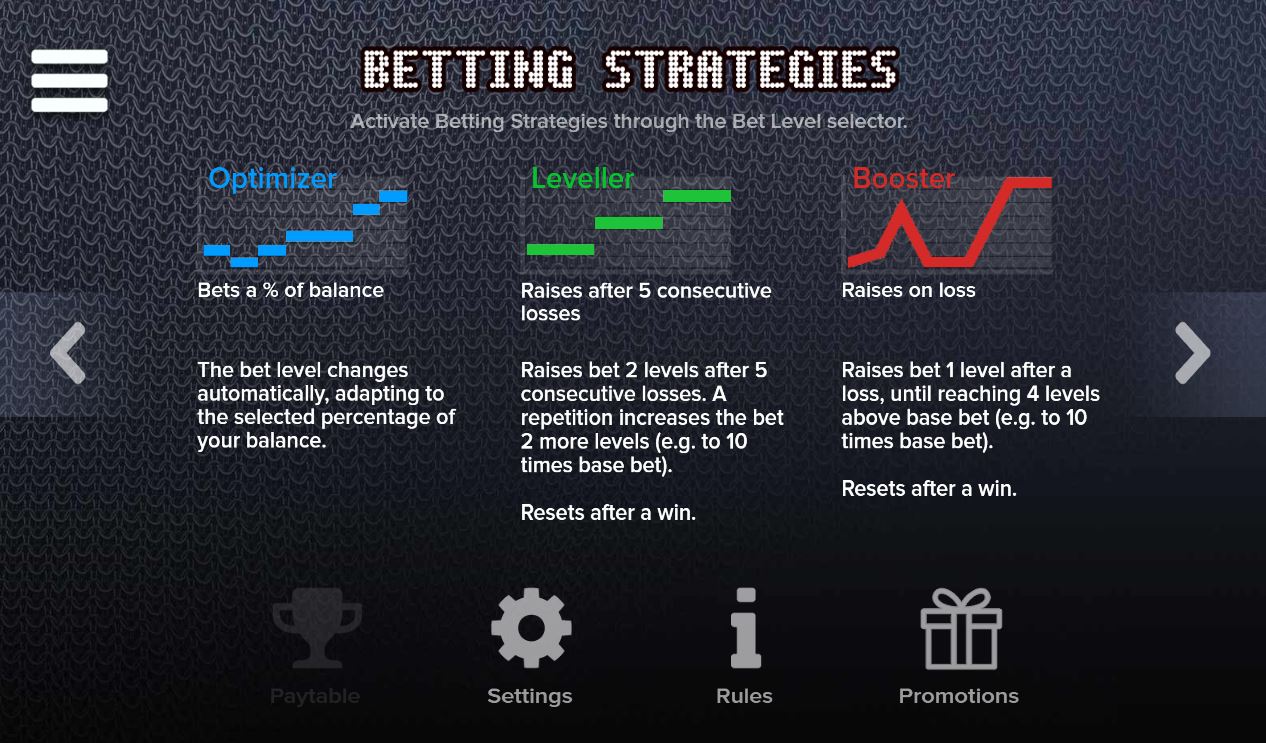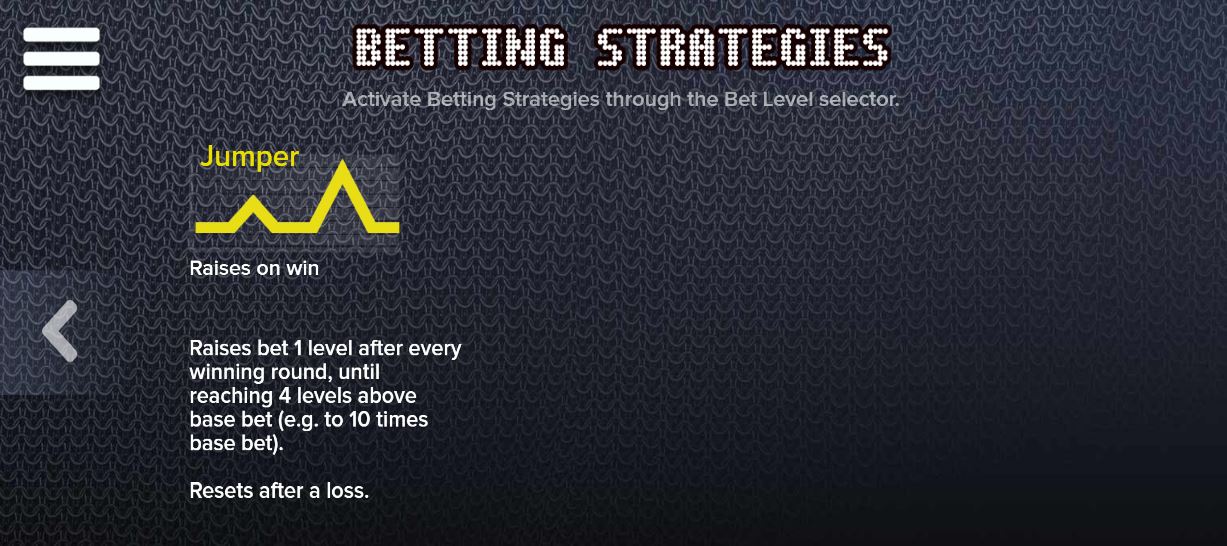 Conclusion
If you like 3×3 slots, this is a great one. We aren't always the biggest fans of 3xs3 slots as there are often many, many dead spins. However, this one won us over. Five different bonus games to get through can keep you busy all night. Because of this and the simple fact that we are history buffs, we rate this slot at a 3.5 out of five.
In the words of Ivanhoe: Glory to the Brave!

What to check out next at Slotmad!
If you like to play (or watch) slots and enjoy discussing all sorts including the state of the latest slot releases etc then join in with us on twitch. We'd definitely love to have you along.
Find out more here:
Take a look at the info on our Casino Stream page
Check out some more of our News and Review of other Red Tiger Gaming slots:
Play Ivanhoe at
100% Bonus on first 2 deposits

New and fresh casino
Level-up system for great rewards
Fair wagering requirements

Casino Review Claim Bonus

200% Bonus + 100 Free Spins

Casino, Live Casino and Sports
Triple your first deposit
No wagering on free spins

Casino Review Claim Bonus