Jeopardy – Online Slot Review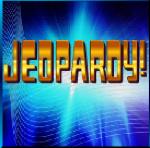 It's probably great if you're American, or at least a fan of one of the most irritating game shows on TV…
Answer: The most annoying gameshow ever to hit the telly…Question: What is JEOPARDY!
The following was written by them, not me.
I found it quite boring to be honest. There's not a lot going on. It's slick enough but it didn't hook me. Like I said, maybe if you like the show…
This new game, in cooperation with the popular television gameshow, is guaranteed to thrill with a WILD symbol that multiplies your award by 2x, a rich Jeopardy! Bonus round, and a chance to win really big in the Final Jeopardy! round.
Jeopardy! has 9 paylines. You can bet 1-5 credits on each payline. Click the Play button to spin the reels after setting your paylines.
If you do not want to bet on all 9 paylines, you can click the button to the left of the payline that you want to bet on.
You can bet on any of the paylines this way, and you can bet up to 5 credits on each of the paylines that you choose.
Jeopardy! Bonus
Earn the Jeopardy! Bonus by getting three Jeopardy! Bonus symbols on a payline on which you have bet.
30 Jeopardy! screens makes up the Bonus board. Click on the screens to reveal award amounts, which accumulate and increase your bonus award. Revealing a "Daily Double" symbol multiplies your current award total by 2, and allows you to continue revealing awards. You can keep picking, and accumulating awards, until you reveal the "Final Jeopardy!" symbol.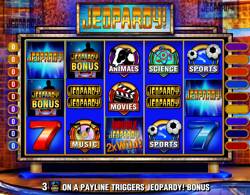 Final Jeopardy!
When you reveal the "Final Jeopardy!" symbol, you get to decide whether to take your bonus win, or to risk it in order to play Final Jeopardy! If you take your win, you return to the main game and your bonus award is paid. If you choose to risk some or all of your bonus award you will be advanced to the Final round.
In this feature you pick the contestant that you think will correctly respond to the clue. No actual skill or knowledge is needed. In each Final  round, 2 of the 3 contestants have the correct answer, so you have a 2-out-of-3 chance of winning! If you pick correctly, your Final Jeopardy! award adds to your Bonus award to determine your total bonus win. If you happen to choose incorrectly, you lose your Final Jeopardy! wage, and you return to the main game.
Watch us play Jeopardy and other slots live on stream through the following channels:
SlotMad Streaming Page
SlotMad Twitch Channel
Youtube Channel
Have we peaked you interest in more reviews? Check out the following reviews: