Kings of Chicago – online slot review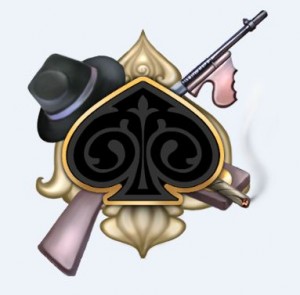 The Kings of Chicago is Net Entertainment's latest blockbuster slot and, as has become the norm for a Net Ent release it's a cracker.
I like to be critical of any new slots and fruit machines but it's genuinely getting difficult when it comes to these guys – after the superb Frankenstein and the innovative and fun Dragon's Island and Egyptian Heroes this latest game combines Texas Poker with a standard slot machine and they've managed to pull off more innovative features.
I know Microgaming did this recently too but not to the same degree and I was disappointed with their effort – they seem to be churning out new graphics on old platforms and not caring too much about players (except for the "3D" slot they made recently. OK so nobody actually wanted a 3D slot but hey it's something different.
Anyway on to Kings of Chicago.
The symbols are classic poker with each suit getting it's own characters.
The look and feel of the slot is excellent and highly atmospheric.
The player bets on winning poker hands appearing along the 5 bet lines. 15  cards are dealt from a deck into 3 lots of 5 – anything better than three of a kind and the player is in the money. The payout is up around 98% so why not just play Video Poker you may be asking (don't worry if not I'm asking it)…
Well. It looks better – a lot better.
Not enough for you – well, there's a free spins feature (free deals in this case) with multipliers.
That's enough for me, and it should be for you too.
Enjoy the game!
We're always playing games on our SlotMad daily slot streams – you can find out more and join in the fun via