Lil' lady is an online and offline casino slot game from IGT
You've probably seen Lil' Lady casino slot at your local casino. It's a standard 40-payline game with scattered wilds and a free spins bonus game.
What they say about Lil' Lady
"Lil' Lady will have players crawling out of the woodwork to play this popular 5-reel, 40-line, Free Spins game with Stacked Wilds."
What I say
The game plays nicely – the animations are smooth and the reels are nicely balanced and realistic. The theme is an odd one – I can't really see who it's aimed at – OK it's not men but kids aren't allowed to play and I don't know many women who love insects…
Wilds in Lil' Lady
The ladybirds are the wilds and the are stacked so it's possible to get a screen full of them – in which case call your boss cos you're off on a 5-star world cruise! You really do see a lot of these, I suspect that's where the payout percentage is built up.
Bonus game – Free spins:
The bonus game starts with 3 bonus symbols across reels 2, 3 and 4. You can win up to 255 free spins (I'd like to see that). During the bonus free spins you'll have more chances to land ladybird wilds as there are lots more of them. I entered the bonus game 3 times and won between 2390 and 3670 coins. Nice enough but frustrating given that on a couple of occasions I almost filled the screen with wilds!
Lil' Lady Payout
94.98%
That's about it – there;s not a lot to this game but i did get some nice big wins and I can definitely see myself dropping into it every so often for a few spins. It's not going to keep me hooked for hours though.
High value symbols: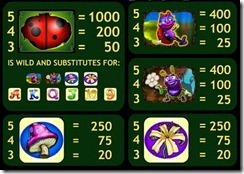 Where to play:
This game is available at most Casinos with IGT, try Casinoeuro for example.
See us playing slots live on stream through the following channels:
SlotMad Streaming Page
SlotMad Twitch Channel
Youtube Channel
Have we peaked you interest in more reviews. Check out the following games:
Tractor Beam from No Limit City
Puffer Goes Wild from Plank Gaming