Little Britain now has its own online casino slot machine
The Little Britain Online Slot comes from the same people who brought us the madness: House of Fun slot. This one is also packed with features, video clips, free spins and well thought out bonus games.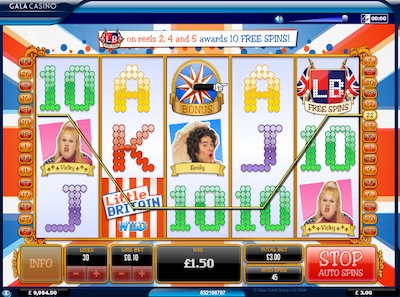 This is a cracker. if you've played the Spamalot slot or the Madness slot you'll have an idea of what to expect. Very sympathetically done, fans of the show will be overjoyed by this slot. It's a 5-reel 30-line slot game which has 5 different bonus features. The intro video sets the scene with the usual voice over extolling the virtues of Britain and the British. The slot plays with the Little Britain theme music and a win involving any of the characters from the show prompts a short in-game video clip. Double-clicking the start button leads to superfast spins.
Little Britain slot bonus games
There are 5 different bonuses. The bonuses are triggered by a Little Britain Bonus icon on reels 1, 3 and 5. You then get to spin a wheel and that will determine which bonus you receive.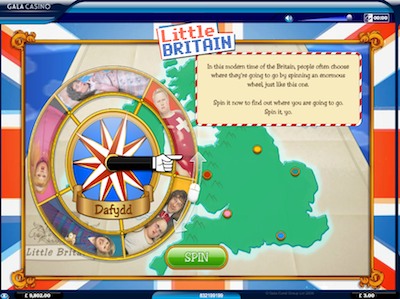 The Andy and Lou bonus game.
Andy is comfortably sat in his wheelchair in his living room. Of course he wants "that one" and it's your job to choose which one "that one" is exactly. There are loads of items to pick, some of which Andy will love, some of which he will throw away – you'll receive prizes for both. Once Andy has binned three items your bonus round is over.
Be a Big gay in Daffyd's Big Gay Bonus!
Choose an outfit for Daffyd to "gay him up". You have three initial shuffles and you'll win something on each. More shuffles can be won and each outfit plays between 5 and 20x your bet. That gives you the potential to win 60x your bet over and over again.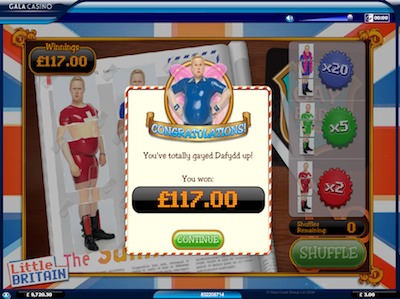 You can also:
Get thin in Marjorie's Fat Fighters bonus game.
Be a Lady in Emily's lady Things Bonus.
Sort out Vicky Pollard in her ASBO bonus.
All the bonus rounds are brilliantly put together, I'll leave you to experience them for yourself – you won't regret it!
Little Britain slot free spins round.
Free spins triggers by 3 scattered symbols and the characters appear stacked across all the reels during your initial 10 free spins.
If you love the show you will love this game! If you're not a fan of the show it's still a great slot.
Watch us play this and other slots live on stream through the following channels:
SlotMad Streaming Page
SlotMad Twitch Channel
Youtube Channel
Have we peaked you interest in more reviews. Check out the following games: