Lost City is a new Boss Media slot game.
Lost City is another revelation for me. It may be that I am getting a little tired of the big players (NetEnt, Microgaming, Crypto etc) but I'm really enjoying a couple of these Boss media (Gtech) slots.
See my review of the Tumbletons to see how much I like that one.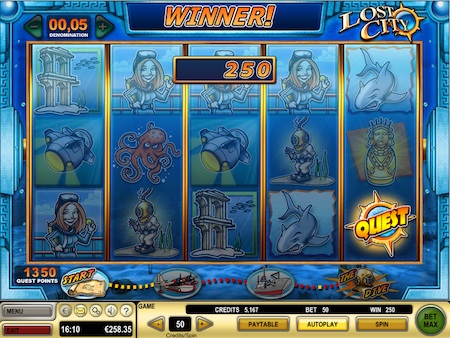 I found this slot at Gold Club Casino and it's just bloody good old-fashioned slot fun. It's an all ways pay 5-reel slot with a nice underwater theme and cartoon-like graphics. There are a few extra features:
Quest symbol in Lost City
You get to choose a Quest character and each time a Quest symbol lands on the 5th reel you are awarded points (the points and risk vary according to your character choice).
The bottom of the slot window shows your Quest progress bar, there are three different quests that are seven steps (or 1500 points) apart.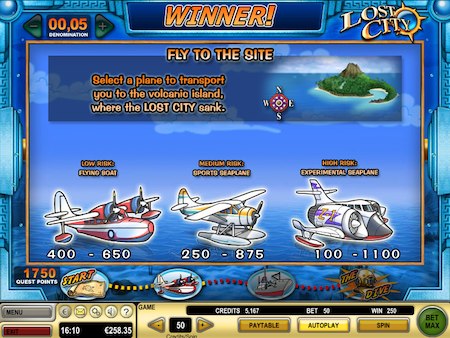 Aeroplane quest:
Select a plane to transport you to the volcanic island where the Lost City sank. You can choose from low risk (flying boat) 240 – 390 points up to High Rish (experimental seaplane) at 60 – 660 points. I opted for the middle risk (Sports seaplane) with a range of 150 – 525. For every quest symbol I get until the next stage I'll receive points in that range. After that though the Quest symbols were dropping in all the time and it took no time to reach the next quest stage.
Ship quest:
Select a vessel to search the waters near the volcano island for the Lost City. Here you can choose between a Cargo ship (400 – 650 points) yacht (250 – 875) or an Experimental craft (100 – 1100). Take the first option for the guaranteed 400 every time – you're only a few steps away after all.
The Dive quest in Lost City
To begin with you must select a section of sea in which to search.
You have 11 hours to search and each selection costs you 1 hour.
I hit it with my second choice (B3)
You then choose from a number of pots (the quicker you find the dive site the more pots you get) and receive a bonus prize for each one ranging from 10 to 5000.
I won a total of €80 on this round – not bad as that's what I started the game with.
Free spins in The Lost City:
It only takes 2 scatters in Lost City to start the free spins (10 free spins) 3 scatters gets you 25 free spins!
The best thing about the free spins is the chance to advance to the next quest levels – although you will of course pick up some wins too.
This is a genuinely great slot. The wins are frequent enough, but high enough to keep you entertained and you will of course have an eye on that (very accessible) bonus game. The scatters will help you along although they are pretty tough to land.
See us playing slots live on stream through the following channels:
SlotMad Streaming Page
SlotMad Twitch Channel
Youtube Channel
If this has got you interested in other reviews you may like the following games:
Tractor Beam from No Limit City