Max Damage and the Alien Attack Online Slot Review
Could it be that this is the rumoured Microgaming Space Invaders game we told you about a couple of months ago – looks likely… Max Damage is a space invader style shooting game where you control a spacebase and destroy attacking alien ships from below.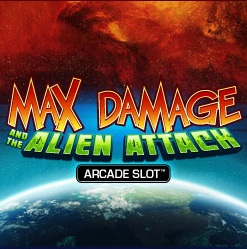 How the Slot Works
As each level progresses, enemy alien ships fly on to into view and will either fly closer to the player's ship randomly or information and may either shoot at or collide into your base.
Once all of your enemies are vanquished, you move onto the next level…
The objective of the game is to kill all enemy ships on screen in order to progress to the next level. Destroyed alien ships will award random win values.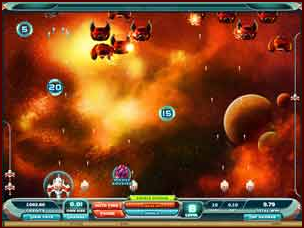 The game consists of 9 levels, some of which award Freebies, these take the form of free spins.
In other levels you'll be called upon to kill a Level Boss. Bosses carry higher rewards than alien ships.
You'll be given up to 6 lives to play with and during the course of the game you'll be rewarded with Health Boosters and Shields, which will enhance and protect your bases life. Other dropped upgrades include different weapon upgrades and ammunition to smash the alien ships.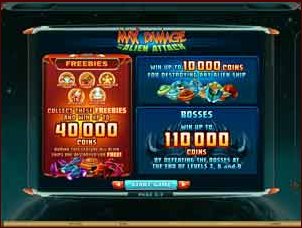 My Thoughts about Max Damage and the Alien Attack
In a nod to the old arcades, the game will carry a leaderboard showing the top players – I hope I don't get as obsessed with this as I did with getting on my local Galaxians roll of honour. The most challenging level is level 9, but if you're successful in killing the last boss then eternal bragging rights and a good few quid will be yours! OK, I've had plenty of time to play this slot now, unfortunately, I say unfortunately because any time spent playing this slot is time wasted. It looks nice for a few minutes but after that… This is a seriously poor slot, I think it's the worst I've played. Avoid it! Seriously.
Watch us play Max Damage and other slots live on stream through the following channels:
SlotMad Streaming Page
SlotMad Twitch Channel
Youtube Channel
Have we peaked you interest in more reviews. Check out the following games:
Games with Free Spins and Bonus Rounds
Itching for a bit of a gamble? Try out this slot at one of these casinos: