Maya Moon Goddess Slot Review
In traditional Maya mythology, the Maya's assumed the Moon to be Female, hence her being a Moon Goddess. And the Moon's phases are in accordance with a woman's stage of life. Sounds wonderful, doesn't it? The slot itself is a Mayan themed slot, which is depicted through the various symbols and the backing music.
An exclusive to the Betsson brands, this is a real homage to the MegaWays slots that we've had a flurry of recently.
The Base Gameplay
The slot is a 3x5x5x5x5x3 Reel Slot game with 12 symbols, with the 3×6 reel matrix cascading. The 1×4 reels above and below slides right to left (top row) and left to right (bottom row).
A feature I always love is part of the set up in the game with winning combinations disappearing and new ones falling into their place. Giving you a little extra chance of winning combinations.
Wins are all paid left to right on a way combination, with each starting at reel 1, except scatter combinations, which will occur on vertical reels during the base game and on horizontal reels during free-spins.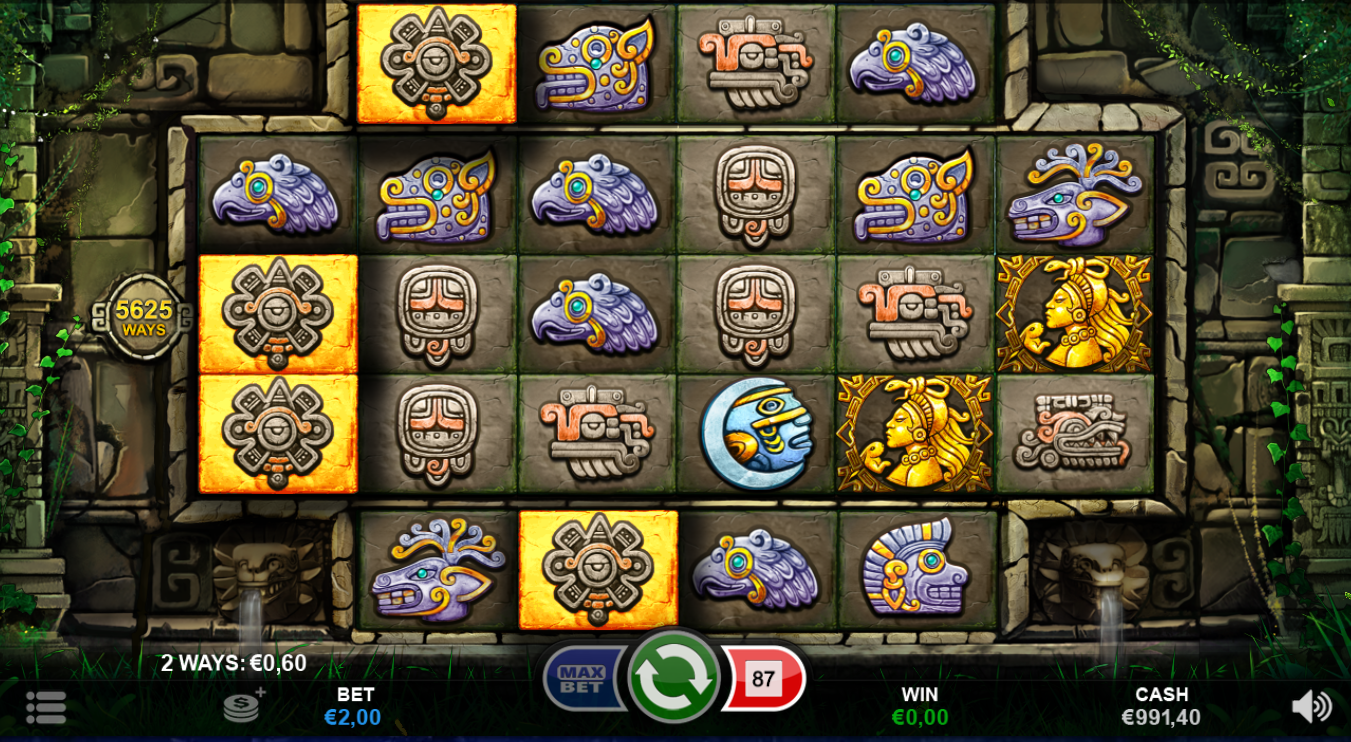 Maya Moon Goddess Free-Spin Round
We all love a good free-spin round. And this one isn't too shabby.
To land a free-spin round you need to get 4, 5 or 6 scatters which award you 12,17, 22 free-spins respectively. If you've seen our progressive multiplier page, then you know we also love this functionality in the game. Each win increases the multiplier with it starting at 1x and continuing up. There's no cap on the multiplier so the potential is there to win it big. If you land the scatter symbols during the free-spin round you get an extra 5 free-spins added in. so there really can be a lot of potentials to get a high multiplier and free-spin combinations.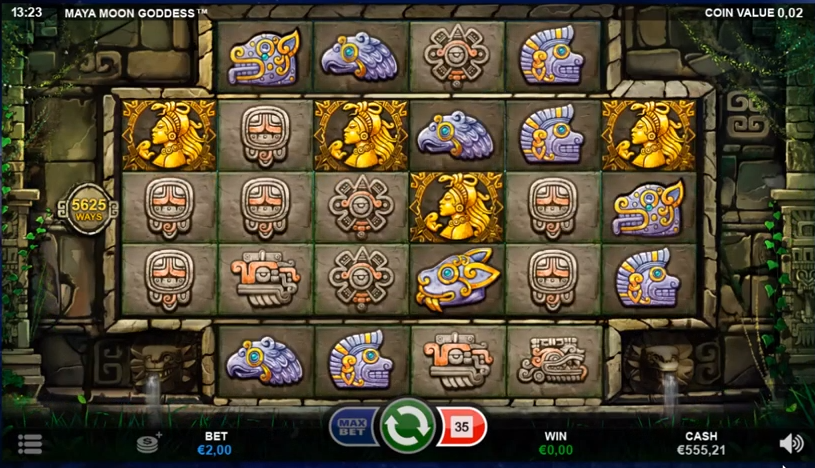 Maya Moon Goddess Summary
Unfortunately, there isn't much more I can really say about the game. It's not really feature heavy therefore until you hit the free-spin round there isn't really much going on. With so many providers putting in more in-game features I think this one could have benefited from something to break up the monotony of waiting for the free-spin round to hit. Visually it's not a bad game to look at and the background sounds fit perfectly.
My feelings are neither here nor there. Though I am but one lone duck, so have a play, and let us know what you think. Either on the Twitch stream, links below, or on the Forum!
Andy played this on stream and loved it way more than I did! Catch the bonus round win for us down below!
See us playing Maya Moon Goddess and other slots live on stream through the following channels:
SlotMad Streaming Page
SlotMad Twitch Channel
Youtube Channel
Have we peaked you interest in more reviews. Check out the following games:
Play Maya Moon Goddess at