Mega Fortune Dreams Slot Review
Jackpot slot from Netent to replace Mega Fortune. Well, sort of… Netent have launched this game exclusively for their biggest casinos (at time of writing it was only 3, Betsson; PAF and Kindred, but they have since added many more).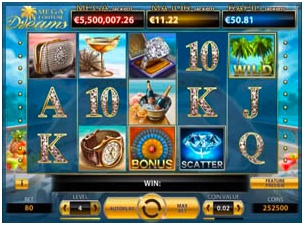 So what's the difference from Mega Fortune?
Well, not a lot to be honest. The interface is a bit cleaner, although the graphics just haven't been enhanced enough..
The game plays in a very similar way, quite a few small wins along the way but nothing too exciting that would keep you playing unless you were hunting one of the three jackpots.
The jackpot wheel itself is fun, in an 'I've seen it all before' kind of way. We shouldn't be too critical though it's a proven mechanic to add excitement and they need to balance that 'this is a fix' feeling with the feeling 'oooh I nearly had it there', and that can't be done without a little bit of showmanship in the coding.
As more casinos have been added to the Mega Fortune Dreams family the jackpot level has grown a lot too. It drops every couple of months at present and you want to look for 3 million plus before you go on a jackpot hunt.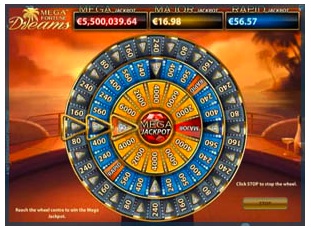 3 different jackpots available
The Rapid Jackpot is the smallest and is likely to drop out often.
The Major Jackpot is never likely to drop below 10,000 and is the one which paid out within hours of the game launching (at 50,000), unlike MegaFortune original in Dreams this is shared between all of the casinos so it will grow more quickly.
The Mega jackpot, the big one begins at more than 200,000 it seems and can grow to 10 million or more.
Wouldn't that be nice?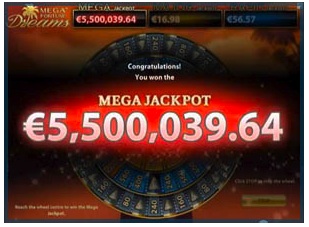 Mega Fortune Dreams Video
NetEnt have released this video showing the different elements of this slot
Check it out!
You can give yourself the millionaire feeling by using the "feature preview" on the game.
Good luck winning that Mega Jackpot!
Try it yourself at LeoVegas or CasinoEuro
We're always playing games on our SlotMad daily slot streams – you can find out more and join in the fun via
Play Mega Fortune Dreams at
200% Bonus + 200 Free Spins

20 Free Spins without deposit
Bonus on first 4 deposits
Fast Cashouts and no hassle

Casino Review Claim Bonus