Mermaid's Galore Slot Review
The magical beauties from the Ocean depths are here to help you win some hidden treasures. They're not giving them up too easily though so you'll very likely want to use the Mermaid's Galore slot buy-in after a while.
A visually cute mermaid themed game from the Kalamba team, this is a world away from their current releases.
Mermaid's Galore slot – base game and features.
The one thing Kalamba do great is the reel setups and in-game features. Their recent release has been a testament to that. Mermaid's Galore is no exception and is packed full of features that will keep any player, at any level happy. A 5-4-3-4-5 reel set up this game has a great 1200 ways pays.
The underwater, melancholy music is almost hypnotic and helps reel you in.
The base game has some cute little features that keep you interested.
Firstly you have the gold features. You can choose to play the game with 1,2,3,4, or 5 gold mermaid symbols. Depending on how many you choose, the bet amount changes, starting at €0.38 for one, up to €1.80 for the full five. These golden mermaids are different versions of the symbol and awards higher pays than the version its replaced.
You then have the bonus jackpot. Consisting of three levels. Silver, gold and platinum. Jackpot size is dependant on your bet amount and increases or decreases accordingly. To strike it rich you need to land a certain amount of Golden Mermaid symbols.
Silver Jackpot – 15 or 16 gold symbols to trigger
Gold Jackpot – 17 or 18 gold symbols to trigger
Platinum Jackpot – 19 or more gold symbols to trigger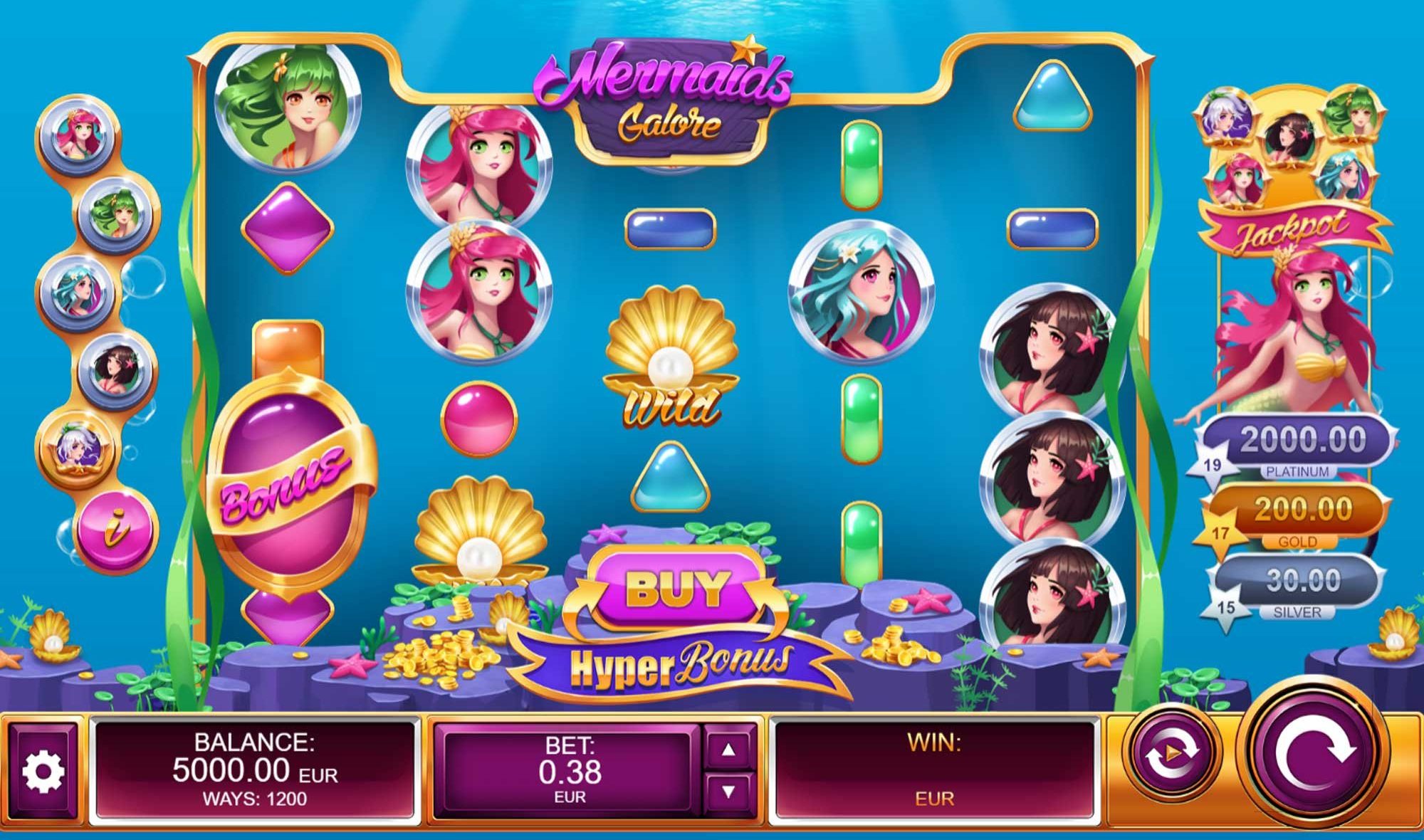 Free Spin Round
Hit three scatter symbols and you dive into the free-spins round. You get a starting 10 free spins, that you can re-trigger over and over. If you get 2 bonus symbols during the round you're rewarded with a further 3 free-spins, manage to hit three and you're rewarded with a further 10 free-spins.
Wilds turn into 2x and 3x and you start the free spin round with however many golden mermaids you landed with. Always handy, as these count towards the jackpot bonuses remember.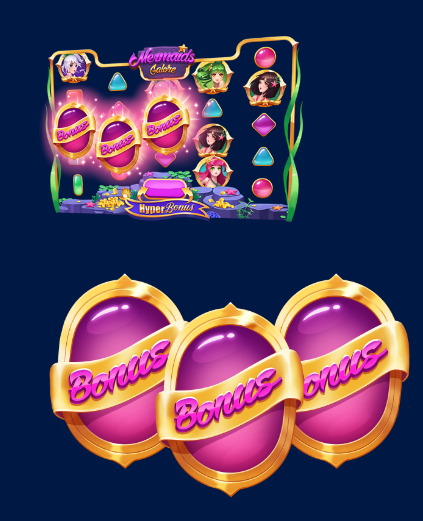 Hyper Bonus Buy Feature.
Don't want to wait for the bonus to hit? Well then go for the buy-in option in Mermaid's Galore. This will get you directly into the bonus round. How many golden mermaids you want to start with will determine the price of your round, as well as your bet.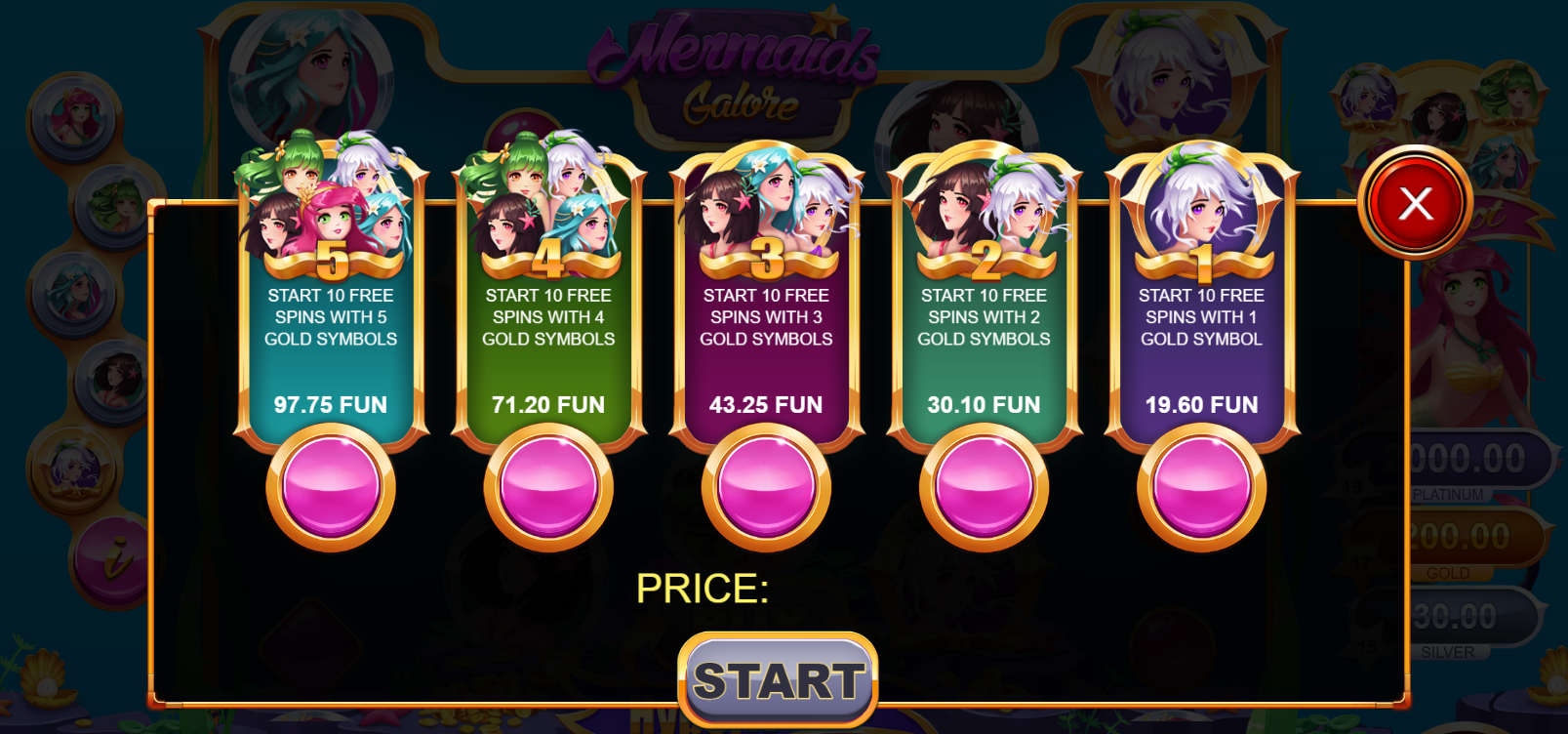 Summary: Mermaid's Galore
The sweet music, great graphics and the interesting base game are more than enough to keep you engaged and in the gameplay. And then with the added bonus of the buy-in feature is just the cherry on top. A great game and one that's worth the spins.
Play it, and get into that bonus round. It's worth it, just for a chance at the jackpot and all the potential free-spins!
See us playing Mermaid's Galore and other slots live on stream through the following channels:
SlotMad Streaming Page
SlotMad Twitch Channel
Youtube Channel
Have we peaked you interest in more reviews. Check out the following games: