Monopoly 250k – Review and Play for Free.
A slot with a 250k win available on any spin – I'll have some of that.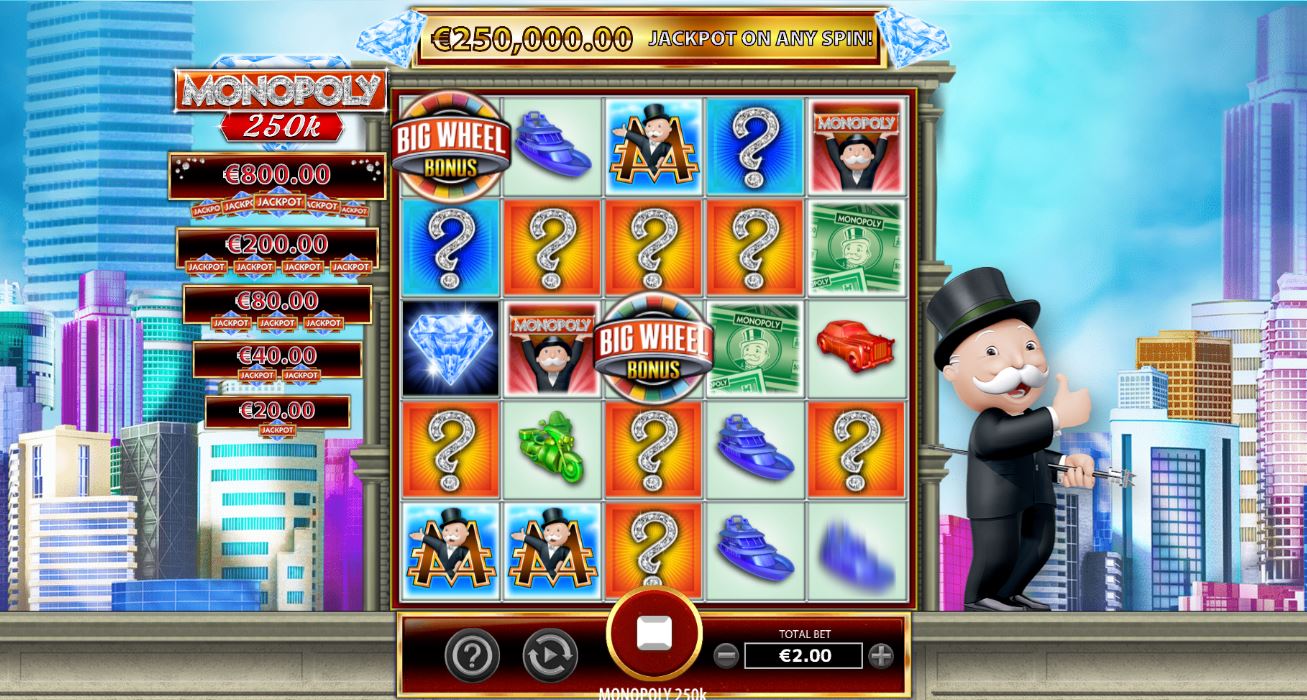 The base game – Monopoly 250k
The game takes place on a 5×5 reels grid.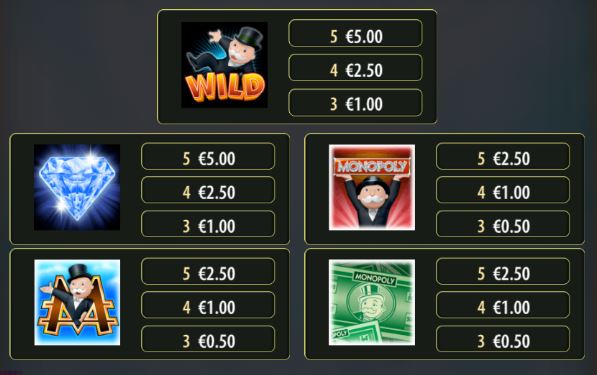 The paytable looks decidedly mean (this is for a 2 euro stake).
perhaps all the RTP is in the 250k.
It's heavily reliant in the use of mystery symbols – you'll get a few of these on almost every spin.
There are gold and silver mystery symbols (dubbed community chest and chance)
They each transform into a single symbol (one for the silver and one for the Gold) and will generally bring a win of some kind every third hit or so.
Monpopoly 250k Community Chest Bonus
This pops up pretty frequently and gives you a choice of three chests.
The chest contain a 2x, a 3x and a 5x. It's just a multiplier on your potential line win though – don't get excited.
in fact it's the opposite of exciting – such is the return it just feels like it's getting in the way.
The bonus round
the selector in this bonus round is the worst I have ever seen.
It literally moves onto a bonus round or big payer and then jumps back onto a smaller one. What is that meant to be Bally?
Monpopoly 250k Big Wheel Bonus
Landing 3 Big Wheel symbols in their three allocated symbol slots trigger the Big Wheel Bonus round.
You'll be faced with a revolving wheel, actually it's more of a rotating deck, each with a different win symbol on it.
It can range between between, well to be fair it seems to be pretty much 10x every single time if my experience is anything to go by.
I could quote the game sheet at you but  what's the point in that?
The mechanics make it seem like it's pretty  much going to be 10x every time and I've had 10x every time.
There is of course an opportunity too get a much higher return but you know what?
I don't think anyone is going to stick around long enough to find out.
Bally are capable of making some wonderful games.
They just seem incapable of making them for the European Online market.
Monpoly 250k – Conclusion
It's a very very short review I know – I couldn't keep throwing money at this.
Yet another missed opportunity from a developer with all the money in the world, bucketloads of experience and a baffling inability to stop churning out sub par US-style offline slots aimed at 2c spinners who are there to get out of the house and avail themselves  of the free coffees.
I want to love a Bally game, I really do. Come on Bally!
Someone needs to tell SG that repeating the same actions ad nauseam and expecting different results is a definition of insanity.
If you don't need or want to be online stop it. If you do, invest in some new ideas it's not the same landscape as it was a few years ago and you're getting left behind.
Give Monopoly 250k a go for yourself in the demo at the top of this review. You never know…
Try some other games.
Play Monopoly 250k at
100% Bonus and 200 Free Spins

New casino with great bonuses
Level up and get rewarded
Fresh design and a good selection of slots

Casino Review Claim Bonus

100% Welcome Bonus and 200 Free Spins

Reel Races running every day
Bonus on first 5 deposits
Fair wagering requirement

Casino Review Claim Bonus