Monopoly Heights – Bally – Slot review and play for free.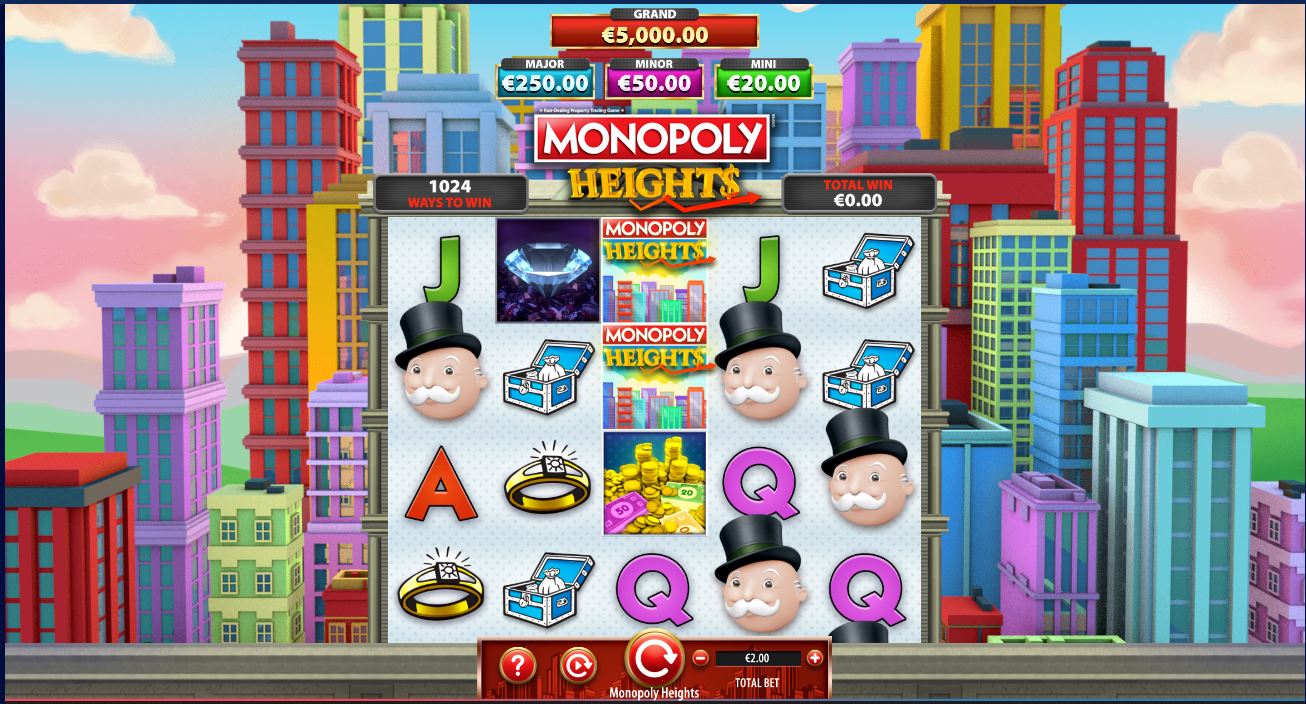 A new Monopoly game is always cause foe excitement here at SlotMad.
I absolutely love Monopoly Big Event with the Big Bet functionality so I'm heading into this Monopoly Heights review with high expectations.
I'm afraid it didn't take long to be disappointed.
The game area occupies such a small part of the game screen that I can only think they've made it for mobile and then just as they were about to release it someone realised they'd ignored desktop.
Very poor.
My second disappointment was instant as three symbols which simply-must-be-scatters turned out to be just another symbol…
Come on Bally!
Oh, hold on! Stop the press, it's all starting to make sense. A bit.
Far from poor use of the game screen the game is set up to allow for an expansion of the reels. To some extent at  least, they're still using a mobile iteration here to my mind.
The symbol I thought was a scatter wasn't but I like the scatter triggers. You need to land a hotel symbol (they appear on reels 1 and 5) to have a chance to win a jackpot.
OK I'll slow down now and not type before I actually know what's going on (old habits…). I should perhaps start looking at the game sheets before I play and review games but that just spoils it for me. It's like seeing 'the making of' documentary before you've seen the film.
Monopoly Heights  – expanding reels
Landing Rich Uncle Moneybags (for such is his ane) on the first two reels triggers an expansion of the reels (another line at the top).
The reels will respins and subsequent Moneybags symbols will add another expansion… and so it goes on until you fail to land one or can't land any more.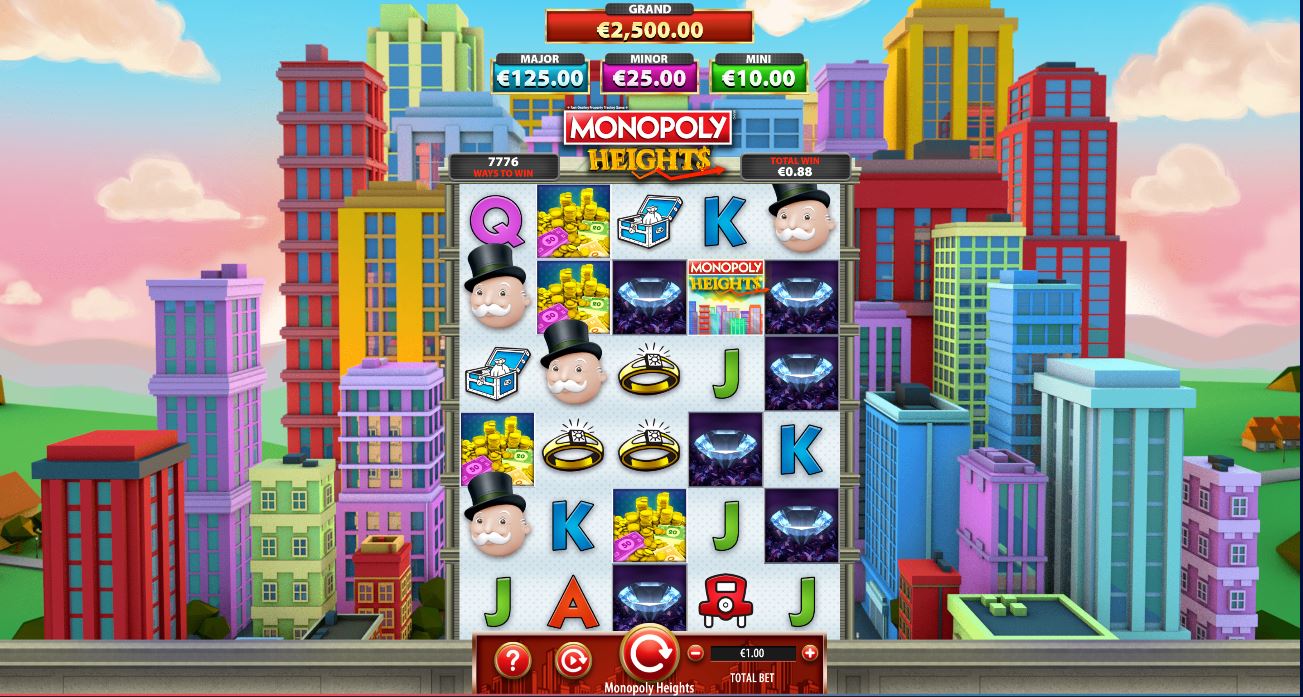 The problem is it's so hard to see where the value is.
I've put a couple of hundred spins through uit and I'm failing to see it.
Then this happens.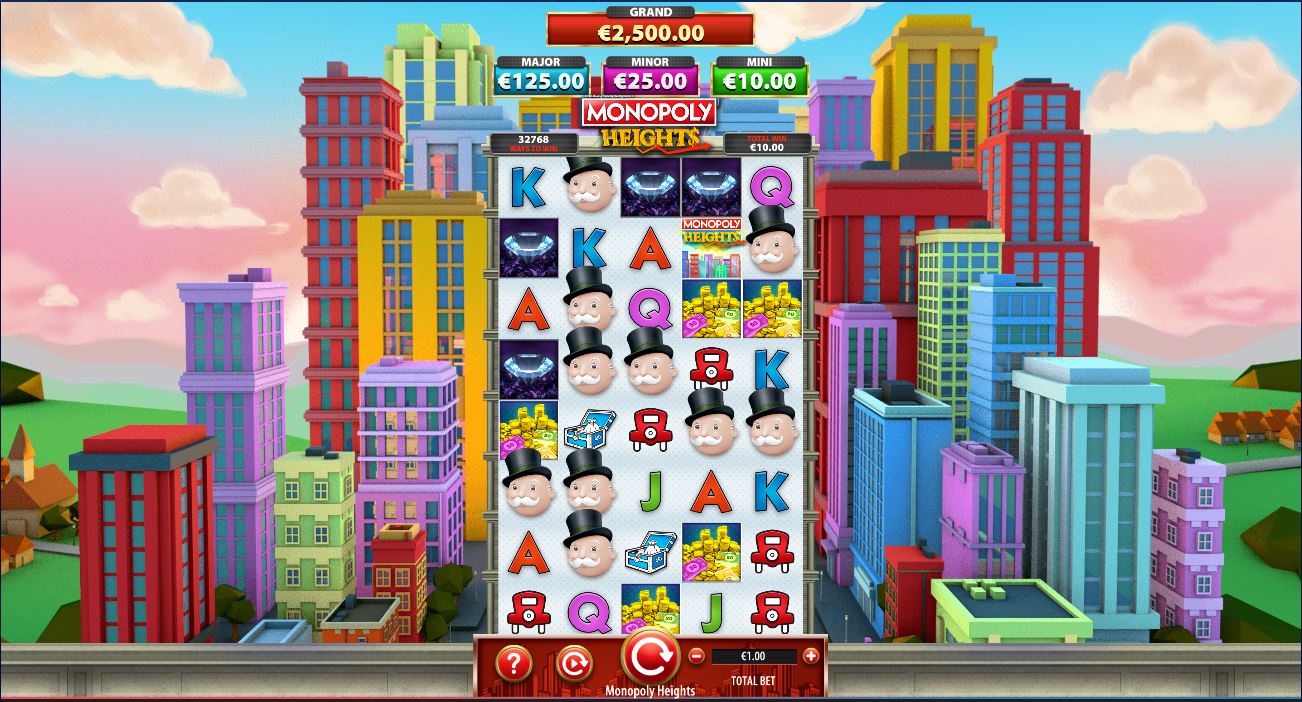 Reels expanded.
10 Rich Uncle Moneybags!
32768 ways.
It must be massive right?
It's 10x.
10x!
Just incredible.
I tried for you reader, I really did.  I just can't take it any longer.
This is one of the worst games I've ever had the misfortune to play.
Absolute shocker. Completely missing the point of Megaways, the reels only expand for one spin. The jackpot which should be a small side feature is the entire bonus feature too.
They can't even get their imagery correct.
Summary – Monopoly Heights.
I'm so disappointed in this slot. It has no identity, it has no idea of what it is – which means it will appeal to, pretty much nobody.
Bally and SG are capable of making some amazing games but they can put out some dross too.
You need to think about your markets and who will want to play your games – it really doesn't seem like that's happening.
I'm off to play Monopoly Big Event…
Play it with us on Casino Stream
We will definitely not be playing this game on our casino Stream sessions. We do play a lot of Monopoly game though.
If you like to play (or watch) slots and enjoy discussing all sorts including the state of the latest slot releases etc then join in with us, we'd love to have you along.
Find out more:
Take a look at the info on our Casino Stream page
We'll see you there!
Play Monopoly Heights at
100% Bonus on first 2 deposits

New and fresh casino
Level-up system for great rewards
Fair wagering requirements

Casino Review Claim Bonus

20 deposit free spins

20 no deposit free spins
Bonus on 4 first deposits
Nice and simple website layout

Casino Review Claim Bonus