Perfect Gems Slot Review
Play'n Go have come out with the Perfect Gems slot, paying homage to the MegaWays style and making it their own. Bold move guys. But will it work? I am a huge MegaWays fan. I do like the games, even if they do get me a little confused at times!
Recently I've seen a few games come out that seem to be trying to replicate that style, like Maya Moon Goddess from the Betsson Group. To get a bit of differentiation between the two styles Play'n Go have spruced this up a bit and made it a little less straight forward. Visually it's so nice to watch the gameplay. The colours and gems work really well with the standard A-9 card symbols.
Perfect Gems – The Base Game
6 reels across, with 4 reels on top. The 4 reels on top sit above the 2-5 reels and initially expand them to four symbols per reel, as opposed to 1 and 6 which is 3. If a symbol on the horizontal reel matches a symbol on the vertical reel below it, it will automatically split into two. This effectively splits the reel into a 7-symbol expanded reel. This will give you more pay wins. Confusing I know, but is way more clearer when you're playing.
Perfect Gems – Features
Features make me very happy. And as you all know we really love our multipliers especially progressive ones.
In the base game if you hit a consecutive win cascade the multiplier goes up and then resets when you spin out. The wins cascade with winning symbols being replaced and generating new ones.
Then you hit that all coveted bonus round! Land 3, 4, 5 or 6 of the scatter gold flower type gem symbols and you win free spins. You will get 9, 15, 21 or 27 free-spins respectively. This gets replaced with a white gem in the bonus round and you get 2 extra spins each time you land it. There's no limit to how many times you can re-trigger. As with the base game, the progressive multiplier comes into play. except here, it stays and increases with every win, and doesn't reset.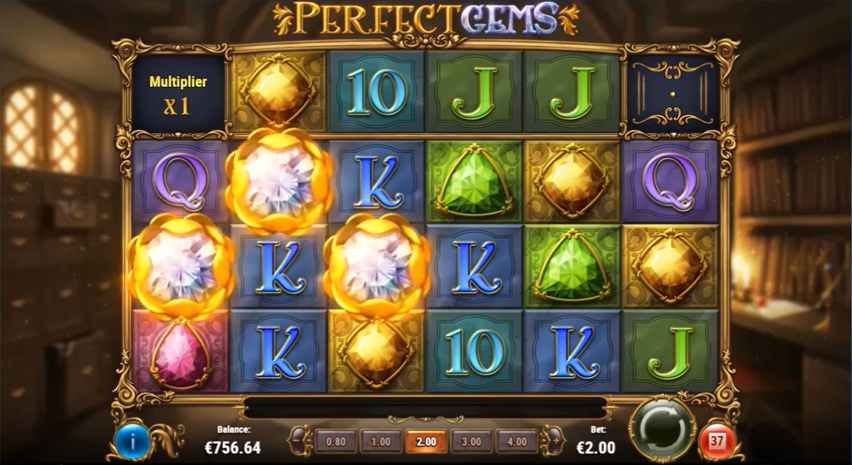 Perfect Gems Slot – Summary
Controversy aside with it being so similar to the MegaWays, it's a well polished, smooth, easy playing, but interesting game. It's not going to be hard to see this game make a high playlist.
See the game in action for yourself below. This is the first time playing and getting into the bonus round!
If you enjoy great banter and more wins give us a follow on our Twitch stream and if you want to leave a comment head over to our Forum and let us know what you think!
See us playing slots live on stream through the following channels:
SlotMad Streaming Page
SlotMad Twitch Channel
Youtube Channel
If this has got you interested in megaways you may like the following games:
Medusa Megaways