Microgaming's new release – Piggy Fortunes

Released in April here's what Microgaming have to say about Piggy Fortunes Online Slot.
The story of the famous Three Little Pig nursery rhyme is now a 5 reel, 25 pay-line Little Pig themed slot. It includes Wilds, Scatters, Free Spins and a variety of Multipliers that can help the player achieve worthwhile rewards.
I think achieving "worthwhile" rewards may be damning it with faint praise. Still I like pigs in slots, apart from that Karate Pig one.
Features in Piggy Fortune
This 25 line 3 Little Pig themed slot will huff and puff and blow large piles of cash. You will be left in a swirl of excitement and wonder!
During the Big Bad wold Feature – Brick, Wood or Straw Houses are no match for the Big Bad Wolf, when one of the house symbols land adjacent to the WILD WOLF the house is blown down and a Big Bad Wolf Multiplier is revealed. 2x WILD WINS when the Straw House is blown down, 3x WILD WINS when the Wood House is blown down and 4x WILD WINS when the Brick House is blown down! This slot will always give you the highest of the blown down multipliers available, to MAXIMISE YOUR WINS!
Are you concerned about the Big Bad Wolf blowing down all 3 houses? Don't be. The 3 Little Pigs will assist you and ensure one of the blown down houses is rebuilt. This leads to an FREE SPINS feature and more chances for extra AWESOME PAYS!
You will definitely love this slot!
The free spins bonus feature is great, a little confusing at first as there's so much going on but here's a handy reference…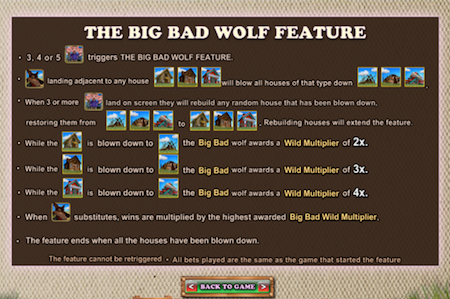 Got it? Good!
RTP (return to player percentage) for piggy fortunes is around 96% and it gives a lot ot small wins so looks like low volatility
See us playing slots live on stream through the following channels:
SlotMad Streaming Page
SlotMad Twitch Channel
Youtube Channel
Time to read some more reviews? You may like the following games: