Piggy Riches Online Slot Review
The gameplay is nice, if not spectacular in the Piggy Riches slot. You're basically going to frantically chase the bonus games – which thankfully aren't infrequent enough to deter you.
It's a 15-line slot, which is the best option in terms of balancing gameplay with winnings. The 9-line slots are too annoying in my opinion because you constantly get lines that would have paid out on other slots but don't on 9-lines and that can get irritating.
30 lines and more is just ridiculous in terms of bet to win ratio on a normal (ie not especially lucky) day. 20 and 15 are the best choice for casual players.
Anyway back to Piggy Riches…
It feels 'right' you know what I mean? Often a slot just doesn't feel right, Wild Witches and Fortune Teller for example. Piggy Riches gives you the feeling that the reels are genuine and that a win is possible at any time.The graphics are good and the bonus games and free spins really shine.
I really like the tendency to offer a choice of free spins that we're seeing more often these days. Get three scatters here and you can get up to 28 free spins and a multiplier of 6. Nice!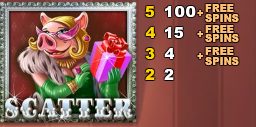 I played for about three hours with a starting stake of €200. After three hours I walked away (or rather hit the sack) with €172. At the best point I was up to €232 At lowest I was at €34 (thank you freespins!) So it does give you good game time.
Free spins mode
Piggy Riches features clickable scatter symbols. When the scatter symbols trigger Free spins, the player must select one of them in order to start playing. Each scatter symbol shows a different Free spin/multiplier combination for the player to choose from.
Scatter wins. The main game pays out on 2 or more scatters. These wins pay the multiplier displayed in the paytable multiplied by the total bet.
Free spins feature. When 3 or more scatter symbols appear, the scatter symbols change to reveal Free spin and multiplier combinations. The player is instructed to choose one of the win options. The Free spins are played at the same bet level and with the same number of bet lines and coin value as the game that triggered the Free spins. A dynamic sign informs players how many Free spins are remaining and the multiplier.
Re-triggered Free spins. During Free spins each additional scatter gives one extra Free spin.
Where to play Piggy Riches
You will struggle to find a casino nowadays that don't offer this slot! Some of our recommendations are: Betsson, Casino Heroes and Leovegas. Skip through the base game and only play the bonus rounds using Casino Heroes exclusive feagture BLITZ MODE! Check out BLITZ now!
Watch us play Piggy Riches and other slots live on stream through the following channels:
SlotMad Streaming Page
SlotMad Twitch Channel
Youtube Channel
Have we peaked you interest in more reviews. Check out the following games:
Scudamore's Super Stakes from Netent