Reel Gambler Slot Review
Are you are Reel Gambler? Check out this Online Slot that will take you back!
Yesterday all my troubles seemed so far away… Oh I believe in yesterday. Let's be honest pretty much everything was better in the past. Music, fashion, football even sweets.
What about slots though?
Perhaps there's a bit of a renaissance going on there too. The tumbling reels, cluster pays, multiple-bonuses and megaways may just have been enough to send some of us running for the solace of familiarity.
That certainly helps explain why we love this game so much.
Reel Gambler (see even the name is retro) is a 3 reel pub-style slot (fruit machine would be more apt) from Realistic.
And it's a cracker.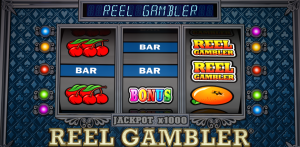 Realistic have avoided going too far into the pub fruity world, they've just gone crazy these days anyway.
On a recent trip to London with Swedish colleagues they were in awe of the range of options, features, choices, gambles and general mayhem of pub fruit machines.
Reel Gambler takes a more sedate approach and it's none the worse for it.
Base game
The base games is a standard 5-line setup with the addition of bonus symbols.
Any win can be multiplied between 1.5x and 12x.
There's a nice little "save" feature which allows you to collect any part of your win balance and gamble on with the remainder.
Any win triggers the gamble option and a Bonus win will send you to the bonus ladder.
Realistic have overcome the screen limitations nicely using a zoom-in feature when the player enters the bonus ladder.
If you're a purist you can, of course, play in cabinet mode just like down the pub but it's not that easy to see everything with that view.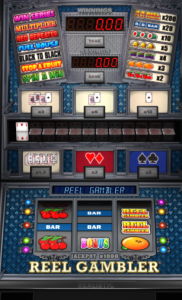 The options in the bonus ladder are (in ascending order of desirability)
Spin A Win – A single guaranteed win award.
Stop A Fruit – A single fruit is randomly selected and a win from that symbol is awarded.
Black To Black– Choose black cards to progress and each correct pick results in a win
Full House – awards a spin with reels containing just one random symbol.
Red Repeater – As with back to Black but round ends on a black.
Multiplier – Guaranteed win with a multiplier up to 10x.
Win Series – A win streak.
As you will see from our video we had great fun playing this. It's definitely going to be a game we will return to frequently during our daily live streaming!
Watch us play Reel Gambler and other slots live on stream through the following channels:
SlotMad Streaming Page
SlotMad Twitch Channel
Youtube Channel
Have we peaked you interest in more reviews. Check out the following games:
Play Reel Gambler at
100% Welcome Bonus

Gamified casino with great offers
Play 6 times faster with Blitz Mode
Unique Loyalty Program

Casino Review Claim Bonus

100% Welcome Bonus

Great welcome offer
New and updated design
Always new and fresh games

Casino Review Claim Bonus