Santa's Wild Ride – Online Slot Review
Sometimes online slots look amazing but are painful to play (yes I'm thinking about you Robin Hood). Sometimes a game's graphics are just that bad that you can't stand playing them (that'll be you Playtech and RTG).
Sometimes you look at a game and think "no, I don't like the look of that" and move on.
It's a fairly standard 243 way slot with no bonus game but with spot prizes and free spins.
The spot prizes are quite nice, if you see a Christmas present on the reels then you get a surprise gift – it seems to be between 1 and 5 times you bet as far as I could see.
Santa's Wild Ride slot game video
Here's the video by Microgaming to promote this slot. Check it out below and get a feeling for the game in just 1 minute.
Santa's Wild Ride game features
Where the game really grabs you is when you get the free spins feature. The feature is started by 3 or more Blitzin keyrings anywhere on screen.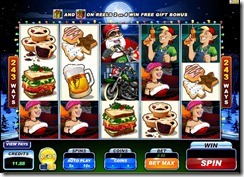 This gives you a generous 25 free spins and a choice of Wild features.
Wild 1: Stacked Wilds
In this option, each reel contains a stack of wilds so theoretically you could end up with a wild symbol in every slot – and a MASSIVE payout.
Wild 2: Expanding Wilds
This gives you the option of choosing expanding wilds which extend across an entire reel when they appear.
Wild 3: Trailing Wilds
This feature can be great if it hits well. If the Wild appears at the top of a reel, or in the middle, then it will continue to appear until it moves down to the bottom of the screen – giving you three wilds if it lands at the top.
So which should you take?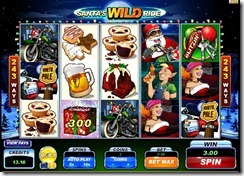 Well, definitely not the middle one. Wild 1 gives you the biggest chance of a big win – although it won't give you many shots at it.
Wild 3 gives you a good chance of a lot of wins as well as a decent shot at a big win.
Wild 2 gives you the worst of both worlds – why would you choose one-shot expanding wilds when you can have stacked wilds across every reel or wilds which can hang around for multiple spins?
No point.
Your 25 free spins will pay back, i played for hours and the lowest return I got was 26x my bet. The highest was 1200x (thanks to Ladbrokes for the 50 free spins – I made more than 400 euros from that freebie!
So, where should you play?
Well, CasinoEuro of course. The big difference between Ladbrokes and the other dedicated  Microgaming casinos is that there is no waiting time for your money (that and the fact that they are 100% safe).
Good luck!
We're always playing games on our SlotMad daily slot streams – you can find out more and join in the fun via