Scarab Slot Review –  New from IGT PlayDigital
And we finally have it! The first new game in a while from the IGT PlayDigital family!
The new Egyptian themed game from this venerable gaming institution
In Ancient Egypt, the scarab beetle is a symbol of immortality, resurrection, transformation. A slot truly worthy of its name. IGT DigitalPlay has really come through with this game. It's beautiful. Honestly beautiful. The mesmerising beauty of the High Priestess on the opening screen draws you into a world beyond the everyday.
Scarab Slot: Base Game and Features
As you've been reading the reviews, you know that we all love a decent base game feature. It keeps the game exciting and helps fill in that gap as you wait for the bonus or free spin round to eventually hit.
Scarab's base game feature is so much better than some I've seen recently. The concept is great and gives you something that makes you feel like you're getting more from your spins.
During the base game, you collect Golden Frames. These happen when you land a Scarab. When you land one, it becomes locked on the screen. On every tenth spin, these locked frames get turned into Wild Symbols which in turn increase your chances of a winning line.
Coupled with how visually enticing the game is, you really feel immersed in what you're seeing.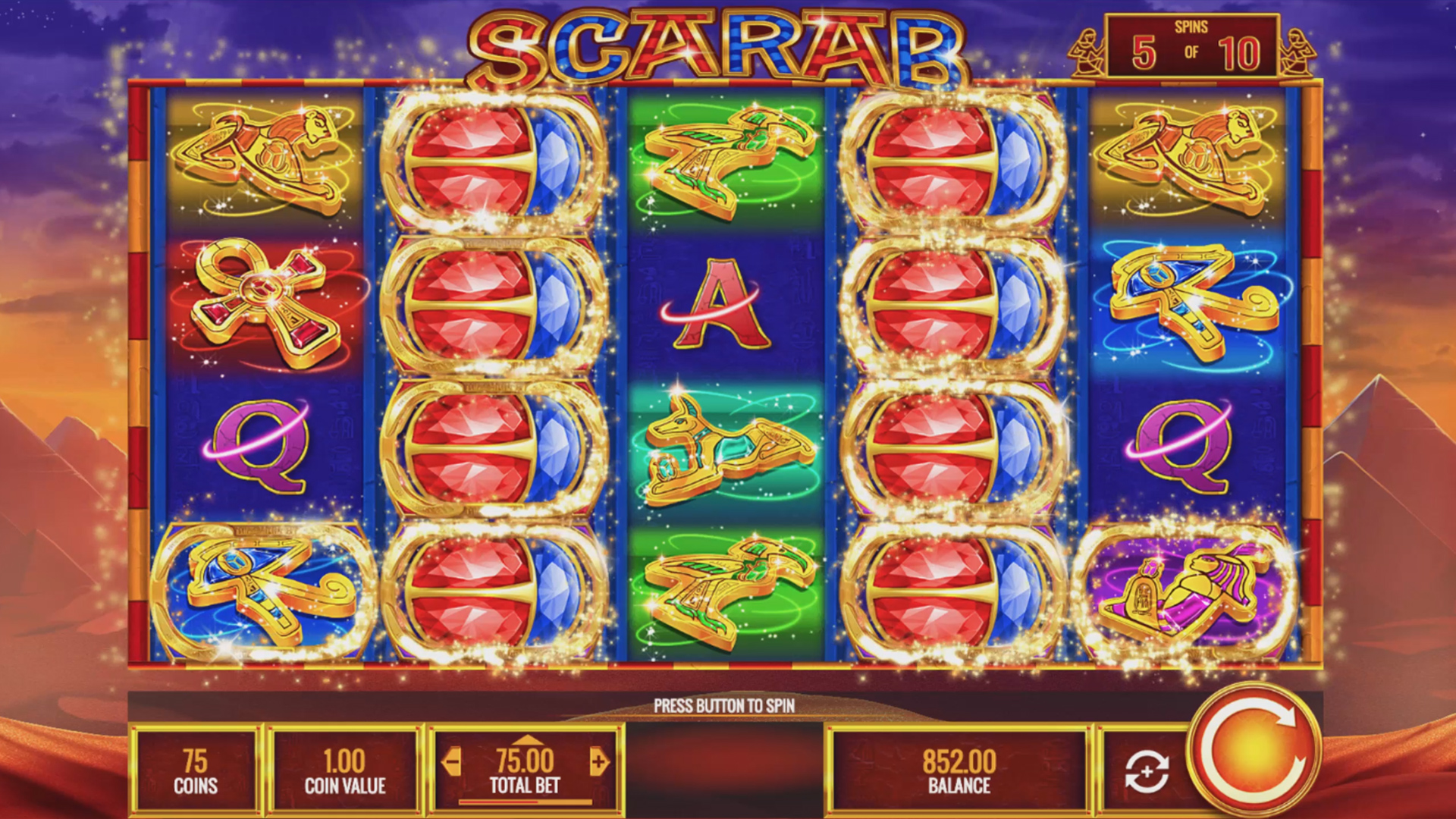 Scarab Slot: Free-Spin Round
The main feature of the game! The free-spin round! And one that gives you more choice than the usual, "this is what you're getting".
To get into the round you have to hit three or more Bonus symbols. The number you land determines the number of free-spins and random wilds you get.
Three Bonus Symbols
15 Free- Spins and 5 Random Wilds
10 Free- Spins and 7 Random Wilds
5 Free- Spins and 10 Random Wilds
Four Bonus Symbols
30 Free- Spins and 5 Random Wilds
20 Free- Spins and 7 Random Wilds
10 Free- Spins and 10 Random Wilds
Five Bonus Symbols
45 Free- Spins and 5 Random Wilds
30 Free- Spins and 7 Random Wilds
15 Free- Spins and 10 Random Wilds
Once you pick, the Wilds will then move around randomly across the screen increasing your chances of winning combinations.
The game also re-triggers! You know we love re-triggers. Each time you re-trigger you can choose all over again. You pick the spins versus the Wilds.
Summary of Scarab online slot
The game is a lower variance than the normal games we'd play so don't expect massively huge pay-outs. But it's worth every spin you put into it. Do you know when you get that slot, that one that you just enjoy playing for the pleasure of playing? Well, this is it. It's base feature is really worth spinning for and the bonus round is worth waiting out for. The images are beautiful, I really can't stress that enough, and the sounds are perfect. Remember IGT DigitalPlay has a lot of land-based games, and this takes you to the casino, without even having to leave the comfort of your own home.
We gave it some spins and as expected we really liked the mechanics of the base game!
Have a look at the video and see for yourself!
See us playing Scarab and other slots live on stream through the following channels:
SlotMad Streaming Page
SlotMad Twitch Channel
Youtube Channel
Have we peaked you interest in more reviews. Check out the following games: