Scudamore's Super Stakes – A Netent Slot Review
Let's just set this out early on – I absolutely love slots that combine a horse-racing element.
With some exceptions of course – I'm not going to be playing Frankie Dettori's Super Seven any time soon.
I really miss Netent's Champion of the Track though, what a game!
This one's also from Netent so I had high hopes.
Scudamore's Base Game
The base game is a fairly run of the mill affair.
Stacked wilds, scatters, oh and the best horse sound I've ever heard in a game (some of them are shocking to be fair). We have a thing for horse sounds at SlotMad as you can see if you follow our Casino Streaming.
You can tell that Netent have gone for a retro style in the base game and that's fair enough – it's a good fit.
The Bet Slip side bet in Scudamore's Super Stakes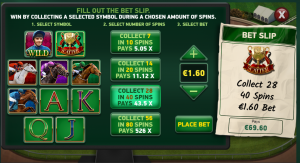 The game features a nifty side bet with the bet slip feature.
This allows you to select a symbol and place a side bet on that symbol appearing a set number of times during a set number of spins.
It's a great distraction and given the nature of the base game it's a very useful distraction.
We're told the odds are set at the same rate as the game – it can feel like that's not the case though if you're getting a bad run but then that's the same with all slots– give it a try.
Random Wilds
During this feature, the reels gets 2 to 5 random wilds for one spin.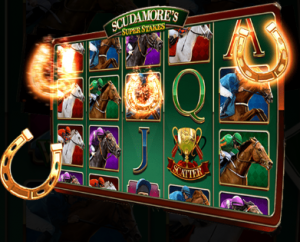 The Bonus Game in Scudamore's Super Stakes
The bonus game should occur approximately once in every 250 spins, in our case it took about 1200 but that's often the kind of luck we get 🙂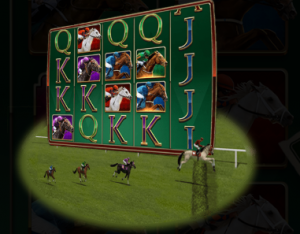 In the bonus round, you get to choose a horse – You can select up to 5000x.
A win with the horse you chose will move you forward one space. (think Arabian Nights or Grand National at the fair if you're British – I'm sure you'll have equivalents where you are).
Pick the right horse at the start and you'll get a multiplier win based on your choice. Be bold is our advice (although it hasn't quite worked for us).
Summary
The game's a winner, it's not Sea-biscuit or Red Rum but it's a solid favourite at a level 2 horse race.
The Bet slip is a brilliant addition.
The base game is OK.
The bonus rounds promise more than they deliver.
We like the game, it's a good attempt and we really look forward to a sequel. We hope the sequel takes the best elements of this and adds a bit more excitement in the base and bonus.
This time, we played Scudamore's Super Stakes at Wishmaker whom we highly recommend but you'll find it pretty much anywhere.
We're always playing games on our SlotMad daily slot streams – you can find out more and join in the fun via
Play Scudamore's Super Stakes at
100% Bonus on first 2 deposits

New and fresh casino
Level-up system for great rewards
Fair wagering requirements

Casino Review Claim Bonus

100% Bonus on first deposit

Daily promotions
Over 1500 Casino Games
Launched in 2002

Casino Review Claim Bonus