Shoot! Online Slot Review
Readers of a certain age will be filled with nostalgia when they see this new casino slot from Microgaming. The slot is based on the legendary football magazine of the same name. The graphics are pure 1960s – 70s and the players are from the same era. Pele, George Best, Bobby Charlton they're all here in their afro'd, permed and comb-overed glory.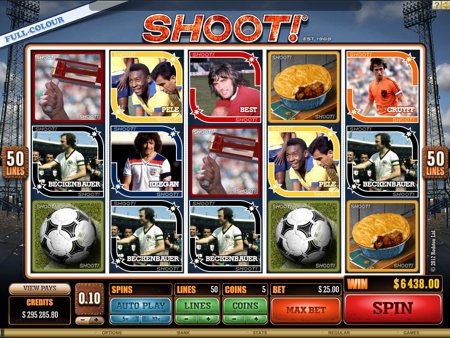 The slot is decent, not outstanding, it's all reliant on the theme with this one and of course the fact that it can be heavily marketed along with this Summer's Euro championships. That doesn't mean it's poor, it plays quite nicely and there are a couple of bonus rounds to chase after. Of course, you can trade cards in the bonus game or it wouldn't be Shoot!
Choose from four football cards when you enter the bonus round and you will be rewarded with a cash sum or another bonus game – the bonus games take the form of free spins or the magazine Bonus: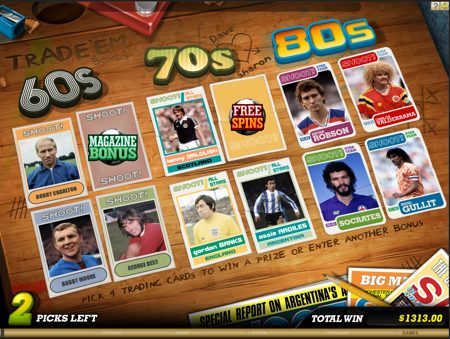 The Magazine Bonus
The Magazine Bonus round simply results in you picking your favourite magazine covers and receiving a cash prize for each one. I scored quite nicely on this twice winning more than 30 times my bet on both occasions.
The Shoot! Free Spins Feature
In the Free Spins bonus round a match takes place and the player receives a number of spins based on the total goals scored by the Home and Away team. The scoreboard below shows 15 free spins following a 1 – 5 result.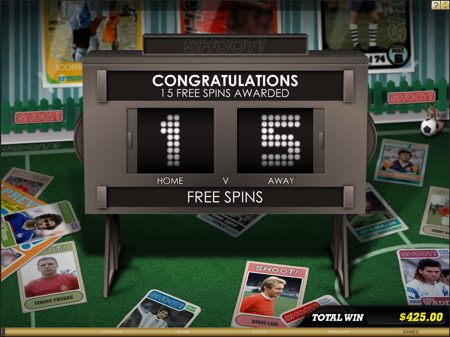 Here's a video from Microgaming showing the game play and features of this game
Play it at your favorite Microgaming casino…
Watch us play Shoot! and other slots live on stream through the following channels:
SlotMad Streaming Page
SlotMad Twitch Channel
Youtube Channel
Have we peaked you interest in more reviews? Check out the following games: